Want to Recover Deleted Files from Corrupted SD Card?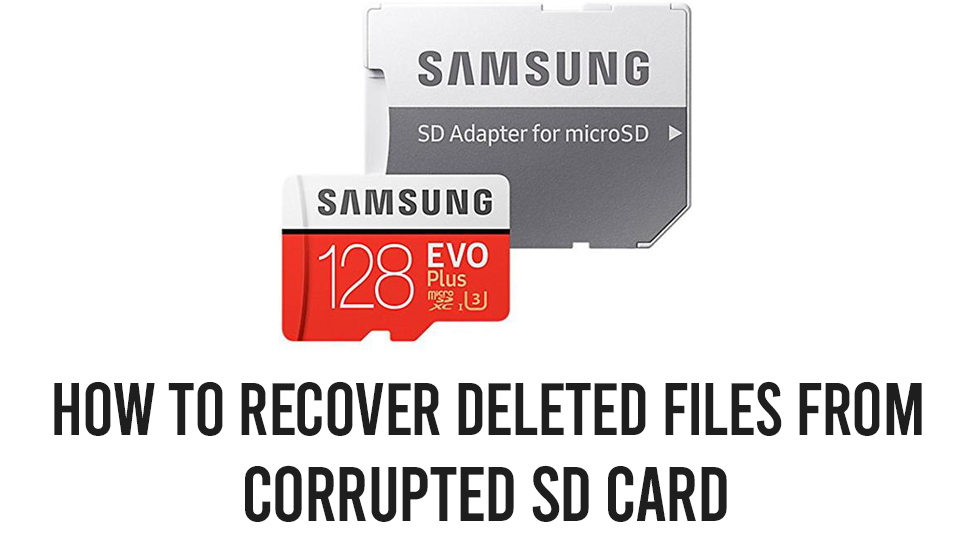 With the passing days, the storage devices have changed as well with the evolution of more extraordinary features.
The size has reduced and the data holding capacity has increased by leaps and bounds. Just have a look at an SD card and you will know the evidence.
It is a very common device now for storing data and more common for mobile phone users as it is one of the primary storage devices for mobile phone devices. It is used most widely in the present day.
The number of users of a memory card or an SD card has increased to a huge rate because with the smaller size it also provides and huge amount of empty space to store data.
Also, this storage device is very much cost-effective, lowers the consumption of the memory of mobile phones.
The removable and portable nature of the SD card has given another reason to be more appreciated by users.
Besides all these features, an SD card can also be used in a computer device with the help of a card reader.
But, on the other hand, as it is small, it carries the risks of getting lost easily and being not so hard, it can break into pieces even with little pressure.
SD Card Damage can be Baneful
What to do if your SD card gets corrupted and you lose all the data that you were storing in there for long?  Well, you do not need to panic.
It is because there are various paths for getting back data that you might have lost due to the corruption of the SD card.
Get back your Lost data by Using EaseUS
EaseUS has been in this field for a very long time providing assistance to people who face these sorts of issues like losing data from any storage device like a Pen drive, hard drive or an SD card.
In this article, you are going to get a detailed study on the steps that will help you get back each and every data from your corrupted SD card.
You will get reliable procedures for repairing a corrupted SD card turning it to work again without the loss of any data.
The complete procedure is carried on with the help of the EaseUS data recovery software application.
Follow the given set of steps to know how to recover data from a corrupted memory card without formatting.
How to Recover Data from Corrupted Memory Card Without Formatting?
The corruption or the damage of an SD card is a very common sight and can occur at any moment without any warning.
If you are a victim of this situation and you are looking for a way to make your SD card as it was before, then you are in the perfect page.
You can relax and carefully go through the steps to know how to fix a corrupted SD card. The steps are much reliable to go for and so do not worry.
Things to Keep in Mind
When you are going for the recovery of the data that you lost for the corruption of your SD card, always keep the following points in your mind.
After you find out that your Sd card is corrupted, do not go for the complete formatting of the SD card. Do not erase the card.
The second thing you need to stick inside your brain is to make sure that the SD card is actually corrupted or damaged.
When you get to discover that your SD card has become corrupted or inaccessible, you need to insert the SD card in your computer device or make a change to your SD card reader or any other computer device for checking whether the SD card is getting detected and showing or not.
First Part
The first part of this procedure is to make the corrupted SD card accessible or visible to the device. Follow these tricks here:
The first thing that comes under this is to change the SD card drive letter.
The first thing is to insert your corrupted SD card into your computer device. Then go to the Disk Management section.

Now, you have to click the right mouse button on the SD card and choose the "Change drive letter and path…" option.

The third that you need to do here is to set a brand new drive letter for your corrupted SD card.
The second thing that you need to do here is to inspect and fix the file system error in your damaged SD card.
Insert your SD card into your computer device with the help of a card reader.

Now, go the Start button and click on it and then go to the 'Computer' option. Here you need to search for your SD card under 'Devices with Removable Storage' and record the assigned drive letter.

Click on the Start button once again and go to the search panel and type 'cmd'.

The next step in to right-click on the 'cmd.exe' and then you have to choose 'Run as administrator' option.

In the command prompt window, you have to type the command chkdsk <SD card drive letter>: /f /r /x and then you have to press the Enter key from the keyboard.
The command chkdsk will begin to scrutinize and do the fixation of any possible errors on the corrupted or damaged SD card and turn it into a readable one once again just like it was at the original state.
Go for an Alternative if You are not Good in Commands
If you are not skillful enough on any technical subjects, you obviously want that work to happen with minimum data risks as much as possible.
In such cases, I would recommend you to go for a reliable third-party software as it will be a very good option to make the work done with less worry and hassles.
If you are an expert in the realm of the computer world, then the Command line is very much suitable as an incorrect command can make a major problem.
This is the reason you should go for an automated command-line alternative.
There is a practical computer fixation tool that is completely secure, sound, and light-weighted.
If you are looking for another option that is perfect in alternative to chkdsk command, then the use of this one-click tool for solving your computer issues is kinda perfect.
For doing the fixation of the file system error or disk error, follow the steps listed below.
The first thing you need to do is download and install EaseUS Tool M. This software application needs no money for the download and the installation.

Open the software on your computer device and then you need to select 'File Fixing' that will available on the left pane of the window. From the right side of the window choose the drive 'Check and fix file system error' > Click 'Fix' for starting the repair of the error.

After the task finishes, click on the 'View' button for checking the drive.
The third thing in this part you need to do is updating the SD card driver.
Connect the SD card to your PC > right-click on 'Computer' > Select Manage.

Click 'Device Manager' to open 'Disk drivers'.

Right-click on the SD card > 'Update driver'.

Click 'Automatically search for driver software online'. Wait.
Second Part
Steps for recovering data that is done in this section is given below.
Insert your corrupted SD card to your computer.

Execute the software for data recovery. Scan the card clicking on 'Scan' after selecting your drive.

Inspect the SD card that is found.




Preview and get your lost SD card from Deleted files, Drive X, Lost Partition Files, Extra Files. Use Filter and Search to get your files quickly.

Finally, restore the data of your corrupted SD card.
Third Part
After you have made a successful recovery of the data that was lost due to the corruption and damage of your Sd card, you have to go for formatting the SD card for making it function properly as it was operating during its original state.
Do not worry at all. This process is way easier than you think.
The first step is to keep your SD card connected with your computer device. Right-click on the 'This PC', 'My Computer', or 'Computer' option followed by clicking on the Manage option of the menu.

Then, you need to click on 'Disk Management'. Look for your SD card and right-click on it. Go to the 'Format' option.

Now, select the FAT32 as the file system for your SD card. Finally, click on the 'OK' button for confirmation.
Done! Your corrupted SD card is available once again to store data just like it was before.
You can transfer data, keep and delete them as per your requirement as it will not be a corrupted one anymore.
Concluding Words
EaseUS has brought amazing methods to recover data from damaged SD cards, formatted Pendrives, corrupted hard drives and so on.
That was all about how to recover data from corrupted memory card without formatting. I hope the steps that you went through were helpful enough.
Give our Mobile Repair Service, opportunity to help and serve you better with guides and info better in near future. Also, do check out our latest updates.
About Author