BigCommerce Vs WooCommerce: Battle of Two Best eCommerce Platform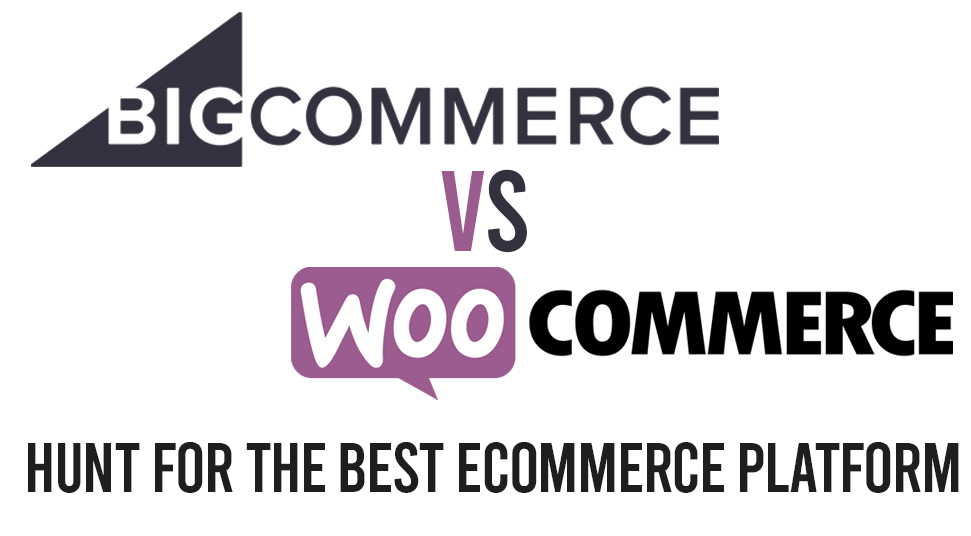 Building your online store from scratch doesn't seem easy to some but there is a lot of platforms that are designed to create an eComm website smoothly. But to be honest, Big Commerce and WooCommerece are two most popular platforms when it comes down to creating an online shop from scratch.
If you want to start an eCommerce website you will need to pick an eCommerce platform to build and host your website. Selecting from the lot might need you to stay with us and then decide what would you want to choose which is most suitable for you.
We will start with the top most popular and used eCommerce platforms and figure out how are they different from one another. For you, we will strip down al the features that they offer, usbality, pricing and support info. These factors will definitely help you determine what to pick.
What to look for while you pick an e-commerce platform?
We will discuss some important factors which you must keep in mind while you decide which one to go for. Before comparing BigCommerce VS WooCommerce, these factors will better help you understand what might you need and what will solve your purpose.
Usability

–

It is the most important aspect as if is not easy for the users then issues will proliferate.

Scalability

– You must ensure that the platform you choose has the potential to scale up when your business grows.

Budget

–

Before selecting a platform you should check how much does it cost to initially start a website. Check the quarterly or annual price cycle.

Support

–

Another important factor to check is whether you get reliable support when you face any problem or come through any issues.
Secure Payment Gateways –

This is another most important factor while choosing any eCommerce site .
The factors would create the foundation of your eCommerce shop online. Apart from these, there are other aspects like taxing, invoice management, inventory management and most importantly shipping operation. So it is important to select your eComm platform wisely.
General Overview: BigCommerece vs WooCommerce
BigCommerce 
It is a completely hosted eCommerce platform basically designed for small enterprises or Business owners. BigCommerece features hosting, content, design & layout, payments, cart, marketing tools, support and many more.
This eCommerce website builder was used by more than 100,000 people to build their online store. There is one factor that you must be aware of. If you are signing up with BigCommerce the hosting and ownerships appear with a fully hosted platform and you won't be able to switch to another eCommerce platform from BigCommerce.
BigCommerce is can be used by incorporating with WordPress site so that you can manage your content with WordPress in the front end and BigCommerce would help you with the back end of your store.
WooCommerce
It is one of the most popular free eCommerce plugins for WordPress. More than ⅓ of all online stores are run by WooCommerce. Though it supports WordPress plugin, you can grab any website and turn it into an online storefront with the help of WooCommerce.
WooCommerce offers a number of built-in features such as inventory management, payment processing, shipping management, offers and promotions, cart and many more.
Blending both WooCommerce and WordPress would give entire control and ownership of your eCommerce store and you can choose from any of the web hosting providers.
Coming down to the difference in the features both offer like Ease of Use, Scalability, Cost, and others.
BigCommerce vs WooCommerce: Feature Difference
Let's check out all the differences they have in between the common features. This will help broaden your idea about both the eCommerce platform and how they work.
Difference in Usability
BigCommerce
BigCommerce makes it easy and simple to start and maintain an eCommerce store. You don't need to set up hosting since it is a fully hosted platform. And you can completely rely on BigCommerce when it comes to security, backups, and performance issues.
Simply start by signing up with the trial plan they offer and set up your store with the help of 3 easy steps. Just enter your email address, your contact and put a good store name 
7 a few more details about your store.
Once set up is done with BigCommerce your dashboard will appear and would let you see the preview of your store and products from the front end. You may change or edit your theme with options available if you wish.
You will find other options like settings and other important options in the admin panel on the right-hand side to manage your products and listing, customers, marketing, analytics and more.
If you want to play with an existing WordPress site, use the Big Commerece WordPress Plugin so that you can run an eCommerce store along with WordPress. BigCommerce on one hand will look after the eCommerce management and on the other hand WordPress will guide you with the content management
WooCommerce
Since it is not a fully hosted platform, you need to install a WordPress eCommerce plugin to work. You need to buy a hosting account and a domain name to initially start building your store.
Once the installation of WooCommerce is complete, just run the setup wizard. Quickly set up your store with basic elements like shipping, taxes, payments, inventory management and more.
Now you can start listing products in your store. You can change your theme if you want and use WooCommerce plugins and extensions to add more eCommerce features.
Just make sure you are dedicated to backups, security, and overall performance.
 In this case, BigCommerece is better than the other compared to.
Pricing
Before you go with your choice among the two, don't hesitate to check out who offers a reasonable rate.
Costs of BigCommerce
BigCommerece offers three plans for its professional users which comes with a different pricing plan. The basic plan is "Standard" which is available for $29.95 per month. The essential plans
There plan is supposed to have plans including unlimited products, unlimited data storage, transaction fees, and unlimited stuff accounts.
 If you start earning fast and if your sales increase, BigCommerce will directly upgrade your plan for a bigger store. And if you want to use an essential plan "Pro" , it will take an $150 per month for each additional $ 200k in an online sale.
Costs of WooCommerce
It is an open-source WordPress plugin that you can use on unlimited sites for absolutely free but other services are payable for setting up WooCommerce.
A domain name would cost you around $14.99 / year, Web hosting will take $7.99 / year and SSL certificate would cost you $69.99 / year. If you sum up, it will be around $100.
The hosting cost increases once your sale increases. Here you can use lot of free WordPress plugins to grow your sales.
In this case, I think WooCommerece is better as it is more affordable than BigCommerce.
Scalability
Scalability really matters when you are building an online eComm store.
BigCommerce
Your website starts to get more traffic as your business grows. It comes with the leading industry uptime at 99.9 % which indicates that your store is less likely to being down for a few minutes vs a few days. It also has fast loading page speed and better security for better conversions and customer experience.
Scaling up your business further would start costing you in the future. BigCommerce plans are capped to annual sales, so if your annual sales increase by the capped figure, your plan will automatically change.
WooCommerce
This platform comes with unlimited galleries, products and it can also manage thousands of transactions per minute. Since it is an open-source eComm application it gives you the privilege to handle your online store completely and to scale up your business so that you can grow your traffic and skyrocket your sales.
Your business grows, your need for a better hosting plan grows. Thus you need to upgrade your plan. 
You can yourself deduce that WooCommerce would be better for scalability.
Secure Payment Gateways
This is something that is a very crucial factor when it comes to safe and secure payment methods in your eComm site, because if you use a weak gateway you will end up losing your user's money. A payment gateway is a merchant service provider by an e-comm application service provider that authorizes direct payment processing and other cards options.
Big Commerce
BigCommerce is highly recommended when it comes to secure payment options as it is multiple security layer and completely encrypted payment methods. It comes with many advanced features like fraud protection option, ene to end encryption (from retailers to User's browsers),TLS encryption and many more. BigCommerce is home to 65 top-notch and trust-worthy payments gateways serving in more than 100 countries. It also provides integration to the most known and esteemed digital and e-wallets
Few secure gateways supported byBigCommerce are:
Amazon Pay

Paypal

Paypal Credit 

Square

Worldplay

Authorize.net

Bluesnap Payments

Afterpay

Adyen

Affirm
Woo Commerce
Woocommerce is trusted due to its reliability on payment gateways in multiple platforms. It accepts both credit cards and debit cards, and moreover With different reputable gateways Woo-commerce makes sure that the processing remains completely encrypted between the server of the retailer and the user's browsers and make it out of reach from the cyber frauds. Woo Comeerce gateways integrates itself with the WordPress payment module and will definitely take you to the right direction. You will have to figure out which payment gateway is convenient for your business to grow successfully.
Few secure and top payments gateways are :
Paypal

Stripe

Amazon pay

Square

2Checkout

Alipay

Square

Payfast

Bambora

Authorize.net
Support
Without a good support, you won't be able to render service to thousands of customers. So, having great support is a must.
BigCommerce
Since it is a fully hosted eComm platform, it offers dynamic support with 24/7 live agent support. They are quite fast and reactive when a problem occurs. The Enterprise plan would provide strategic account management, priority support, and API support.
They are backed by a Help Center for getting unlimited useful tips and tricks in the form of user documents and guides.
WooCommerce
This also offers tons of supportive options. WooCommerce provides live chat and has informative materials and tutorials to guide you from setting up a shop to selling products.
You can also raise a support ticket if you have any issues but the drawback is they don't reply via mail or phone.
This definitely proves BigCommerce is better in these aspects.
Ending Note
The article on BigCommerce Vs WooCommerce: Battle of Two Best eCommerce Platform comes to an end here. I really hope this has helped you understand the difference between both platforms and you may profit from using one of them.