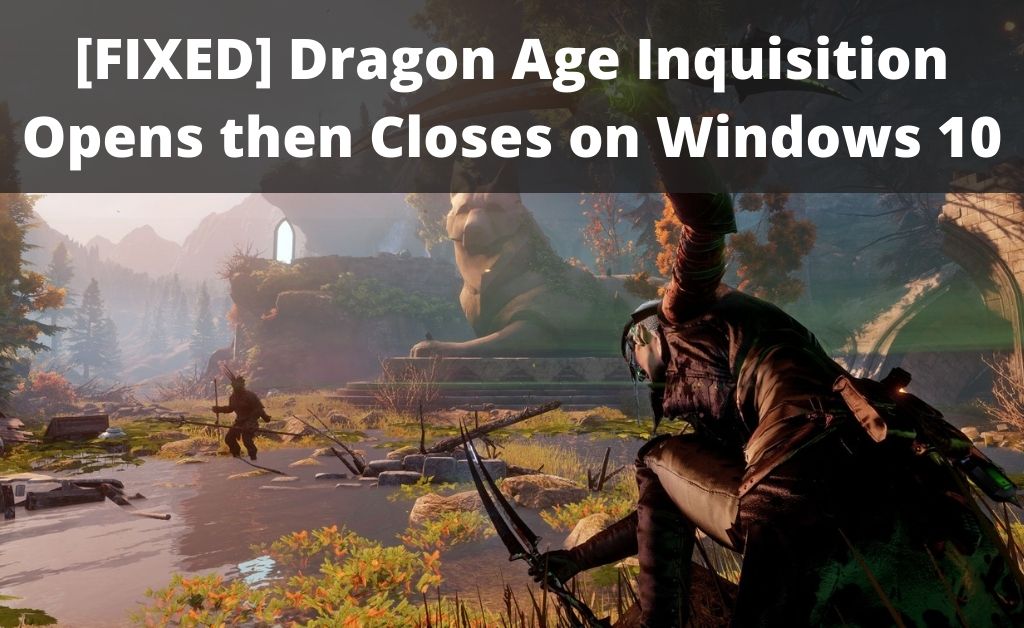 Dragon Age Inquisition is among the top fantasy role-playing games out there. And, it enjoys huge popularity across the world due to good reasons. You can usually look forward to a fun experience with this game. However, like all games, it is not devoid of certain common technical issues. And, one such common issue is the game dragon age inquisition opens then closes down immediately after you launch it. 
Many players have reported facing this issue while playing Dragon Age: Inquisition. And, you can usually fix this issue all by yourself with some simple methods. Here, we will take a look at the most effective ones among them. Read on to know what to do if Dragon Age Inquisition opens then closes. 
Why Dragon Age Inquisition Opens then Closes and How to Fix it?
There is a wide range of possible explanations for a game repeatedly crashing on your PC. But, you must try restarting your device first and check if that resolves the issue. 
Does Dragon Age Inquisition keep crashing after that? Then, try out the following fixes to resolve the issue effectively:
Make Sure Your Device Fulfills the Game's Requirements
This is the first step you must take before trying out any solutions. After all, your PC might often lack the specifications required for running a game. Make sure your device has the required specifications for Dragon Inquisition. If it does not have them, that explains why Dragon Age Inquisition opens and then closes on your computer. 
What if you keep facing the issue even when your device fulfils the minimum requirements? Then, your computer might need higher specifications than those recommended for the game. But, you must try the solutions listed here before reaching that conclusion. 
Disable or Remove Your Antivirus
Are you using a third-party antivirus program on your device? If yes, then you must check whether it is preventing your PC from launching the game. After all, antivirus apps often mistakenly identify crucial game files as threats and block them. And, you would fail to launch the game in such situations. 
Open your antivirus software and turn it off. Check whether Dragon Age Inquisition opens and then closes after you do that. If it does, then the antivirus is not the culprit behind the problem. 
But, what if this method fixes the issue? In that case, you must disable the antivirus whenever you launch this game. Alternatively, you can also replace your antivirus app with another suitable one. 
Run the Game in Compatibility Mode
You might fail to run a game on your computer when it is incompatible with the system. And, from what it seems, this is a common reason why Dragon Age Inquisition opens then closes on your device. So, you must make sure whether that is the case if disabling the antivirus was ineffective. 
Navigate to the game folder in your File Manager and right-click the exe file. Then, open its Properties and go to the Compatibility tab. Check the box for running the game in Compatibility mode. Your system emulates its older version while running in this setting. So, this should fix any compatibility issues with the game. 
Run Dragon Age Inquisition as Administrator
Your system might require administrator privileges to access certain game files. In the absence of that, it would probably fail to launch the game. So, that might explain why Dragon Age Inquisition opens and then closes on your device. You can easily fix this issue by running the game with administrator privileges. 
Right-click the Dragon Age Inquisition desktop shortcut and opt for running it as administrator. After that, you should not face any issues if you have identified the problem correctly. If the crashing persists, you must consider some other possible causes of this issue. 
Disable the In-Game Origin Menu
Have you bought Dragon Age Inquisition through Origin? If yes, then the game should have an Origin Menu in its options. According to many players, this feature causes the game to crash repeatedly. And, disabling it can offer you an effective solution in such cases. So, you must try that out if Dragon Age Inquisition opens then closes on your computer. 
Launch the Origin app on your device and log in to your EA account. Then, go to the Application Settings and open the Origin In-Game tab. Do you find the Enable Origin In-Game button toggled on? If yes, then toggle it off and reboot your device before checking for the problem. 
Remove the NVIDIA 3D Vision Driver
Are you using the 3D Vision driver for your NVIDIA graphics card? If yes, then that might often cause Dragon Age Inquisition to crash. So, you must consider removing this driver if other solutions do not work. Enter "appwiz.cpl" in the Run program to open the Programs and Features on your PC. You should find the NVIDIA 3D Vision driver listed there. 
Right-click the driver and opt for uninstalling it. This should fix your device's 'Dragon Age Inquisition opens then closes' issue. 
Delete the Cache Files
Your device stores a wide range of cache files that might get corrupted under various circumstances. And, game cache files are not an exception. So, you must check whether Dragon Age Inquisition opens and then closes due to a corrupt cache. Open the folder containing the game data on your File Manager. 
Select the cache folder and opt for deleting it. This should remove all corrupt game cache files from your device. So, you should be able to play Dragon Age Inquisition without any issues. 
Other Fixes You Can Try
The aforementioned methods are usually sufficient in fixing the repeated crashing in Dragon Age Inquisition. But, what if the problem persists on your device? Then, you must try updating the graphics driver from the Device Manager. 
Underclocking the GPU or memory may also do the trick sometimes. You must also try changing the graphic settings in the game to "Automatic". Lastly, if nothing else works, you must consider reinstalling Dragon Age Inquisition.
About Author