How To Do Google Gravity? A Complete Guide to Access It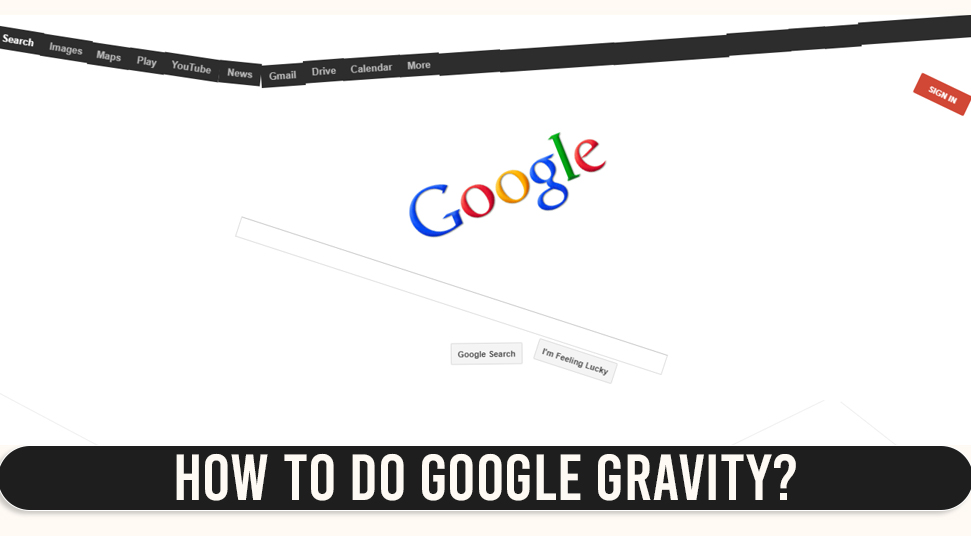 Over the years, Google has become a part of our daily habits. Every now and then we use the Google search engine to perform any kind of search. But the Google search engine is much more than that.  Apart from just showing your search results, Google can also perform some tricks. And today in this article we are going to discuss one of the most famous tricks called Google Gravity. 
Many Google users have posted this query on online platforms that how to do Google Gravity. That means there is confusion among the users that how can enable its feature. 
Hence if you follow this article till the end then you will be able to do the Google Gravity on your device. But first, let us learn some more facts about it. 
Google Gravity- The famous trick from Google
Now it is very much evident that Google Gravity is getting popular day by day. Basically, it is a project of Mr. Doob. So it is nothing but a parody of Google's original interference. 
But the thing that made it so popular is the animated interface of the feature. Apart from this, you can also have some real fun with features. There is also another alternative called Google gravity underwater. 
Here you can play with the icons of the homepage. Another thing about it that you can access the feature from any kind of app or mobile app. So all you have to do in order to access this is by following the below section. 
Step by step guide
Now that you are here in this section of the article then it means that you are also among those users who have the same query. How to access Google Gravity?
Hence just follow the steps and you will be able to access it. 
Step 1: Open your browser 
As mentioned in the previous section that you cannot access it from any app, so you can always access the trick from your web browser. Open any one of your web browsers from your system. 
[Note: As Google gravity operates only on Javascript, so before you open your browser make sure that your browser supports Javascript algorithms]
Step 2: Open the Google Search Engine 
Once you are inside of your web browser, now in the search bar type in google.com. Remember that you cannot use the feature if you search "google" in the bar.
Step 3: Type in Google gravity
On the search bar of the Google search engine home page type in Google gravity. 
Now, wait!
Don't click on the search button or do not press enter. 
Step 4: Click on I'm Feeling lucky 
Have you ever used the option "I'm feeling lucky on your search engine?
If you haven't, then this is the time to use that option. Instead of clicking on the search tab, click on the I'm feeling lucky option. 
Step 5: Hold on for a few seconds
Once you are done with the above steps, wait for a few seconds till the Google Gravity loads. Generally, the loading time depends on your internet speed. 
After the feature loads itself, you will see that all the contents of your screen will fall down. This is the Goole gravity feature. Now you can play with every dropped icon by dragging them throughout the display window.
Google Gravity for Mobile Devices
You cannot access it from any kind of application on your phone. But the good news is that you can access this from your mobile device. 
And that is by directly typing the link provided by Mr. Doob. Here also you have to make sure that the web browser on your phone supports javascript algorithms. 
Mr. Doob link for Google Gravity: 
https://mrdoob.com/projects/chromeexperiments/google-gravity/
Google Gravity for Android 
The good news is that if you are an Android device user then you can easily access it. Google has already made an application for android users by which they can easily play with it. 
All you have to do is install it from the Google Play Store. Hence, in order to do that just follow the below steps:
Go to the Play Store on your Android device. 

In the search bar type in google gravity. 

Once the app appears on the list, tap on the install button. 
After the app is successfully installed on your device, now open the app and sit back. It will do the rest. 
In the End
So finally we can conclude that whether you are using your PC or using your mobile device, you can access it from anywhere. 
And if you still have the query that how to do it, then just refer to the above step by step guide and you will be good to go. 
Apart from just Google Gravity, the google search engine also includes may other tricks like google gravity underwater, google guitar and many more. 
About Author