Remove Hackers from Phone: The Drawbacks of Pegasus Spyware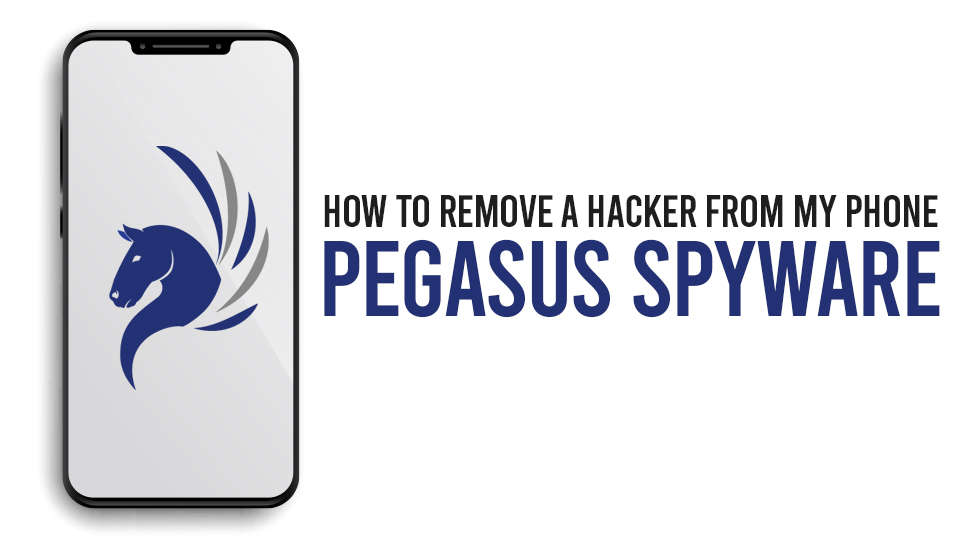 In the modern era of technology, the amount of benefits we've gotten from it is far more than the era without technology. However, there are some drawbacks to using the facilities of technological elements. Such as using electronic devices like Android, iPhone or iPad. 
The problem is, no matter how much it ensures safety and security, there is always doubt to it. Like the presence of malicious files or malware attacks or you might ask yourself "how to remove a hacker from my phone". One such malware is the Pegasus malware. Read more to find out!
What is Pegasus Spyware?
Pegasus Spyware first came into the light by a human rights activist known by the name of Ahmed Mansoor, who also happened to be one of the targets. Apparently, the SMSs received by him in his OS device contained links that were suspicious. 
Pegasus is a commercial spyware that has in accordance with an NSO group. This software is known to jailbreak devices and then furthermore, install software for spying purposes. Since it is commercial spyware, anybody affording the price can use it for phishing other devices. 
How Pegasus Spyware Works?
Since it is a modular malware, it can scan the device and automatically, without notice, install modules that are known to access messages of the user, personal emails and listen to phone calls as well as take screenshots. It can also filter the browsing history and access contacts of the user. 
In short, this spyware is meant to get access to every part of a user's life without showing any signs. This is because the spyware uses protocols to hide. The malware has the ability to destruct itself when the communication between the command and the control is not established in 60 days. Or if it finds out that the installation was on the incorrect device. 
How to Detect Pegasus Spyware on your Phone?
If you're wondering how to detect pegasus spyware, you may need to pay close attention to details of your device. 
Pegasus sends exploited links to users that seem to be suspicious. If you receive any link to a website via messages, then you might be a target. However, that does not mean the your device is infected yet. Unless you click on the link, your device is still safe from Pegasus. 
Take a note that the crafted link might look like an interesting one, as the goal is to raise your curiosity so that you can give in to this deceptive tactic. Verify the links and the sender with attention before you decide to click on it.  
How to Remove a Hacker from Phone? Tips to Prevent Hackers from Hacking Your Device!
If you've had the slightest notion that your device might be under attack of malware, or if you see things that are not ordinary, such as messages being sent to contact that you did not do. 
Or overheating the phone when you are certain that there are no applications running, then here's what you need to do right away if you ask yourself "protect my phone from spying"!
1. Change Your Device Password
The device you use will have a function of protecting it with a password that you provide. If you see suspicious activities, then consider changing the password to something much complex and stronger that only you can remember. 
Take note that you must avoid using simple password patterns, such as your birthday year or simple numeric combinations. 
2. Avoid Bluetooth Network 
Try avoiding Bluetooth networks that are not protected. Always keep the Bluetooth off when you are not using it. Bluetooth can be a gateway sometimes to hackers. Always check that you are not connected to any unknown network. 
If you find that your device is connected to an unknown device then unpair the device and restart the phone immediately.
3. Do Not Use Public Wireless Networks
Connections that come easy and free in a public place, is the easiest way to hack a user's phone. As tempting as it may be to use a network that is free, it is highly advisable that you use a selective network with precautions. 
Networks that come without any password protection are to be avoided the most. Also, avoid using Wi-Fi from places that are highly popular such as public wifi for the railway station, bank or post office. 
4. Clear Cookies, Cache Files And Browsing History Regularly
By clearing the cookies and the cache files as well as the browsing you would be saving yourself from spying. By getting rid of them regularly, you'd be having less amount of data. 
Simply, go the "Settings" of the device and then choose the option called "Application" or "Application Manager". Among the list of all the applications that are installed, open the Browser application and click on the option called "Clear Data". 
Then click on the option called "Clear Cache". After that restart the device. 
5. Use Anti-Virus Software For Your Device
It is always advisable to use anti-virus for your device to keep it protected from all sorts of malware activity or hackers from intruding into your personal information. Make sure to run a scan regularly and check for any suspicious files, links or connections. 
6. Update The Device 
With every update released for Android devices, the security and the defense against malware get more secured with additional protocols. O if you're asking, "how to secure android phone from hackers", then this is what you need to do. 
To update your Android device, go to "Settings" of the device and choose the option called "About Phone". Thereafter, click on the option called "Check For Updates". If there is any update available, select the update and install it. 
Moreover, not only will this protect your device from hackers, but also improve the working functions of the device. 
7. Keep Credentials Password Protected
If you have important credentials stored in the device, make sure you keep them safe and secured with password protection with 4-digit-PIN code. Also, make sure you lock any mobile banking application with a high-security password.