How to Send and Receive a Fax Online
Introduction
Internet fax services facilitated consumers, sender and receiver to the fullest. Faxing is the most soothing way in 2020 to send documents. Online faxing services are functional round the clock. If a person sends documents, the person will look for confidential and quick service. 
Since the same happens to the one who is at the receiving end. Modern technology moved steps higher. Fax is sent from Gmail and other channels even if a fax machine is not available. It performs two functions simultaneously, saves time and money. The proceeding lines will tell you how to send documents from point A to point B quickly and confidentially.
How to Fax from Computer
Through online fax service, Windows Fax and Scan, or with the help of a fax machine that is connected to one's Personal Computer the one can go with a fax service. Windows Fax and Scan, and fax machine are time-consuming. Due to this reason, an internet fax service is preferred over the other mentioned services. It has got credibility, saves time and money. The process gets completed within a short span of time.
CocoFax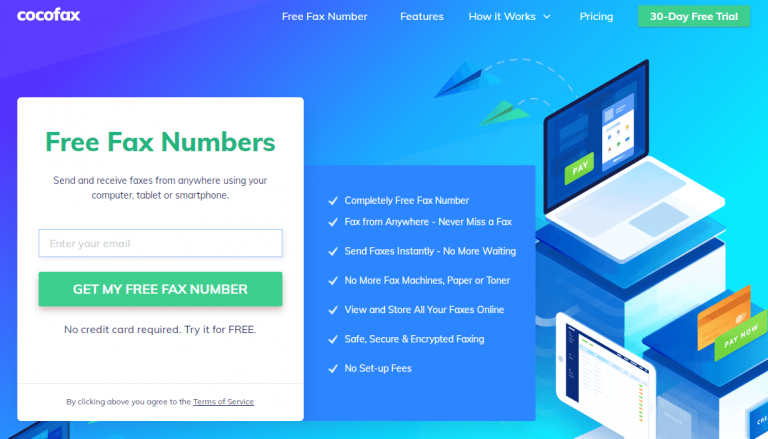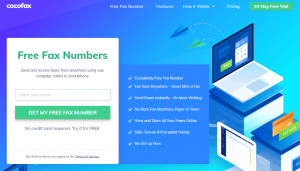 CocoFax is considered the most reliable internet fax service. Due to its credibility, the service is being used worldwide, for instance, many organizations including hospitals use the service for having a good legacy. Coco Fax offers thirty days' service for free. Once the offer is consumed you will pay a reasonable monthly fee and the charge depends upon faxing needs. The online fax service uses the most advanced encryption technology. Two parties are at liberty to decode the message, sender and receiver.
It Saves Time and Money
CocoFax is an internet fax service and it does not need a fax machine and a phone line. The sender can fax documents directly from the servers and it resembles sending emails. No need for a fax machine and a phone line save money while faxing documents from the servers save time as it reaches the receiving end in minimum time.
How to Use CocoFax to Fax from Your Computer?
The following steps will make you able to use the internet online fax service
Step 1: You will sign up for a Coco Fax service on their official website. Once you are done with you are asked for details. You will register your email address and it will make space for faxing related notifications. After the very process completion, it will automatically come to the dashboard.
Step 2: The most striking fact is, you coined a virtual faxing machine and it is the Coco Fax dashboard. It gives you permission to send out fresh faxes and receive incoming. Forgiving security it traces down your faxing activity.
Step 3: The "Send Fax" window resembles the window where you normally compose emails. If you are going to compose fax is just like writing an email where you find the relevant options, for instance, To, Subject, Cover page, and Attachments.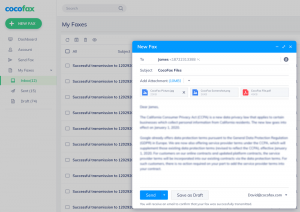 Step 4: "Send" button is clicked on after you are done with written pieces of stuff. You can attach the documents you want to send. A confirmation message is received on the dashboard after the fax delivery. Apart from it, you are going to receive a notification in the email address you registered. The fax may fail occasionally and it is because of invalid numbers or fault may exist in the recipient's machine.
How to Receive Fax without a Fax Machine?
It is not impossible to receive fax without having a fax machine. Here you need to have an internet fax service, Coco Fax. If a fax number is at your hand and you are subscribed to Coco Fax, you will take hold of incoming faxes in the dashboard. You do not require a fax machine and printer. If documents are attached to the fax, you will get them in PDF format. Now there are two options, you may either save these documents on your Personal Computer or print them out. Make sure you do have a fax number for receiving incoming faxes if you are not having a fax machine it is okay.
How to Send and Receive a Fax via Gmail
Modern technology facilitated Gmail. It is damn true you can send and receive fax through a prominent service Gmail. The process is rather simple. It resembles composing an email and you may attach documents. You are given fax related notifications in your email inbox comfortably. You can look for fresh faxes and here you are not asked to log into your Coco Fax account for faxing. Just keep composing an email in your mind. It will guide you on how to fax documents. Once you log into you will find all the options you normally find while composing an email.
How to Receive a Fax to Gmail?
You will need Coco fax internet fax service as it supports fax to email. All received faxes are translated into email format with the help of Coco fax and pushed forward to your email inbox. Incoming documents are converted into PDF format and attached to the email as well. Never forget that you are having a fax number or you will not be able to receive incoming faxes. If you are not having a fax machine or a phone line it is not a big deal. You may get faxes without a fax machine or a phone line. But without a fax number, you cannot do it.
Conclusion
If you are not having a fax machine or a phone line, you will send and receive faxes, because modern technology made it easier. You can send and receive a fax via Gmail account, computer and CocoFax if you subscribed to it. The technology gives you the full proof of confidential security. Only two parties, sender and receiver can get access to the confidential documents. It saves time and money. Your documents are not at stake. Third-party cannot decode unless you give it a chance. The online fax service has made it convenient and you can click the option when you need it.
About Author