IDP.Generic Avast: IDP.Generic Virus Malware Removal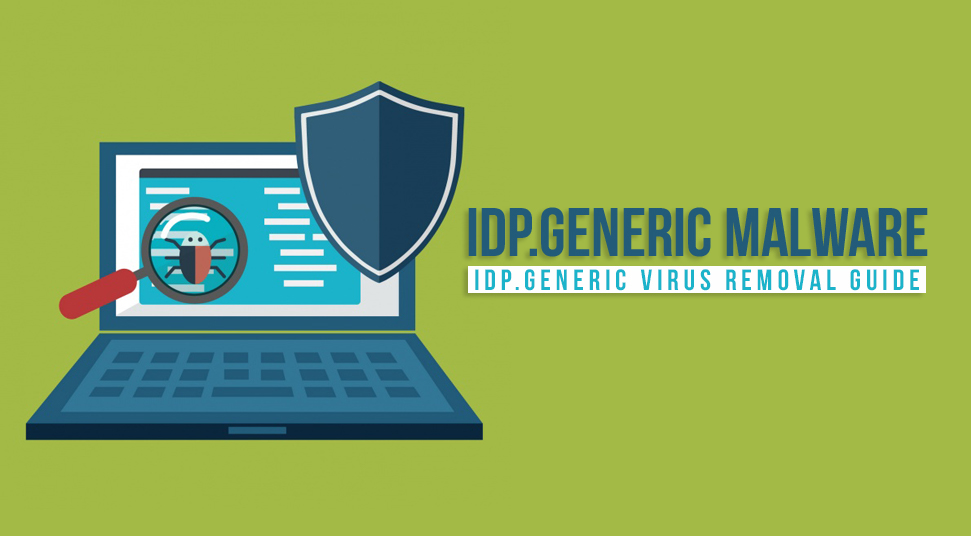 You may have heard the name of idp.generic when the security applications on your phone or computer spot it. It is a heuristic name that can be a false positive or can turn out to be a real threat. For the people who use multiple antivirus software in their devices, it is a very common threat to them.
What is idp.generic?
Idp generic is a common factor that appears on anti-virus, anti-malware software. This indicates the existence of generic malware in your device. IDP stands for Identity Protection. When a security application identifies the threat named "IDP.Generic", it means that this particular component detected the threat. And the detected file is generalized as an IDP Generic threat.
For instance, gaming applications. If any antivirus software detects it as a threat, it is very common that the gaming application has not got permission to run in your device. Not only third party applications but also the other programs in your device.can be detected as idp.generic threat.
To sum up, idp generic is that term that pops up on the antivirus software windows whenever the generic malware gets detected.  It can also be a false positive especially when the AV tool or the JAVA plugins that you are currently using is outdated. It means the mentioned application or program is using the Identify Protection component for detecting the unusual activities of a program or file that your device has.
How does IDP.Generic Infiltrate your Computer?
Computer infections can get spread in various ways. There are some most common ways through which the infections get widely spread. Like Spam campaigns, unofficial software updates, Trojans, Software cracking tools, suspicious software download sources, etc.
Spam campaigns use attachments like Microsoft Office Documents,  archives such as RAR, PDF, ZIP documents, Executables (.exe and other files ), Javascript files and many more.
Through these attachments, spam campaigns used to proliferate suspicious programs by sending emails. When you open such files, these files infect the operating system and start downloading malicious programs. A trojan is one of those infections. The main motive of such infections is to cause chain infection.
Unofficial or fake software updating tools can damage your computer by downloading malicious files. Software Cracking Tools also works similarly. They supposedly bypass software activation and are also responsible for downloading malicious program files.
On the other hand, untrustworthy software download and install tools like Peer to Peer Networks, unofficial pages, third party downloaders, freeware download websites, free file hosting, etc. In case you are wondering what Peet to Peer Networks are, then Torrent Clients and eMute are the examples you can take. 
In short, downloading and opening files using these channels will get you in trouble only as you will end up installing malicious programs.
How do you understand that your device has been affected by IDP.Generic Virus?
The symptoms for idp.generic avast are not really fixed as they represent various kinds of threats. And the threats are quite serious as they include info stealers, trojans, banking malware, malware droppers, worms, rootkits, and so many other cyber threats. Still, you can find out whether your device has been affected by the idp.generic virus or not with the help of the following symptoms-
Random Windows will open up without asking for your permission.

Your device will automatically slow down its speed. 

Resource usage will increase.

.You will notice high network activity and frequent BSoDs 

Another thing you will see is that the progress of your computers are crashing one after another. 

The host machine of your device will be sending out spam. 

You will be automatically redirected to suspicious sites.
If you encounter these symptoms then it is an indication to you that idp.generic virus has arrived successfully on your PC.
How can you find out if the IDP.Generic is a false positive or not?
You have quite a few options for finding out whether the idp generic is a false positive or not. But the easiest option is to scan that particular file with the help of other security software. Having said that, you can not be fully sure as it will detect can be a new threat that you haven't encountered before.
The anti-malware engine database does not have any heuristic name and for that reason, they are unable to detect a virus or malware after performing a scan.  So you are suggested to perform the other actions before trying to remove the idp generic virus.
Tips for Avoiding Installation of Malwares like IDP Generic
Always download software and other stuff from a trustworthy website and do not open up any unauthorized site as they can be harmful for you. For this, you should always use the direct download links.

Remember not to use the dangerous channels and tools that have already been mentioned above.

Keep all the software you have on your PC or mobile updated.

You should only use the implemented tools and functions that the official software developers suggest.

Never open emails and the attachment that comes along with it from an unknown address. These emails trick you as they appear to be important but actually are not and are irrelevant. The best thing you can do is ignore them.

Take the help of any reputed anti-virus tools and software. Do not try multiple tools that are new in the market. As you don't know about them properly so you should wait for the reviews to come up.

Update the flash player and if you feel like contacting the AV engines' customer support, you can surely do that.

If you find that your PC is already affected by these viruses, we will suggest you download and install Spyhunter for Windows. Just perform a scan with this tool and your device will be safe as it automatically removes the infectious malware.
Eliminate IDP.Generic Virus with the help of these Steps
There are two ways of removing the idp generic virus from your device. One is the Automatic Way and the other is definitely the Manual way.
Automatic Way of Removing the IDP Generic Virus
As the manual process is very lengthy and time-consuming, many people prefer an automatic way. Spyhunter is the ultimate solution for you. It is an amazing tool for eradicating malware or virus from your device. You just need to download the Spyhunter tool for free and install it.  After that perform a clean scan and this will automatically detect the idp generic trojan and automatically remove it. Isn't it that easy?
Manual Way of Removing the IDP Generic Virus
As said earlier, the manual process of removing idp generic virus is a tough job and takes a long time to complete the whole process. But also remember that if you are not a computer expert or if you don't have advanced computer skills, you may face difficulties while performing the steps.
Firstly, you must recognize the name of the malware that you want to eliminate from your device. For this, open the task manager and check the programs that are recently running on your device. 
Look carefully at which programs look suspicious to you and then move forward to the next steps.
1: Download the Autoruns App
The first step is to download the Autoruns application. This is an amazing application that tells you about the auto start applications and shows you registry and file system locations.
2: Restart Your Computer In Safe Mode
For Windows XP and Windows 7 users
Click Start and then tap on the Shutdown button. Hit on Restart and then OK. After this, you will see your computer will start processing.
At this point of time. Press F8 in your keyboard multiple times and don't stop until the Windows  Advanced Options menu opens up for you. Now from the menu, select the "Safe Mode with Networking" option.
For Windows 8 Users 
First, visit the Start screen and then go to the search bar. Here type, Advanced. A list will pop up on the screen now. From the list, select the Settings options
Now from the General PC Settings Window, select the Advanced Startup option. Doing this will enable your computer to restart into the Advanced Startup Options Menu.
After this point, look for the Troubleshoot button and hit on it. Next, click on the Advanced Options button
Click on the Startup Settings option in the Advanced Options screen. Now, look for the Restart Button and tap on it. This will enable your PC to restart into the safe mode using the Startup Settings screen. When your PC is restarting, press F5  to turn the Safe Mode with Networking options.
For Windows 10 Users 
You first need to hit on the Windows logo, also select the power symbol. When the main menu opens up, select Restart while holding the Shift button on your keyboard. That's it! These steps will help your computer to start in Safe Mode with Networking
3: Extract the Downloaded Archive and Run the Autoruns File
The next step is to extract the downloaded archive and then run the Autoruns .exe file.
In the Autoruns application, you must look for Options and tap on it. It is located at the top of your screen. Once you are done doing it, uncheck the Hide Empty Locations options. Along with that, hide the Windows Entries Option. Now click the Refresh button after that.
4: Examine The List Provided By The Autoruns App For Eliminating The Malware
Here in this step, you need to pen down its full path and the name. Just for your information, most of the malware hides the name of their process under the legal Windows process names.  Remember that this stage is very vital and you should not try removing any system files at this time.
Once you identify the suspicious program that you are trying to throw out of your device, simply hold the mouse and right-click on its name. After that, select the Delete option.
After performing all these steps, idp generic virus is hopefully removed from your device. But still, for security check, search the name of that virus or malware on your PC and see if it still exists or not.
For this, you need to turn on the Hidden Files and Folders option. If yes, then make sure to remove it right then. After that, the only task that is still pending is rebooting your device in the normal mode. So do that and your job is finally done!
Note: These steps may not work properly in case your computer is badly affected with infectious malware. Also using the Autoruns app ensures that on the next system startup, this particular virus can not appear automatically.
Conclusion
This was an easy guide for you to remove the idp generic virus from your PC. But note that you can apply the same steps in order to remove any malware from your computer. It is recommended that if you are not that efficient in advanced computer skills, you should hand over the task to the antivirus or anti-malware tools. We are sure you do not want your computer to be attacked by any dangerous virus-like idp generic. So to prevent your devices, you must use the best antivirus software for cleaning up your device and also update the operating system to its latest version. 
Some of the well known and most effective antivirus or anti-malware software are- Spyhunter, Malwarebytes, Reimage, etc. So take the help of these tools and keep your computers and mobiles safe.
About Author