Remote Computer Support: What It Is and How It Works?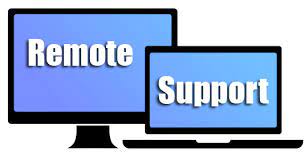 Remote computer support is the ability to connect to another computer or network that is not physically present in your presence. Remote computer support enables an employee to access a computer desktop and its files from a distance. For example, this allows an employee who works from home to work more effectively.
With the outbreak of the novel coronavirus in 2020, remote computer support has become increasingly important. Remote computer support allows employees to continue working while away from their physical workplace, which can help businesses stay operational.
Remote computer support is not a new concept. It can assist people both at work and in their personal lives. Here are a couple of examples.
When you're in a meeting at another office with your laptop — or telecommuting — and need an essential file that's on your office computer, remote access software comes in handy.
Remote computer access can help you in assisting someone in your personal life who may be located far away. For example, you could assist elderly parents in completing their tax returns. If you have remote access enabled on your computers, you can access their computer and financial documents.
The first thing you should probably do to solve computer tech support problems that are unexplainable is restarting your computer. This is the first piece of advice that any computer tech support person would give you anyway if you have a niggle or a problem with your PC.
What exactly is remote computer support?
Many people bring their laptops to the airport to complete tasks such as finishing a business presentation while waiting for a flight. However, many of those laptops may not have more significant, more important files on them. You could leave those files on your desktop computer at work or home.
What if you require access to those documents? What if you need network access? If this is the case, remote computer access can be beneficial.
Remote computer support software allows you to connect to networks and computers from anywhere. It's like having a remote control for a computer or system that isn't in your immediate vicinity.
You'll be able to download files and applications from your desktop or another person's computer to your laptop or cell phone remotely. Remote access also allows you to control the remote device.
These are some of the pros of remote access:
The ability to quickly troubleshoot
Devices connected to the same network can be easily monitored and controlled
File-sharing works
Your device's ability to mirror the original device, including files and applications
What is the procedure for remote computer support?
A dependable internet connection is required for remote computer support. You must activate or install software on both the device you want to access and the devices you want to use to gain access.
For example, you could install the software on your home computer and another device that will be used remotely. This allows you to establish a remote connection and access your home desktop from anywhere.
Remote access solutions are classified into two types: those provided by the same company that provides your operating system, and third-party solutions. There are numerous third-party options for remote access software on the market.
The program that is best for you may be determined by your platform, as all computers and devices use the same operating system, for example, there are Windows-only and Mac-only programs.
Depending on whether a person is present at the remote end, remote support sessions can be either on-demand or unattended.
Remote Assistance on Demand
On-demand remote IT support is assistance provided by technicians to remote customers when someone is present at the customer's end to participate in the session. Technicians can start a session right away or schedule it for a more convenient time.
Screen sharing
Screen sharing assistance enables tech support technicians to share their computer screens with remote end users quickly and securely. When a demonstration is required, technicians can use this feature.
Remote Unattended Access
Unattended remote access is the use of a remote computer without the presence of a person at the other end. With unattended access, issue resolution, patching, software updates, and various other tasks can be completed during a customer's downtime without requiring them to interrupt their workday.
The cost of remote access software varies, and some are even free. Here are a few possibilities:
TeamViewer
This is a free cross-platform software solution for personal use. This is how it works. You must first create an account before downloading and installing TeamViewer software on both your home computer and the remote computer or device.
TeamViewer is compatible with Windows, Mac OS, Linux, and Chrome OS. Apps are also available for Windows Phone, Blackberry, iOS, and Android.
Splashtop
This option provides similar functionality to TeamViewer, but it is only accessible if you want local access between devices. If you aren't just looking for local connections, this may be a more expensive option.
However, the product includes high-quality video and audio. If you value that, the cost may be justified.
LogMeIn
This is yet another cross-platform option that comes at a cost. It is only accessible through a web browser and includes several file-sharing features.
Windows Remote Desktop Protocol (RDP)
This is a built-in remote desktop connection supported by both Windows and third-party software. You won't need any additional software if you have Windows Professional or higher.
While this solution is free, one disadvantage is that it must be set up on the home computer. If you're doing this for someone who isn't technologically savvy, the initial setup may be difficult.
Furthermore, Windows RDP will only function on your local network. To access it over the internet, you'll need to either forward ports on your router or use a VPN. More on that later.
Screen sharing on Mac OS. Screen-sharing is built into Mac OS X, allowing you to share between Macs. It will enable you to connect in a variety of ways, including logging in, using your Apple ID, sending a connection request, or connecting via a Virtual Networked Computer connection.
In a nutshell
Although you must pay large corporations, obtaining services from them is a lengthy process. The advantages of a local IT support provider shared above would be a wise choice if you want immediate and personalized assistance.
They will not only cater to your technological needs but will also improve their services regularly to help you perform better in your business. Furthermore, your employees may benefit from them, and you may get solutions faster because they understand how your machines operate.
In summary, if you choose a local IT support rep or a company, technical issues will not have an impact on your overall work performance.
About Author