8 Ways to Activate STARZ on Roku, Smart TV and Other Devices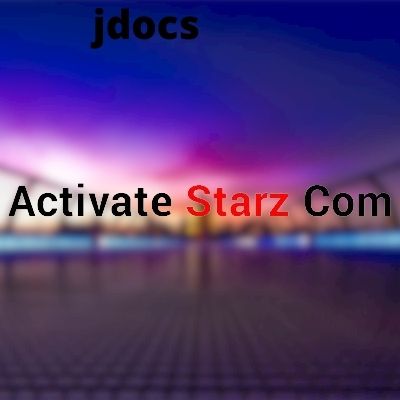 With the reduction in the demand for cable TV services, people are opting for smart TV devices for better visual and entertainment. Several multimedia platforms are ready to provide you with great features and the latest TV shows and movies. STARZ is one such entertainment platform that delivers this kind of service. 
No matter what smart TV devices you are using, you have to activate STARZ to begin. After that, you will be able to watch your favourite TV shows and movies with ease. In addition to that, if your smart TV has an additional feature of attaching a dedicated device, then you have to install it with the help of certain procedures. So, read to know more.
What is STARZ?
The STARZ is an online movie streaming website that is developed in the United States of America. Moreover, it also has a satellite TV network. Have you ever heard about the production house named Lionsgate? The movies produced by Lionsgate are just awesome, right? Yes, STARZ belongs to Lionsgate. 
The Compatible Platforms 
STARZ works on multiple multimedia platforms. Some of them are like Microsoft Xbox, Roku, Sony Playstation, Amazon Fire TV stick, Android, iOS and others. In addition to that, if you are having a smart TV, then it will be much easier for you to set up STARZ through activate.starz.com. 
The Activation Procedure of STARZ
There are several steps that you have to accomplish for the setup. Without it, you cannot watch a single movie or a TV show. Before that, make sure you have a good internet connection to avoid any kind of interruption. 
1. The main activation of STARZ
You can complete the main activation process from your computer. Just visit the official website of STARZ or go through activate.starz.com. After that sign-up with a valid email ID. The password will protect your account from unauthorized access. Tech-experts suggest that creating a 13 character password with a mixture of lowercase and uppercase letters, numbers, and special characters would indeed be a strong password. 
Now, you have to enter your valid mobile number to receive alerts messages and password recovery. When you receive an activation code, place it in its destination and complete the activation process. The first week will be the trial, and after that, you have to subscribe to a package for a long term usage of activated STARZ account. 
2. STARZ on Roku
Roku is a media streaming smart device that allows you to experience real entertainment via streaming online. Install STARZ in your Roku device by signing in your Roku account. After that, just like old times, access the main website of Roku to receive the activation code via mobile phone. 
3. STARZ on smart TV (Android)
Turn on your Android TV and open PlayStore. Search for STARZ and install the application. Log in with the STARZ login ID and password that you have created previously. After that as usual, the activation code will be sent to your mobile phone. Apply it to gain access. 
4. STARZ on Apple TV 
The procedure of installing and accessing STARZ on Apple TV is a bit different. On the first attempt, you have to download the Fox Sports Go application. After that, create an account there with the help of its official website. When done, download the STARZ app on Apple TV. When the installation is over, log in with the STARZ ID and password. Or, you can also go through activate.starz.com.
5. Activation on any Android Devices
Activating STARZ and enjoying the visuals on any android devices is one of the easiest methods. Login to the STARZ app by downloading it, and instal it on your android device. The app will automatically send an activation code to your mobile. Complete the login process by applying the code. 
6. Setup procedure on iOS
Just like android devices and PlayStore, Apple's AppStore also has the STARZ application. Proceed via applying all the login credentials in the application. Enter the activation code from your iPhone, iPad and iPod Touch, submit the code and enjoy the features after you activate STARZ account.
7. Enjoy STARZ in Amazon TV 
Amazon Fire TV Stick is the only multimedia streaming device for entertainment. Yes, you can also enjoy STARZ over there. Login by applying the correct credentials after installing the application in the Firestick. If you face any issues, then resolve it with the help of the official website of STARZ. 
8. STARZ on Gaming platforms 
In the gaming world, Xbox from Microsoft and PlayStation from Sony are the only two gaming consoles that exist. It is obvious that you can do a lot on these consoles apart from playing games. That is why the facility of STARZ is also available. Just download the Xbox emulator in your gaming console. To some extent, the process for the PlayStation is also the same. After that, enjoy STARZ with the help of correct login credentials. 
Details about the Subscription 
The subscription charges depend upon the monetary value of your country. The charges will be on a monthly basis. After the trial period is over, you have to pay with the help of your credit, debit card or via other money transaction platforms. You must be careful while you are performing a monetary transaction. It is better that you use your antivirus sandbox to do so. 
Also read: Twitch.tv/activate: What are the Steps To Activate Twitch TV?
What if you want to cancel the subscription? 
Yes, you can cancel the subscription, based on your preferences. Just visit the main site, or activate.starz.com, or search for the cancellation link given there. Use it to cancel the subscription. You will get a certain amount of money to refund within 2 to 4 business days. 
About Author