Asus RT-AC66U vs RT-AC68U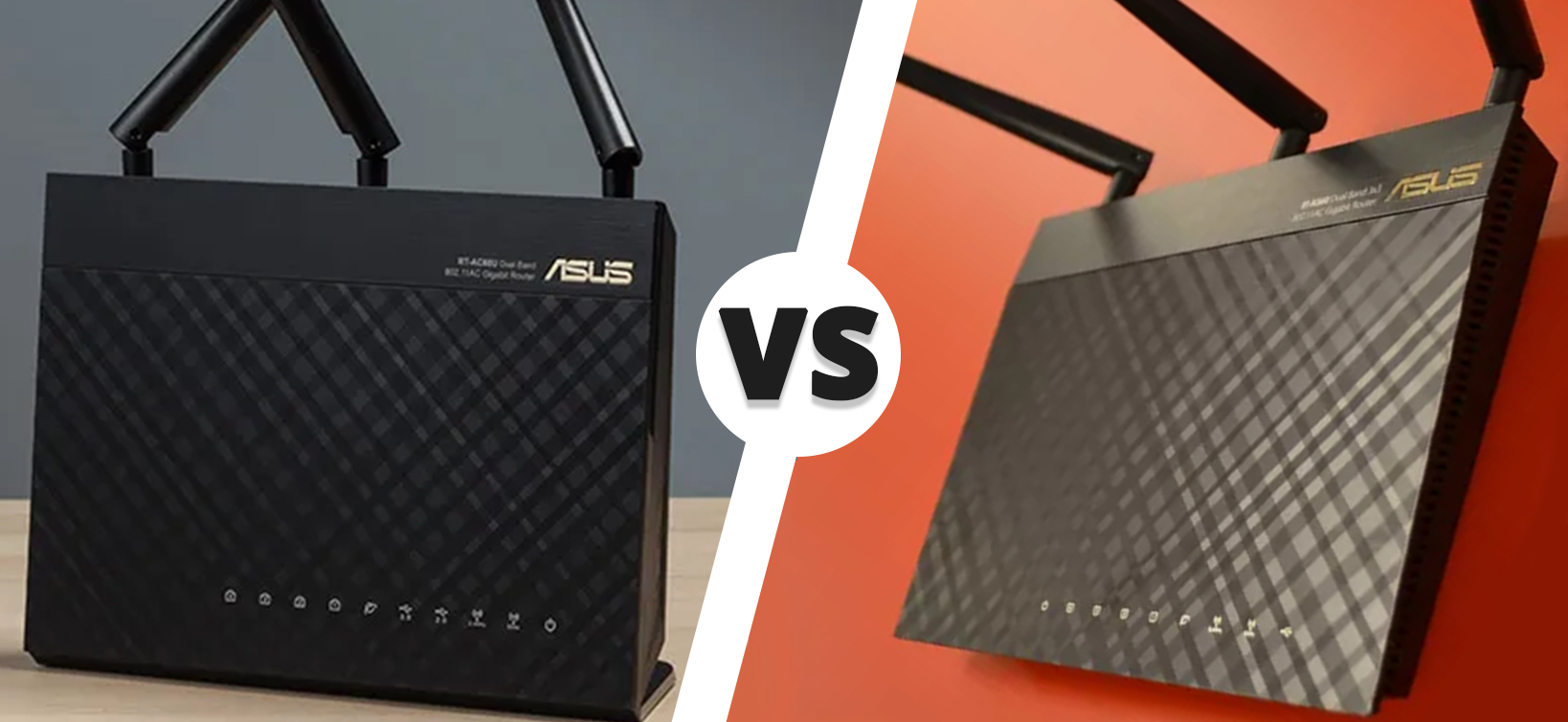 Few years back, Asus launched the fastest WiFi in the world and named it Asus RT_AC68U. The router is a beast in itself and holds a capacity to produce combined dual-band data rates up to 1900Mbps.
Not only that, the RT-AC68U is supercharged by Broadcom TurboQM technology which delivers an unmatched performance of 2.4 GHz 802.11n at range from 450 Mbps to 600Mbps when connected to compatible devices.
The Asus RT-AC68U is powered by a dual-core processor that can eliminate any kinds of lags even on heavy-duty. The RT-AC68U comes with a lot of variants named as AC750, AC1300, AC1500, AC1750, AC1900, AC5300, ROG GT-AC5300(mainly for gaming purposes), AX6000(802.11 ax) and AX11000(802.11ax).
But among these variants, the AC1900 captures most of the limelight. Now, take a look at some of its basic specifications.
Comparison Table
Now as we are talking about the two of the best routers manufactured by Asus, the user might get confused between the two models. So let us see what new changes ASUS has introduced in the RT-AC68U that was not previously included in the RT-AC66U in a tabular form.
Preview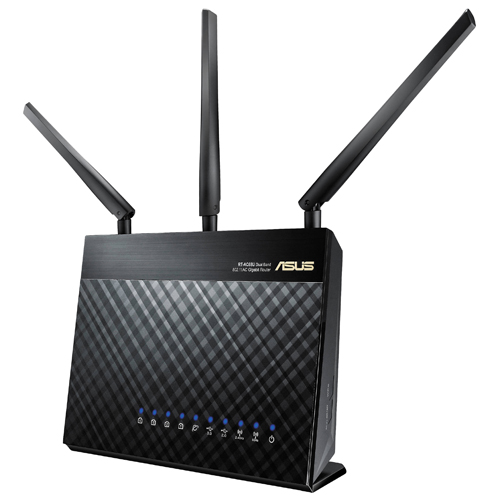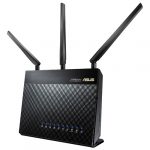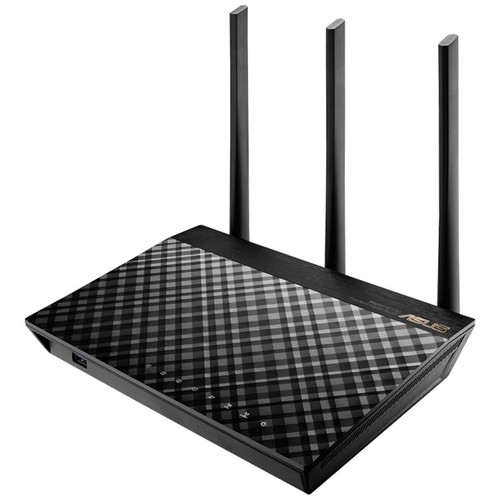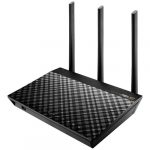 Specifications
ASUS RT-AC68U AiMesh (2 pack) AC1900 Whole Home Dual-band AiMesh Mesh Wifi System, AiProtection Lifetime Security by Trend Micro, Adaptive QoS, Parental Control
ASUS RT-AC66U B1 AC1750 Dual-Band WiFi Router, AiProtection Lifetime Security by Trend Micro, AiMesh Compatible for Mesh WiFi System
Wireless Frequency Bands
2.4 GHz, 5 GHz
2.4 GHz, 5 GHz
Number of Antennas
3
3
MU-MIMO Support
Not Specified
3×3
WLAN Mode
WiFi 5 (802.11ac)
WiFi 5 (802.11ac)
Antenna Gain
4dBi
Not Specified
Supported Protocols
IPv4, IPv6
IPv4, IPv6
Antenna Placement
External
External
Ports
1 x 10/100/1000 Mbps
Gigabit Ethernet
(Rj 45)(Uplink)
4 x 10/100/1000 Mbps
(Rj 45)
1 x 5 Gbps USB Type-A
1x 480 Mbps USB Type A
1x Ethernet (Rj 45)(Uplink)
4x 10/100/1000 mbps
Gigabit ethernet (Rj 45)
1x 5 Gbps USB Type A
1x 480 Mbps USBType A
USB Sharing Support
Yes
Not Specified
Throughput
2.4 GHz: 600Mbps
5GHz: 1300Mbps
2.4 GHz:450mbps
5 GHz:1300Mbps
Guest Network Support
Yes
Not Specified
Wireless Security
WEP 64, WEP 128, WPA, WPA-PSK, WPA2,WPA2-PSK
WEP, WPA, WPA2
RAM
256GB
Not Specified
Storage Capacity
128MB
Not Specified
Processor
Dual-Core
Not Specified
AC Input Power
110 to 240 VAC, 50/60 Hz
110 to 240 VAC, 50/60 Hz
DC Input Power
19 VDC at1.75 A
19 VDC at1.75 A
Dimensions
8.66 x 3.28 x 6.3" / 220 x 83.3 x 160mm
8.6 x 5.8 x1.8" / 218 x 148 x 45mm
Weight
Not Specified
1.5 lb / 660.0g
Warranty Length
Limited 2 Year Warranty
Not Applicable
Specifications and Features of the Asus RT-AC68U
The beast comes with a Broadcom TurboQM technology that increases the wireless-N data rate up to 600Mbps to provide 33% faster performance.
The RT-AC68U is comprised of five-gigabit ethernet ports that ensure a fast and stable wired network connection. It comes with Dual USB 2.0 ports and a single USB 3.0 port. The latter can deliver up to ten times faster data transfer rate.
Asus has implemented a Dual-core processor for fast and responsive performance with WiFi, ethernet and USB devices.
Apart from all these exciting features, Asus is also providing a 3 years manufacturer warranty from the date of purchase on RT-AC68U. Read More
Specifications and Features of the RT-AC66U
The RT-AC66U comes with a 5th generation 802.11ac chipset that can give you a concurrent dual-band 2.4GHz/5GHz frequency that can go really fast up to 1.75Gbps.
In the RT-AC66U model, Asus has provided Gigabit Ethernet ports for faster and more reliable performance. The device has an AiRadar optimized wireless coverage feature that comes with detachable high-powered antennas.
In this device, the user enjoys the ASUSWRT User Interface by ASUS. The UI can be installed in three easy steps. Also, from the UI dashboard, you can operate the signal monitoring system and can remotely navigate the network application control.
You can download Master to get access to the wireless storage and to the router connected USB storage devices.
There are two multi-functional built-in USB ports included in the RT-AC66U that enable the user to do several tasks like file sharing, printer sharing, and  3G sharing. Read More
Why is RT-AC68U likable?
Routers are meant to be freakishly fast. That's what makes so much likable to the users. In this case, the Asus RT-AC68U is on the top of the list. This router has the ability to deliver extremely high data rates at any range across any channels.
Another most likable point is that the router can plug in two separate internet modems. That is a piece of very good news for power users. With this router, a user can set up two main Wi-Fi accounts on each frequency channel.
Honestly saying, most of the users won't even use the full features of this router. But if you are thinking of buying this product for just connecting your multiple devices to the internet and expecting some great bandwidth speed, then you can choose the RT-AC68U over any router in the market.
Why is RT-AC68U not likable?
The only drawback of the Asus RT-AC68U is the cost of this router. In the common feature range, Asus RT-AC68U is the costliest.
Pricing range is the only thing that will make the buyer think twice before buying the RT-AC68U. Otherwise, as said before this router is a speed beast.
In The End
The Asus RT-AC68U is actually that kind of device that can literally do anything anyone expects from a high-speed router. So if you are a daily constant internet user and want to get some freakishly high-speed internet on your devices, then the Asus RT-AC68U is a highly recommended device.
ASUS has introduced different types of variants on the RT-AC68U. So buy the version that perfectly fits in your day to day life.