Is it Safe to Use Free Movie Streaming Sites?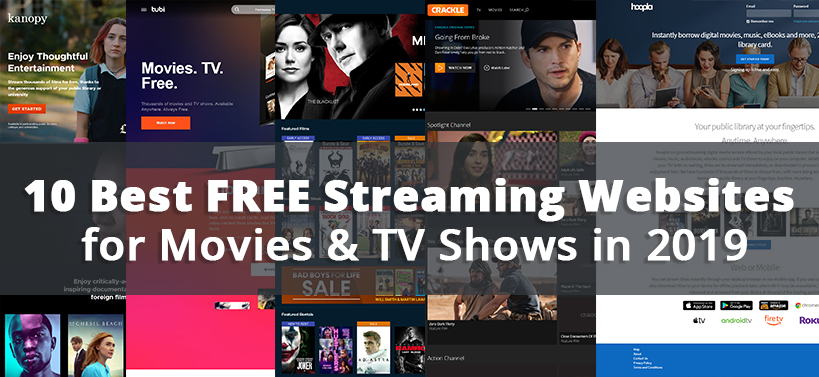 If you are a movie buff, who does not want to splurge money on streaming services like Netflix, Amazon Prime Video. Then there is an array of free movie steaming services present on the internet with which you can watch a variety of films.
However, in the free streaming services for movies, you will not get the current or old blockbusters films. But, there are enough movies within those streaming sites that will help you to increase your film knowledge.
Almost all the movie streaming services have either a website or an application for the smartphone so that you can watch whenever you feel like. Here, there will be enough names for free movie websites so that you will not get bored.
List of free movie streaming Websites
You will get the best free movie streaming sites here. So follow them one after the other.
Hoopla

Hoopla is the digital media service that lets users take the rent of their movies or television shows via a library card and watch them on their computers, phones, tablets and etc. there are plenty of titles available with this service to choose from. So you are spoilt with many choices. Along with movies, this service also provides services like comics, music and even audiobooks. Now, the only problem with this service is you need to have the library card. In order to get the library card to need to visit the library physically.
Vudu

Vudu is an online digital media service that provides rent for various types of movies. You can even purchase movies from this service as well. This service gives you a variety of television series along with movies that you can stream for free with advertisements. There is no need to create an account, in order to watch any movies or television shows. One huge benefit of watching free movies with Vudu is that it offers them in the 1080p resolution.
Tubi TV

Tubi TV has a big collection of both movies and television shows, that you can watch for free. This streaming site has every type of movie and TV show genre. So, you can watch any movie genres say 'drama', 'thriller' and etc. One thing to keep in mind is that you will not get any current releases but there will be blockbusters from the last two decades or more.
Though the television part is not that great, yet the collection of movies is quite better that can impress you.
Kanopy

Kanopy is a website that is quite similar to Hoopla. This website gives access to many types of movies like foreign films, documentaries, independent films and etc. You can take the rent of those types of movies using the library cards. Kanopy is a website that associates with the various public libraries and universities that provides digital media to you without any advertisements. Even, if you have a university card, then also there is a possibility for you to access the service from Kanopy. You can access Kanopy either through a dedicated application or the website on the tablet, phone, and computer. One huge drawback of this service is that the public library or the university of which you are a member or student respectively must be a participant of Kanopy.
Sony Crackle

Sony Crackle is another streaming website with which you can watch movies and television shows on the internet. This service provides you with a plethora of movies and TV shows only from a Sony production house. However, here you will get popular selections of movies but classics hits in case of TV series. All the media that are available with this service have support from advertisements. If are a fan of Sony produced movies and TV shows, then this website will be a treat for you.
IMDb TV

IMDb is a great website that provides information to you about anything in relation to movies, documentaries, TV shows. This website even streams a huge amount of TV shows and movies free of cost. Even, you will get videos from the IMDb original productions which are usually interviews. You can access the IMDb TV services using the Amazon Fire TV and the official website.
Pluto TV

Pluto TV provides cable TV-like services online. This service offers plenty of free streaming channels that include movies, sports, news, and etc. Pluto TV is the one which is owned by the Viacom. You can get an On-Demand section with this service, that allows you to watch any media at your own preferable time. One major drawback that this site has, is there is no dedicated search section.
Popcorn Flix

Popcorn Flix is an online media platform that provides access to many genres of movies and TV shows for free. However, there are no current releases of either any movies or the TV shows whatsoever.
This platform even contains all the videos that are currently viral on the internet in a separate section. The huge benefit of this service is that there is no need to perform any sign-up to watch any content.
Xumo

Xumo is an online video streaming website that provides free on-demand and live entertainment. This website provides all its services for free with the help of advertisements. There are over one sixty channels available with this service that you can choose according to your preferences. You can even watch several movies or TV shows on this site. There are many ways using which you can watch digital media through the Xumo, some of them are as follows smart TVs, Android devices, web and etc.
YouTube

YouTube is the platform that has recently become popular for having free movies with advertisements within the video only. You can watch the movies present within this platform without even signing into it. But, if you sign into this platform, then you can even watch any free movies that have 'R' and 'NC-17' age rates.
About Author