GoDaddy Domains Loses More than 37,000: The SOPA Policy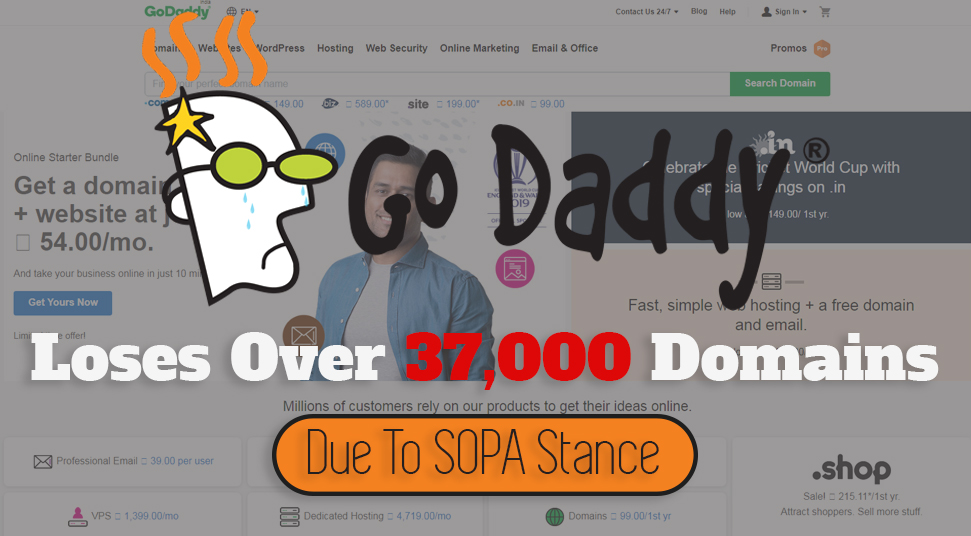 GoDaddy Inc. is a platform responsible for keeping an official record of domains and a firm for Godaddy hosting. This platform has a wide variety of other services like SSL certificates, website security, providing solutions on E-commerce, email marketing, and even creating and developing various websites.
GoDaddy register domains and earned a lot of fame over the years and that has been possible just for one reason. They spend millions and millions on advertisements.
They could make a prominent place in the users' hearts by charging very little amount from the newcomers on the platform. This is very revealing about their business tactics.
The small business owners and the fresh clients are very much leaned towards the lower rates they offer. They have a firm belief that GoDaddy is actually offering some sort of rebates to the new clients. But it earns more money from the high renewal costs and automatic charges. GoDaddy earns a lot of money by charging for every feature that you need for your website.
The low prices of using GoDaddy is nothing but a business strategy to attract as many customers as possible.
The Benefits GoDaddy Claims to Offer
Basically, GoDaddy register domains and offers if you intend to expand your business on a larger scale.
GoDaddy web hosting and developing websites have mentioned some amazing features it offers to the users while designing on its website itself.
GoDaddy itself has mentioned the following features for developing and expanding your trade through a website. The features are:
GoDaddy helps you to put everything together and in order on your website to create an attractive and useful business platform.

It offers a bunch of equipment to monitor and manage your site. You will be able to check whether your website is running smoothly without any issues.

GoDaddy Online Store has each and everything that you need for selling any product.

This platform gives people enough functionalities to create attractive blogs and articles for making a promotion in their business.

GoDaddy claims that it can help you to a great extent by heightening the search engine ranking of your business website.
GoDaddy Domains 
Lost Over 37k
At the end of 2011, GoDaddy suffered a huge loss by losing more than 37000 domains within just a couple of days. This muddle took place as GoDaddy had stepped on the path which goes along with the tendentious Stop Online Piracy Act, popularly known as SOPA.
On the basis of a report of The GoDaddy Domains, there was a loss of more than 15000 domains on the 22nd of December, 2011 (Thursday). Again, a quick disappearance of exactly 21054 domains took place on the 23rd of December, 2011 (Friday). GoDaddy attempted to bring the damage under curb by pulling back its support to SOPA.
SOPA (Stop Online Piracy Act) – Let Us Have a Little Look
Stop Online Piracy Act or SOPA is something that's got a strong grip on the Internet at present. This bill was introduced by Lamar S. Smith, a US representative. He launched this act for fighting against online copyright issues and online trading of forged products.
The consequences for supportiveness of SOPA are:
Your website will be banned from the Internet without notification and you will have literally nothing to do.

Not only the small businesses, but this would also harm the most popular business websites and can go through a huge loss in no time.

Huge piracy blocks website, not the IP address but the domain. Your customers do not search for you by IP but with the domain. If the domain is blocked, then they will fail to get to your site.

Consequently, it proves the fact that SOPA is too unsuitable for the company and that too at the wrong moment.
Diving Deep into the Details of the Loss GoDaddy Had to Go Through
GoDaddy loses domains and the consequences were terrible. A loss of a whopping 37000 domains is not a matter of joke and unfortunately, the count is still rising.
After this unsettling occurrence, GoDaddy immediately switched their stand on Stop Online Piracy Act (SOPA) to one without any sort of favoritism. This rapid swapping of the platform is very revealing. It outshines the fact that GoDaddy walks on the way that proves useful to itself.
The team of GoDaddy came at the end of one's tether and started calling various website owners for getting back some of the members that left the platform for this stance. This desperate act of GoDaddy helped them to somehow get back to a position and meet a little triumph.
While they were in the mode of supportiveness of SOPA, GoDaddy did not understand how upsetting the consequences of their actions will be. They were unaware of the effect that the customers would be facing after this benevolence towards this controversial bill.
To the website builders and web developers, the SOPA bill is a very familiar subject. It is well-known as to how minacious SOPA can be. It can be very much catastrophic for people who own websites. This is because a website sharing pirated content is bound to pay a high amount of fines.
If you are somehow involved in this act, then that can make the United States put an end to your website and your business will get easily ruined. Their lives will get smashed into pieces within moments and they will have nothing left to fix the break. They cannot fight back to regain what they owned just for an unfair act passed by voracious corporations.
Due to Loss of GoDaddy Domains, What Steps did the Team of GoDaddy Take?
GoDaddy Domains were lost for this act and the team had to pay the price. Christine Jones, the General Counsel of GoDaddy, along with the whole team, sat with various confederated legislators for several months to help craft revisions to lawmaking first initiated in the year 2008.
They made the statement that the company would fortify the Domain Name System (DNS) blocking as a procedure for hitting on foreign websites violating the United States copyrights.
Reports have made a confirmation that from the 23rd of December, 2011 (Friday) onwards, Christine Jones has terminated all the posts from GoDaddy.com elaborated on the firm's support of furnishing the SOPA bill.
Winding Up with a Concluding Note
GoDaddy has suffered a lot after this menacing act. It somehow regained a certain position in the economy after a lot of trials. But the wound did not heal completely.
We hope this article furnished you with enough information. Put your comments below in the comment box and let us know your points of view on this issue.
About Author