AI: Reshaping Web Development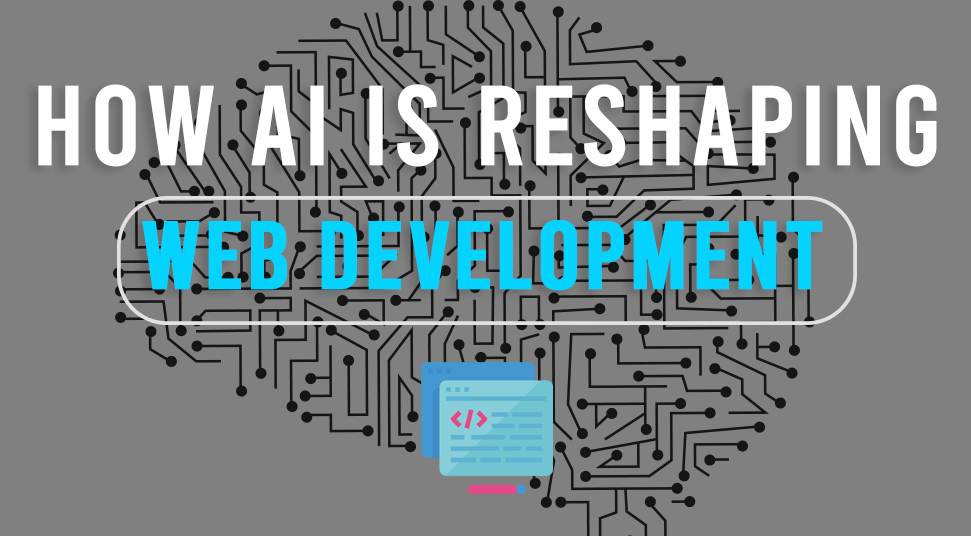 For people who think AI is still far away, they are extremely wrong. AI is already here and is impacting our everyday life in ways you don't even realize. It is reshaping our lives, work as well as workplaces.
At a certain point, it might have happened that you have gone through a website that is AI-empowered without even knowing. If you have not, you will very soon find AI-powered websites in the coming days.
AI is impacting the web design industry by helping automated web design, design layouts, and content and image developments. Additionally, AI is offering real-time feedback on the basis of an analysis of current websites. Thus, it simplifies the process for website designers.
AI is helping developers who are well equipped in web design, creating basic templates and layouts. This will allow every single alteration to all pages throughout the website. It also covers various other aspects such as basic skills for photo editing. Web developers can guide their machines to act and think like designers.   
An Advanced User Experience
AI is reshaping the web development in a tremendous way providing users with experience which is more personalized. Skilled developers understood the requirement of users for years. And now, to grab more users they have decided to create websites adding more enticing and interactive features in it.
With the advancement of AI and machine learning, experts can propagate a new type of consumer experience that was not possible before. Machine learning is rapidly progressing over the past few years without showing any signs of slow down.
You need not wait for the future to come to see AI-based web development. Many developers already use AI to automate the assembling of exciting websites. A huge number of websites using AI in web designing will be examples for many newcomers in the industry in the upcoming years.
Usage of AI in Web Development 
It is basically the development of a computers' ability to perform tasks involving human intelligence. It is a combination of various goals such as:
Problem-solving, Reasoning

Knowledge representation

Planning machine learning

Natural learning processing

Motion and manipulation

Perception, Social Intelligence

Creativity, General Intelligence 
The Change AI is About to Bring in Web Design Future
The future is uncertain. However, that does not imply that every new technology implemented in different sectors is bad or should be considered to be a threat to human beings. Now AI can design a website and give the designers more benefits such as:
Doing annoying tasks and skips on designing a website from scratch.

Understand content and user choice in order to personalize the website thus making it a smoother experience for individuals.

Assist experts and professional web designers in projects.

Enable the average public to manage their personal websites without trouble.
In order to involve, a person has to embrace and accept the change so as to move on. The future is all about AI. Rather than worrying about what changes it can bring in the future, you need to focus on the current changes which they bring about. 
Some Common Websites Applying AI in Web Design
AI is not only present in the medical sector. It is also performing a significant role in SEO. AI has already marked its entry into web designing. Here are a few renowned examples where AI is implemented in web design.
The Grid
The Grid is one of the world's first companies to mix web design with AI. It named the AI as Molly. Also, it aimed to help design websites in an easy and fast way with some simple clicks. 
Wix ADI
It comes with the facility to create websites very easily using the drag and drop feature with the help of AI named ADI.
Firedrop
It is another web designer website that makes application of AI, Sacha. All you need is to chat with the AI and get the website designed as per your requirements. 
WordPress Plugins
There are also many other available WordPress plugins that apply AI to improve user experience.
Some Other Applications of AI in Web Development 
These days, web designing is not only confined to design attractive web pages. It is more focused on improving the user experience. In this regard, AI is winning the technology of the world and converting many businesses. Below mentioned are two major tech giants making use of AI.  
Google
In order to provide you the best search results and appropriate content, it modernizes its algorithms for enhancing the user experience. RankBrain is a learning AI system algorithm by Google that enables users to provide appropriate content. Image Search is implemented by Google to find out the levels of the image, explicit content, landmarks, faces, and other various attributes.
Amazon
Amazon is one of the best websites that use AI in it. On the basis of search results, it gives you a proper combination of the products. Netflix uses AI, to suggest better videos to its users.  Keeping an eye on the behavior of users, the best videos are recommended that users can watch.    
Ending Notes
AI is rapidly transforming the world. It is embracing more features to enhance web technology. AI customizes efficiently the design and extensive user experience of a website. It also provides every enterprise feature that is desired. In order to boost up business turnover, AI is the ultimate step. Further, it assists you with effective web design.
The number of web pages that are static and text-only is sharply reducing. There is an enormous growth of websites with animation, moving parts, videos, etc. A quality UI is determined on the basis of how engaging, responsive, and cost-effective it is. And AI is making the difference in building such UIs and thus enhancing the customer experience. In short, AI is showing extreme effectiveness in web designing and we can safely say that it's here to stay.
About Author