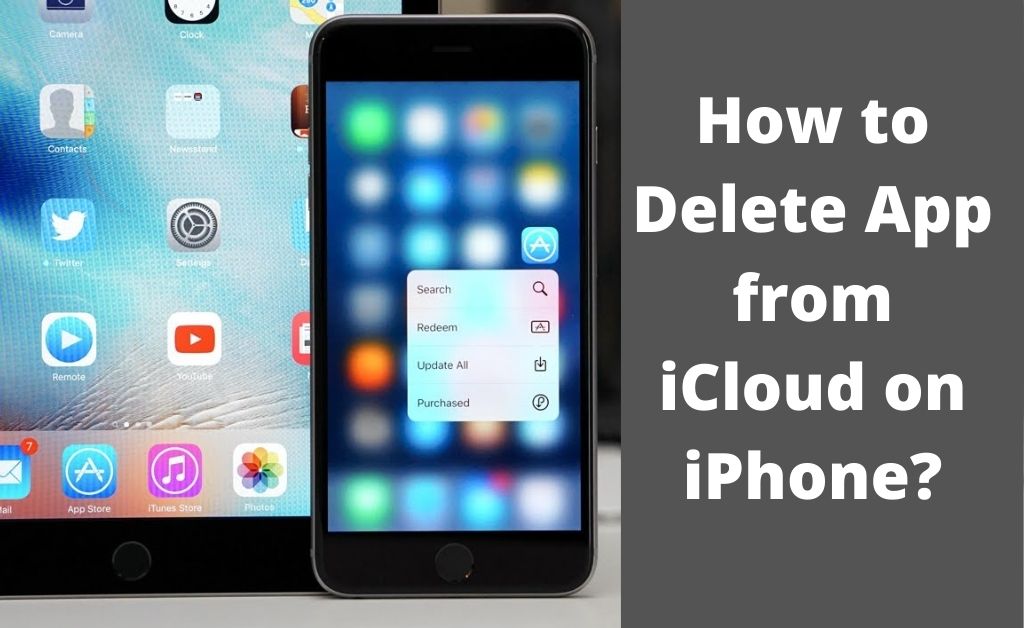 You can get 5GB of free storage space for your files with the Apple iCloud service. Moreover, it also allows you to backup app data if your device lacks sufficient space for them. But, the free storage you get is limited after all, and you might need more space. Many users prefer to remove app data from their iCloud rather than buy more storage space. And, that is surely a more viable option in many cases. 
You can delete app from iCloud using Mac, iOS, and Windows devices. Here, we will look at how to proceed in each case. We can also suggest an alternative to that if you are looking for one. 
Methods to Delete App from iCloud
The steps for deleting an app from iCloud depend on the platform you are using. Regardless, you can usually accomplish this task within a few minutes. Here are the methods to delete app from iCloud storage:
On iOS Devices
Are you using an iPhone or iPad for the task? Then, you probably have iCloud already installed on your device. You can remove any apps from the cloud storage through Settings. 
Open iCloud in Settings
Open the Settings menu on your iOS device and click on your Apple ID given at the top. Find and click the iCloud option listed there to open its options. This will open the iCloud window on your screen. You can then perform various customisations to this feature through this window. 
Go to the Backups
Click on the Manage Storage option on the iCloud section. This will open a list of apps and features using iCloud. You can check the amount of storage they are using next to their names. Click the Backup feature to view the devices you have backed up with iCloud. 
Turn Off Backup and Delete
Find the app you want to remove from iCloud in the Backup section. You should find the toggle button next to it turned on. Toggle it off, and then click on Turn Off & Delete. This will disable further backups for the app in question and remove it. 
On Mac Devices
The procedure to delete app from iCloud is as easy on Mac as it is on any other iOS device. Through your System Preferences menu, you can do it implementing these simple steps:
Open Your Apple ID
Click the Apple icon at the top-left to bring up the options and open System Preferences. Open the Apple ID given there at the top of the window. You might have to enter your credentials to open your Apple account options. 
Are you using two-factor authentication for logging in? Then, you must enter the verification code on your Mac that you receive on another device. 
Find the iCloud Apps
Click on the Manage option at the bottom of the Apple ID section. This will open a list of apps on your iCloud at the left side of your screen. And, you should find the one you want to delete among the apps listed there. 
Are you unable to find the app among the options? Then, it is probably not on your iCloud. 
Delete all the App Files
"Delete app from iCloud" refers to deleting its files from the cloud storage. So, select an app and click on 'Delete all files' on the right panel. Confirm your decision if your device shows you a warning message. This should clear all the files associated with the app from your iCloud. 
You can apply the aforementioned steps for deleting any app from iCloud on Mac devices. So, click on each app that you want to remove and opt for deleting all its files. 
On a Windows PC
You can also use your Windows PC to delete apps from your iCloud. But, the procedure is quite different in this case. You would have to get the iCloud app on your device first to delete app data from it. 
Get iCloud For Windows
The iCloud app is available on Microsoft Store for free. So, you can download and install it right away if you do not have it on your PC. Then, you must launch the app to remove the app data you have saved in it. 
Find the App on iCloud
Launch iCloud through the desktop icon and enter your Apple credentials. Depending on the authentication method you prefer, you might also have to provide a verification code. Go to the Storage section in iCloud to view all your saved files there. 
Delete its Documents and Data
You should find the apps using iCloud listed in the Storage section. Select the one you want to remove and click on 'Delete Documents and Data'. Confirm your decision, if prompted, and wait while the deletion is in progress. Do the same with all other apps you want to remove. 
Alternative: Hide the Apps on iCloud
Do you want to remove app data from your iCloud due to some other reason than lack of storage? If yes, then you must consider hiding them instead of removing them. And, that will allow you to keep the data as well as prevent other people from viewing it. You can easily hide iCloud apps on all platforms. 
Are you using an iOS device? Then, open the App Store and go to the Updates section. Click on Purchase and swipe left on the app you want to hide. Then, click on the Hide button that appears after you do that. 
On Mac and Windows devices, you can hide apps using iTunes. Go to the iTunes Store and open the Purchased section. Then, hover the pointer over the app that you want to hide. Click the "X" that appears at the top-left corner of its icon to hide the app. 
Wrapping Up
As we have seen, you can delete app from iCloud on pretty much all platforms. Follow one of the aforementioned methods for doing that, depending on the device you are using. Also, you might find the method to hide unused apps quite useful in several situations. 
About Author