Lan Wifi Multiplayer Games: Local Multiplayer Games for Android!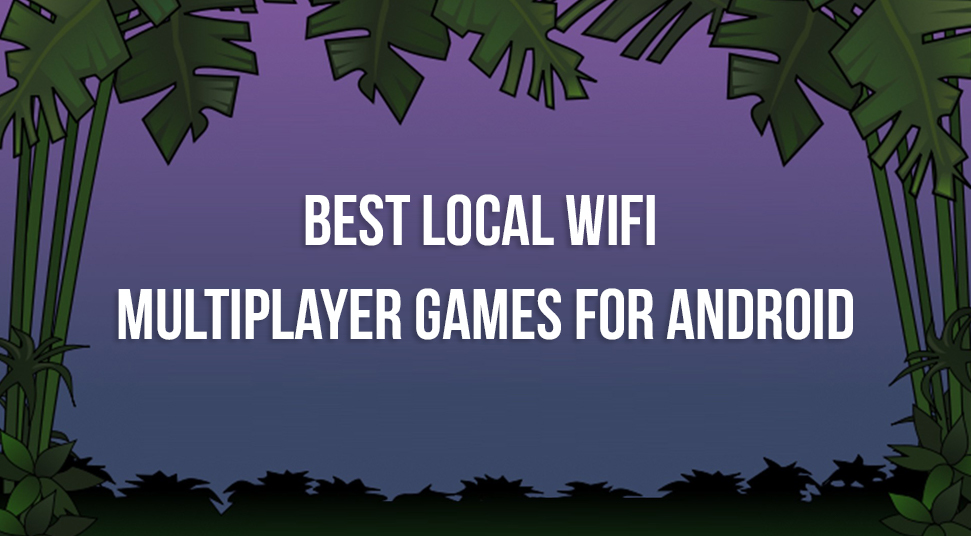 Video games are one of the best ways that keep you entertained, be it on television, computers, etc. With the advent of smartphones, now you can get play various types of games right on that handheld device.
However, one thing that you will also admit is that playing games alone can become boring after some time. But, if you play games with your friends, then it can be quite interesting as well as exciting.
In order to play games online with your friends connect via the local WiFi. Here, there will be information about multiplayer games specific to the Android device that can be played via local WiFi.
Multiplayer Games for the Android Devices
You will get extensive information about the LAN WiFi multiplayer games for Android smartphones. So follow along.
7 Multiplayer Games that are Free
Get information about the seven most popular multiplayer games for the Android phone that are free.
1. Asphalt 9: Legends
The Asphalt 9: Legends is an arcade racing game that is developed by Gameloft. This game is a successor of the previously famous Asphalt 8: Airborne back in 2013. The gameplay of  Asphalt 9: Legends is quite similar to its previous iterations like you can unlock cars after participating in races. Also, there are many types of events where you can compete and earn rewards. With the online multiplayer feature, you can compete against your friends over local WiFi, however, in the career mode you are against the AI.
This game has various hurdles that you need to complete, so you will have to spend a lot of time in order to finish it. The best thing about this game is its graphics, which is pretty good, but the biggest take away is that Asphalt 9: Legends is available for you to play with, free of cost.
2. Call of Duty: Mobile
The Call of Duty: Mobile is the first-person shooter game that is the mobile version of the very popular 'Call of Duty' Modern Warfare. This game has various types of multiplayer modes, with the help of which you can play with your friends. 
One mode is 'Multiplayer' where you can play with a team of five people and the other is 'Battle Royale', in it, there is a chance to play with a hundred person team. The Call of Duty: Mobile has a feature that needs you to gather important persons from the game series and then personalize them with different weapons.
The gameplay of Call of Duty: Mobile is quite fast-paced and smooth so there should not be any problem while playing. The graphics of this game is very good as it has a realistic appeal to it. 
However, one of the biggest disadvantages of this game is its controls. In terms of controls, the left thumb is in charge of the movement, whereas the right thumb helps you to aim. But, there is no button for the purpose of shooting, as the AI will start to shoot when there are enemies.
One to mention is that this game comes at no cost.
3. Crossy Road
Crossy Road is an arcade game developed by Hipster Whale. It is fast-paced like the Call of Duty: Mobile, and is for the family. The main aim of this game is that you need to jump over the logs, hop through the streets and then dodge the vehicles that pass you, all this without dying.
The Crossy Road game has various characters to play with and multiplayer mode. With the multiplayer mode, you as well as your friends and family can play this game by connecting within a local WiFi.
In terms of graphics, this game is not very realistic, instead, it is more cartoon-like. The performance of this game is very smooth with no lags at all while playing. With the size of only 73MB, it does not eat up the storage of the device. Like the previous two games here, the Crossy Road is also free.
4. Critical Ops
The Critical Ops is another first-person shooter game that is built exclusively for mobile devices. There are two gameplays in this game. The first one is you be an elite operative, who kills terrorists with the help of a team. Another gameplay is that you will be a terrorist and then with your group of militants wreak as much damage as possible. Critical Ops offers multiplayer combat that is quite similar to other first-person shooter games in the market.
You can get this game at no cost at all and there are no in-game purchase options to unlock some features, which is great for uninterrupted playing. However, there are various types of customizations available for the weapons and the characters, which can be bought within this game. 
5. Hearthstone
The Hearthstone is an online face-off game with the cards. The main objective of this game is to make a stack with the cards and then duel with the other opponents. However, Hearthstone also offers the capability to check the deck of cards that you have made against the AI.
This game available for both computers and mobile devices, so you can play it with many players online. In order to play this game in multiplayer mode, all you need is to create an account on the 'Battle.net'.
Since this is a card game therefore, the graphics is not really good like the rest of the other games here but, is enough. With only 13MB size, Hearthstone is a light game and does not take up the storage of your device. This game is available free of cost with options to buy some features and things within it.
6. PUBG Mobile
The PUBG Mobile or Player Unknown's Battleground is another first-person shooter game that is specially made for mobile devices. This game provides a lot of features in terms of gameplay which are as follows – "classic battle with 100 players", "deathmatch for 4 person teams", "payload mode", "fast-paced arcade" and "zombie mode".
Despite the fact that this game consists of many modes, but your main objective is to survive in the battle and be the last man standing. Due to the availability of various types of weapons, this game has become the best choice among the users.
According to the different modes in this game, the availability of the weapons depends like in the 4v4 deathmatch you will have to level up and then unlock the weapons, etc. There are play zones within the "arcade and classic" mode, which restricts the playable area. So, if you move out of the play zone or border, then the game will kill you automatically.
The graphics situation of the PUBG Mobile is fantastic because, it provides very realistic weapons, characters, and surroundings along with 3D audio. The performance of this game is ultra-smooth, so there is no lag while playing.
Even if this game has good graphics, but, due to the 47MB size, it does not take much of the storage of your mobile device. One of the greatest advantages of PUBG Mobile is that it is free of cost, but, there are a lot of features available for a dime.
7. Unkilled 
The Unkilled is the fourth first-person shooter game here. This has over 150 missions where the goal for you is to locate the zombies and kill them. There are many features within this game like you need to collect, upgrade weapons then target various bosses and etc.
With the PvP (player vs player) multiplayer mode, you can play in this game with many people. Even there is a possibility for you to make an army of zombies and with them, attack the other player bases. One of the best things about Unkilled is that its graphics, the shadow effects along with the characters and surroundings all are rendered in high resolution. Thus playing this game becomes really immersive after some time.
This game comes at no price, but, you can purchase some features within Unkilled. The size of this game is only 32MB, so it also does not take the whole storage of your smartphone, despite the fact that its graphics is of high quality.
4 Paid multiplayer games for Android
Here, there will information about the four paid multiplayer games for Android devices.
1. Minecraft
Among the paid multiplayer games Minecraft is one of the best. The gameplay of this game is that you will have to create something by collecting whatever material is available in front of you and survive.
There are a total of three modes in this game which are realms, survival and creative. Those three modes have different goals to meet. You can play this game even on a console and computer including a mobile.
The graphics aspect of Minecraft is really not up to the mark because in this game everything is square-shaped starting from grasses to the characters. So, there is nothing to about details and clarity.
The Minecraft comes at a price because of its open-world structure and very fewer rules, thus you can do whatever you wish to while playing this game.
2. Riptide GP: Renegade
The Riptide GP: Renegade is the second paid multiplayer game to feature in this list. This game is particularly a hydro jet racing game, where you perform stunts and evade from police at tremendous speed on the waterfalls and waterways respectively.
There are two modes available within the Riptide GP: Renegade which are as follows single and multiplayer. At first, you will play in the single-mode and unlock different hydro jets, characters and customization options. Once you have gathered enough tricks and skills, next, go to the multiplayer mode and play with opponents from all over the world with a team of 8 players. This game also provides you with many features like 'Challenge mode', 'local split-screen multiplayer' and etc.
The Riptide GP: Renegade has one of the best graphics hands down with attention to minute details like realistic water splash and etc.
3. NBA Jam
NBA Jam is the third paid multiplayer game on Android that is related to sports. You can play this game just like the 2-on-2 arcade basketball game, but, with almost negligible rules. This is a basketball that lets you knock then push and steal the ball from your opponent. For this, you can get rewards even. The main goal of this game is to score more points.
There are four unique modes available with this game, those are "Play Now", "Classic Campaign", "Online Multiplayer" and 'Local Multiplayer. All these modes have different goals to meet.
One of the benefits of the NBA Jam game is that you can play it without having to worry about purchasing in-game features. The graphics within this game are not high quality, thus NBA Jam does not take up much space within the device.
4. Terraria
Terraria is the final paid multiplayer game on this list. This game allows you to build castles, dig holes and hold fights. You will get multiple various types of islands, worlds, weapons and etc to select and play with.
There is a possibility for you to create a world of your own and increase them when there is a requirement. In the multiplayer mode, you can play this game with up to seven players online or via local WiFi.
In the graphics department, this game falls really short due to its pixelated environments and characters which diminishes the experience. However, due to the variety of modes that this game offers, it has become popular with the users.