Methods to Recover Data from Android After Factory Reset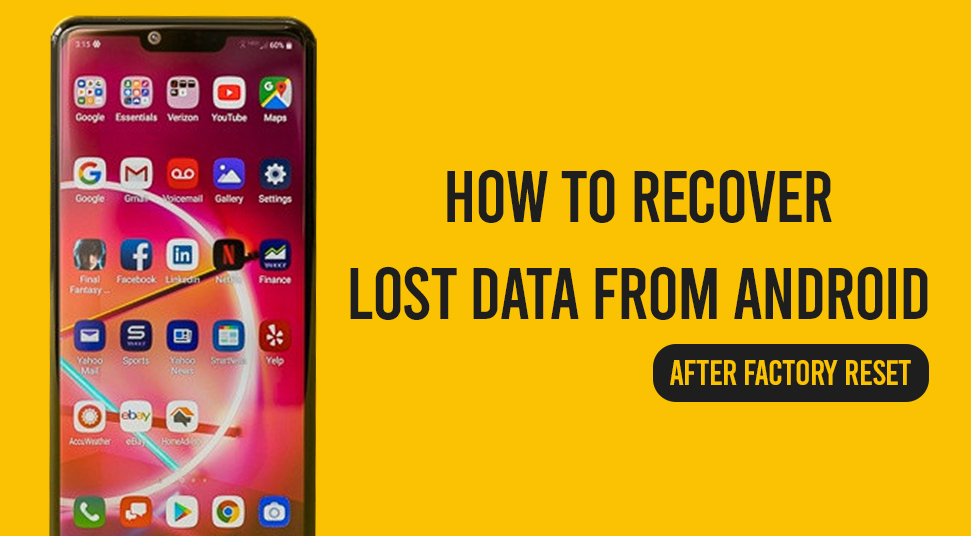 In the busy lifestyle of the 21st century, your mobile phone has become the only friend you mostly spend your valuable time with.
It is a pretty common sight to discover that people spend most of their time every day with their phones.
A huge amount of use pf a phone makes it become stuffed with various things like photos, videos, several software applications and so many more.
That is the reason your phone should be restored as it was at the initial stage to make it work properly with the availability of a lot of space to use it without any worry.
Why do You Need to Perform a Factory Reset?
For keeping your private data, files, and documents completely safe before you are selling your mobile phone to somebody else.

It is done to bring an improvement in the performance of the phone when the phone becomes very slow and hangs a lot.

Sometimes the android phone you are using starts to force close multiple times. This is when you should understand that it is time to reset your phone.

A major fault in your SD card will also lead your Android phone to some major muddles for which you will be needing to perform a factory reset on your phone.

There are times where you will find that the applications are taking much time to get launched. Also, after pressing the home button the phone freezes and stops functioning for a while. This is another sign given by your phone to perform a factory reset.
Methods to Regain Data After a Factory Reset
Here, in this article, I am going to mention two methods by which you will be able to recover all the data that you have lost after performing a factory reset.
Sometimes factory reset is done without any such intentions. For instance, if you hand over your Android phone to a kid, he might press the reset button without knowing and you will lose all the data.
This is a situation that you will not even expect to arrive. What are you supposed to do when you fall into such a burden? Will you ever get back the lost data?
Undoubtedly, the answer is definitely yes. This is the reason we are here to help you out with this. Here are the two methods explained completely.
The First Method
The first method is to recover all the lost data from a backup. Backing up all the data that you carry on your phone is one of the most important tasks to do if you are owning a smartphone.
The backup data plays a big role in saving you if you fall into this kind of situation.
Now, users create a backup of each and every data of their Android mobile phones with the system backup function that they are provided along with the phone or the very popular cloud service such as Google.
You are on a very safe side if you are one of those who back up their data on a regular basis.
This is because recovering lost data becomes comparatively much easier with the backed-up data.
Recovering data on your Android phone with Google Account
Have you set up a Google account on your Android phone and made synchronization enabled for all data?
Okay, even after a factory reset, you can set up the Google account once again on your phone.
There is an option that you will get while carrying on the setup process. This option will give you the allowance for doing the restoration of each and every data on your Android device.
Recovering Data with the help of a local backup data
This is the second option that you can go for if you want to restore all the lost data with the backed-up data.
If you have created a backup for your data then just follow these easy steps in order to do the restoration.
The first step is to go to the Settings option from the main menu.

Then you need to go to 'Back up & Restore'.

Next, you need to select the most recent backup file in order to restore the data that you have lost from your phone after the factory reset.
The Second Method
There might be a case where your phone gets accidentally reset and you do not have a backup data also.
After creating the backup they might get deleted from your device. In such a case, the second method will definitely come in handy.
A very special data recovery software application will help you to gain back the data. There are many data recovery software available in lots on the Internet.
Here, we will talk about the processes of recovering data on your Android phone with the help of a software application known as Gihosoft Android Data Recovery Free.
The name itself says that the software is available to recover data in android devices for free.
If you go for using this data recovery software application, then let me an amazing thing about this, you will not only be able to recover photos and videos but also all the other type of data that your phone stores.
Also, this software application gets supported in almost all the Android mobile phone models. So, you do not need to worry.
Here are the Steps that You Need to Perform Using this Software Application to Recover Data from Android after a Factory Reset
The first thing you need to do is download the Gihosoft Android Data Recovery Free software application from its official website for free on your computer.
Open the program and you have to select the data that you want to recover. Then, you have to click on the Next button.
Next, what you have to do is enable USB debugging on Android phones and build up a connection between your phone and the computer with the help of a cable.
Click on the 'start' button in order to scan the device and look discover the lost data after the software application gets to recognize your phone.
Here is the last and the final thing you need to do. Preview all the data that the software in detail. Select those files that you want to get back.
Then, you have to click on the 'Recover' button in order to restore the missing files from your Android phone.
The data that you have selected to recover will be saved on the computer. They will be saved in a readable format.
Concluding Note
There are certain things you need to keep in mind while going to recover data from Android after factory reset.
What kinds of files will you be able to recover using this software? You will be able to regain photos, videos, text messages, call logs, and even WhatsApp messages.
To prevent the loss of data from your Android device, you need to create a proper backup of your phone and that will help you get back the lost data in a much easier way.
Let us know in the comments below to let us know if you have ever faced such a situation and if Gihosoft helped you to get the data back on your phone or connect with our mobile repair services.
About Author