Vulkanrt: What happens if you Uninstall Vulkanrt from your Computer?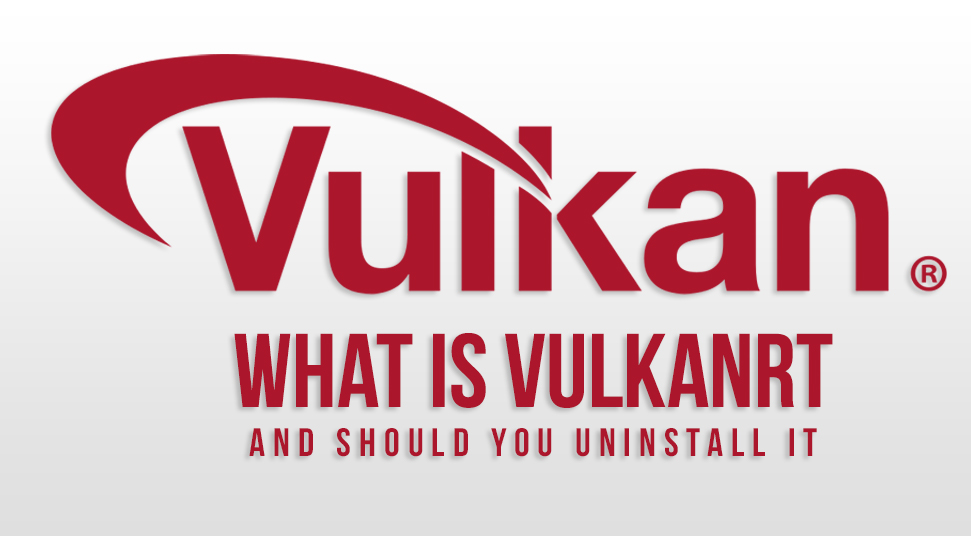 If you are a daily PC user mainly a user of windows operating system then you must have seen a folder in your Program Files(x86) folder naming Vulkanrt. Well if you have then you must have thought what kind of file is this.
The thing is that the Vulkanrt is a program that gets installed on your computer without your consent. That means that you will not get notifies when the program gets installed on your computer. That is why there is a rumor that the Vulkanrt program is a kind of malware or virus that can harm your system and should remove it.
But let me clear you one thing in the very beginning that all of this is a complete myth. Vulkan rt is Microsoft's own program and your system will work just fine if the program is installed in your system.
Therefore, to get all your myths cleared to let us take a closer look at the concept Vulkan rt.
What is Vulkanrt? [The Concept]
Released back in 2014 and then publicly marketed in 2015, a Vulkanrt or rather can be said as Vulkan Runtime Libraries is basically a cross-platform API that aims to improve the performance of the 3D applications like games and multimedia that runs on your Windows 10 operating system.
Not only just windows, but Vulkanrt is also there in Linux operating systems. Apart from just improving the 3D multimedia, the program also helps your system to make a balance between the computation usage of CPU and GPU.
Basically the Vulkanrt is installed in your system as a part of the graphics driver. The program can also get installed if you are updating your GPU driver system. Such installations are initiated by CPU or GPU manufacturers.
Major Features of Vulkanrt
There are several features that come with the Vulkan rt. Below we have listed some of the major features of the Vulkanrt.
The Vulkanrt program is mainly used in graphics cards of different devices like mobile phones and PCs. The programs aim to provide better performance for any kind of graphics-oriented applications or programs like video games.
The best part of the Vulkanrt is that it can run on literally on any operating system. Therefore, the application is very much versatile in nature.
Vulkan rt eminently lowers the load of the CPU and also reduces the overhead of the drivers. Thus allowing your system to perform better. The process is done by a method called batching.
The application has the ability to deliver faster and better GPU performance and code generation. The Vulkanrt is very small and compact in nature and is very much smaller in size and requires very little space on your system.
All the Vulkanrt libraries are the parts of the AMD drivers and they are dedicated to offering a faster and better performance of your computer.
Necessity of Vulkanrt
Now that you know that what Vulkanrt is and why it is in there in your computer, so we can take a look at some points where we will discuss why Vulkanrt is necessary for your computer.
1. Enhanced CPU performance
Just as mentioned earlier, Vulkanrt only aims to speed up the performance of your system by enhancing your CPU capacity. That is why the applications that are optimized for Vulkan performs faster in most cases. 
Moreover, if you are using AMD GPUs, then rather than using a DirectX API, shifting to Vulkanrt will benefit you in many ways.
2. Lowers the CPU workload
Not just enhancing the performance of CPU, a Vulkanrt program can also lower the workload of a CPU. In case you are using a Windows 10 operating system then this can be easily done by the DirectX12 API.
But if you are using some other operating system then Vulkanrt is required to lower the workload of the CPU. The programs reduce the workload by distributing the total workload into different cores.
Thus making the CPU perform faster and smoother. 
3. Unified Kernel and Graphics Management
The runtime libraries of the Vulkanrt offers unified management for both kernel and graphics shaders. This thing saves you from installing two separate drivers.
Should you Uninstall Vulkanrt? Know Why?
If you want a straight cut answer to this question then the answer is no. As we have discussed earlier that, all the rumors about the Vulkanrt is completely false. The program is rather a useful one that comes with the graphics driver of your system and helps your CPU and GPUs to perform better.
Thus, if you found a folder naming Vulkanrt in your program file (x86) then just keep it as it is. There is no need to uninstall that file form your system, otherwise, you might face some problems. 
Now in case you have uninstalled it already and now seeing some changes in the graphics rendering options then you have installed it again as per to get the old settings back.
What happens if you uninstall Vulkanrt from your Computer?
The Vulkanrt software is bounded with the GPU and graphics driver of your system. After the uninstallation, you won't feel any kind of difference but whenever you will try to play games then there you will observe some major differences.
There are some applications and software like main games that are specifically optimized with the Vulkanrt. That means that without the API of Vulkanrt the applications won't function properly.
In the below list we are listing some of the major problems that you might face if you uninstall the Vulkanrt.
You won't be able to set your desired screen resolution while playing video games on your system. 

HD rendering of videos will get very much poorer. 

There is a chance that you might not be able to play any latest PC games on your system. 

You might experience frequent crashing of your system. 

The system CPU will perform slowly and very low space. 
In the End
Now you know the complete truth about what Vulkanrt is and what are its functionalities. The program is really a useful one for your system. The Vulkanrt holds the capacity to enhance the performance of both your CPU and GPU.
So from the next time whenever you read or heard about the Vulkanrt just ignore those webpages or people or else tel them how much Vulkanrt is important for the graphics driver of your operating system.
And in case you have already uninstalled the Vulkanrt from your computer then read the consequences that you are about to face mentioned above. Therefore, before getting yourself in a much worse situation just install the Vulkanrt once again on your computer.