Best ISO Mounter for Windows 10/8/7: ISO Mounting Software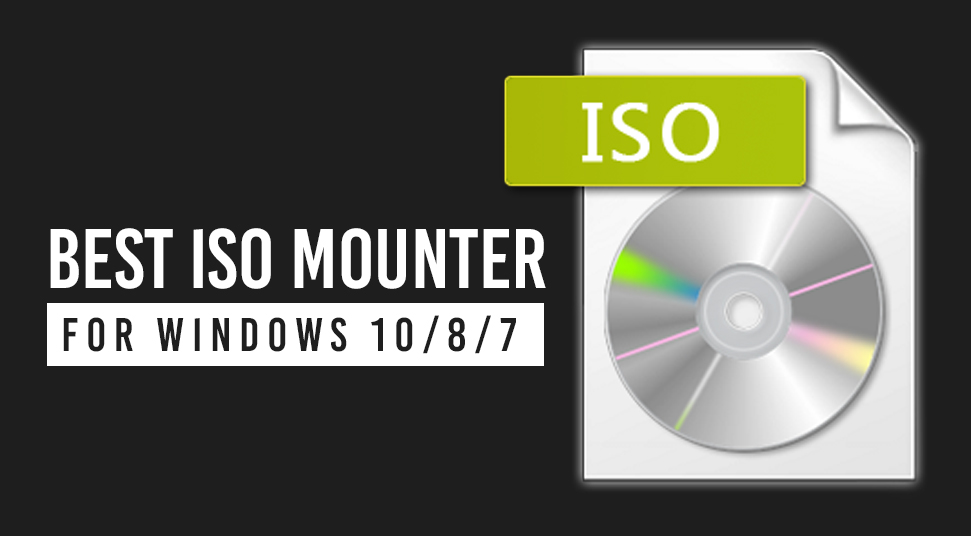 CDs and DVDs are slowly going out of style as the majority of file sharing is done through the Internet. Currently, there are various alternative file-sharing options like Cloud storage services and USB sticks. However, some media like music and movies are still distributed in CDs and DVDs. These are slowly being 'mounted' and distributed as image files instead. Image files or ISO files are archived form of data that can resemble a physical CD or DVD. For this, you need to have the best ISO mounter to mount the image files. 
Top 10 Best ISO Mounter For Windows 
An ISO mounting software helps to mount or dismount image files like ISO, IMG, BIN, etc. You can find many ISO mount software for Windows 10 or previous versions. Although some are paid, there are many which are available for free. These software work by creating a virtual drive where the contents of the image file will be extracted. Thereafter, you can burn it on a physical disc or directly run it on the computer. 
Here, we have tried and tested some of the best ISO mounter to filter out the best ones. Go through the following section to learn about each of them in brief. 
1. Microsoft Virtual CD ROM Control Panel 
From Windows 7 onwards, Microsoft had introduced the Virtual CD ROM Control Panel to mount image files on Windows OS. The program itself was introduced in 2013 which comes pre-installed in the system.
Alternatively, you can easily download the tool for free if your Windows system does not have it. This program is embedded in the Windows Explorer. Hence, you can easily open an ISO file by double-clicking on it. Windows will automatically open it by automatically assigning a virtual drive. However, you cannot perform advanced tasks through this. Therefore, it is suitable for only basic purposes. 
2. Daemon Tools Lite 
One of the most popular and best ISO mounter is Daemon Tools Lite. Incidentally, it is free for personal and non-commercial usage. It is also one of the oldest mounting software. This program is available for both Windows and Mac OS. 
Daemon Tools Lite comes with various features and can support different image formats. It allows you to successfully rip CDs, DVDs, and even Blu-Ray discs. Moreover, it can support 4 different mounts at the same time. In case you want more features, you can easily buy the Pro version. You can use this software to create image files of your own as well.
3. PowerISO 
Another favorite choice of ISO mounting software is the PowerISO. This program is available for free and provides a wide range of features. Apart from image files, you can use it to rip Music CDs and DVDs as well. It is a very powerful tool that allows you to mount, dismount, burn, edit, extracts and even encrypts data from physical disks. 
Some of the popular image formats like DAA, CDI, NRG, BIN, and ISO can be mounted with this tool. Moreover, you can rip audio formats like FLAC, WMA, BIN, APE, and MP3. Overall, it is a very powerful tool that can be used for free. You can download this software from its official website. 
4. Virtual CloneDrive 
In comparison to others, Virtual CloneDrive is one of the first ISO mounting software. It is a basic tool that can mount various image formats like CCD, BIN, and ISO. Moreover, it is available for free to download and use. It functions the same as Windows Virtual CD ROM Control Panel but much easier to use. 
You can work with 8 mount images at a time through virtual drives. Images can be easily mounted by just double-clicking or choosing the 'mount' option from the right-click menu. Once mounted, you can work with its files as you would with a physical disk. 
5. WinCDEmu 
WinCDEmu is a popular ISO mounter that is open source and free. Similar to Windows Virtual CD ROM Control Panel, it integrates itself with Windows Explorer as well. Thus, it makes it easier to use and operate. You can run this tool from Windows XP to Windows 10 with no issues. 
The best advantage is that there is an unlimited number of free virtual drives that you can use. Therefore, you can mount several images at a given time. It supports various image formats including IMG, CCD, MDS/MDF, NRG, CUE, and ISO. Additionally, it offers various features such as disabling autoplay or mounting with a single click. 
6. MagicISO 
Accordingly, MagicISO is another one of the best ISO mounter that is available for free. It is also a powerful ISO mounting software that allows you to create, edit and extract image files. You can modify the contents of the CD image files such as adding, renaming or deleting. 
This program supports a wide range of image file formats. Moreover, you can even convert one image file into another and vice versa. You can use this tool to create bootable discs as well. Make sure that you download it from its official website. Also, choose Custom installation as it could be bundled with other software. This will prevent it from modifying your system or browser settings. 
7. gBurner Virtual Drive 
To begin with, gBurner Virtual Drive is a free ISO mounter that can support almost all image file formats. These include rare image formats like UDF file systems, Joliet and ISO 9660. Apart from these, you can mount common image file formats like CUE, IMG, UIF, GBI, DMG and BIN. 
This ISO mounting software can access Music, Software and Game discs as well. Thus, it is a powerful and advanced tool with many features. You can use it to create bootable discs, multisession discs, and executable discs. 
8. ISODisk 
ISODisk is another free ISO software that allows you to create 20 virtual drives at a time. You can create image disks directly from a physical disk or from a Local Area Network. Additionally, you can use the tool to burn the image files onto a physical disc as well.
However, ISODisk supports a limited number of image file formats. Currently, it cannot mount DMG, MDF or NRG formats. Apart from that, it offers the same functionality as other ISO mounter. Hence, you can access and browse image files like you would with a regular Cd or DVD. 
9. Free ISO Burner 
As mentioned in its name, Free ISO Burner is available for free and is a basic and simple software. There are no complicated settings but allows its users to control various options. 
Some examples of this include the option to choose burn speed, disk volume, aborting the burning process or burning cache files. You can use this tool to create bootable disc files as well. 
10. ISO Workshop 
ISO Workshop is a free ISO mounter with a good user interface. You can use it to mount images like BIN or ISO. Moreover, it is easy to use and can run from Windows XP to Windows 10 operating systems.
The User Interface allows the users to effectively manage the image files with ease. You can easily create and extract content from CDs, DVDs, and even Blu-Ray discs. This program can be readily downloaded from its official website. 
Final Words 
In conclusion, the above section provides a comprehensive list of some of the best ISO mounters. Most of these programs are available for free and differ in their features. You can readily use Microsoft Virtual CD ROM Control Panel for basic mounting of image files. Accordingly, PowerISO and Daemon Tools Lite is a viable option for advanced features. You can go for WinCDEmu if you want unlimited virtual drives or Virtual CloneDrive for basic and easy usage. Hopefully, this will allow you to choose the best tool according to your needs and preferences. 
About Author