The Reasons: Choose Drupal for Your Next Web Development Project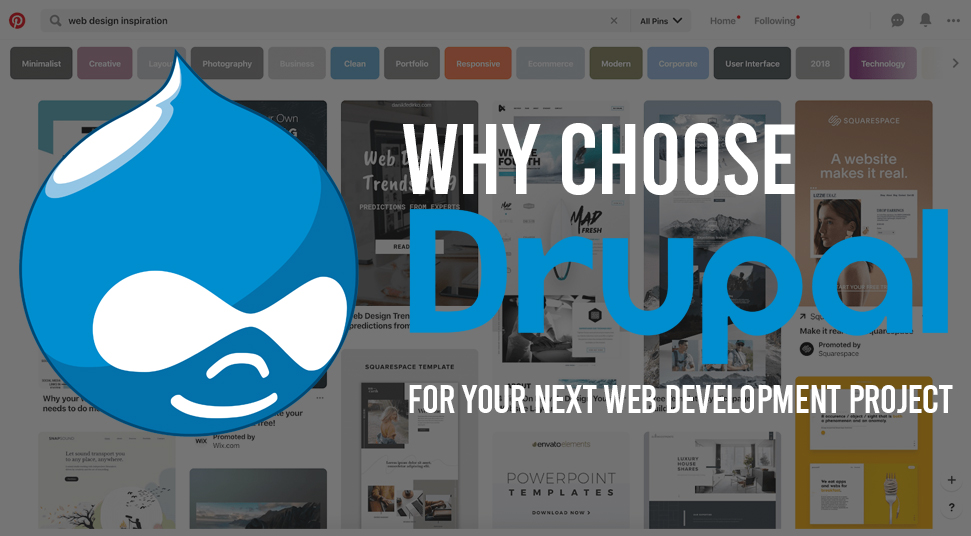 For making a good web development project, you must be careful and choose a good CMS (Content Management System). And Drupal is one of the best ones out there. It offers the most feature to any other CMS in the market. It offers every feature you want your website to have.
So, let's see how you will be able to able to improve your user experience by using Drupal.   
The Reason to Opt for Drupal
Using Drupal, you will be able to get flexibility, safety, and reliability for your web content management. Drupal has many platforms and tools for the technology leaders and business owners to power their digital innovation. By using Drupal, you will be able to create any type of project
Let's see what are the features of Drupal for which you must choose it:
Security
Drupal has a record of being the most secure application framework and CMS. It has defeated all the big names in the CMS market. You will be able to get safe access to the Drupal site because it consists of built-in support for hashing the account passwords when they are stored in the database.
It also encourages you to give a strong password. Additionally, it applies industry-level authentication processes, one sign-on system and limited session times. 
Drupal gives access to the site to the business owners so that they can decide who will be able to see the article and who will be able to modify it.
You can configure Drupal is doing encryption in the top-of-the-line security applications. 
The former API of Drupal confirms the data validation and hence prevent the CSRF and XSS and many other harmful data entry.
Over a predefined period, Drupal restricts the number of login attempts that a user makes from a single IP address. It helps from several aspects and preventing brute force password attacks is at the top of them.
Drupal acts as a CMS for some of the world's highest traffic websites because of its multi-layered cache architecture. This helps in mitigating several DoS (Denial of Service) attacks. 
All of the Web application Security Project (OWASP) security risks are addressed by Drupal's functionalities.
Scalability
Drupal can scale your needs like if you want your site to be one of the busiest sites or if your site is already popular and you are trying to manage your huge traffic.
It does not matter how many content contributors you have, Drupal can handle any amount of Drupal users, visitors, and content. Due to its scalability, Drupal can handle the most content-risc sites.
Content Workflow
How your content will look on different devices is done by the process of permissions and authentication of previews and editorial workflow. To build and publish content on different websites becomes easier with the help of some of the magnificent tools of Drupal.
Your content can be edited at any time and from anywhere from the mobile devices of your content team.
Editors can click on the content and edit them. They can also create content using the WYSIWYG editor. Additionally, these edits are trackable. 
You can handle actions and user roles automatically as you can see every stage of your content- starting from its creation to its publication. 
To define the content elements, build a relevant taxonomy and tag them on the basis of their attributes in order to make them easy to search, the "Content tagging and taxonomy" serves as a useful tool for Drupal.
Drupal might be a great choice for you if you want to make the content authoring easier.
Multilingual
To enable the smooth translation of all the content, Drupal 8 core comes with 4 core modules. You can save a lot of time and money with the help of Drupal's out-of-the-box support for the language, which offers a localized digital experience.
The business organizations can now speak in their customer's language with the help of the language interface for the content producers and the language administrators.
You can install Drupal 8 in 90+ languages without having to download any additional components. The language pack will be automatically installed once you have installed Drupal. This will not affect any of your translation customizations.
Drupal is the perfect option if you are looking to build a website quickly and in any language. It is also capable of building a multilingual web application.
Content-as-a-Service
Drupal's content-as-a-service approach will make you think other than the page-based mentality if you want your front-end developers to build an attractive customer experience.
The look and the experience of the site can be changed by the frontend developers by separating the backend from the frontend. Also, by decoupling the frontend wherever necessary, Drupal's CaaS solution can deliver contents that will be future-proof and infinitely reusable.
By taking advantage of different leverage tools like Backbone, Angular, Ember etc, RESTful API and Drupal's presentation-neutral content, the developers are able to make the experience much better.
You can send your content to some other channel and you can even input content from any third-party content, like syndicators and aggregators.
Your content can be easily accepted by another website, in which you want to send your content. This is because of Drupal's CaaS.
If you want flexibility in your method of delivering the ultimate digital experience, then you should definitely opt for Drupal's content-as-a-service approach.
Mobile-Responsive
In today's world, everything has become on-the-go. The website developers are not very far behind. The best user experience can be given by the developers of the top websites by using Drupal.
Drupal helps to create a flawless content experience for the users on every mobile device and each time by maintaining the best practices of a responsive web design structure.
Speed
You cannot improve your workflow by implementing laggy strategies. To improve the workflow, speed is an important ingredient.
To overcome the delay and the logjam, and run a fast and quick team, the pliable platform of Drupal helps the developers and the marketers to a great extent.
Drupal is a great option if want to want a steady delivery of web development projects.
These are some of the primary features which makes Drupal the most effective CMS.
Some Other Feature of Drupal
Now, let's see some other features of Drupal:
Integration of Third-Party Technologies
Other than Drupal, there are also some interesting technologies that may be beneficial to your website. Drupal offers no resistance in integrating them within itself.
Content Architecture
It offers great flexibility with the architecture of the content you want to create. Drupal has many formats of views and tools for display modes.
Leading Players
Many of the leading players in the business market use Drupal.
Strong Community Presence
A vast number of organizations use Drupal to create solutions, but in this process Drupal also builds itself. This is due to its open-source nature of software.
Conclusion
So, Drupal is the most feature-loaded CMS out there. It also offers creative freedom. Using Drupal, you will be able to create content in any language you want. It is for this reason that many of the big names in the market use Drupal.
As you may have understood by now that Drupal is the aptest choice for starting your next development project.
About Author