Innovative Reporting: How to Utilize Power BI for Professional Paginated Reports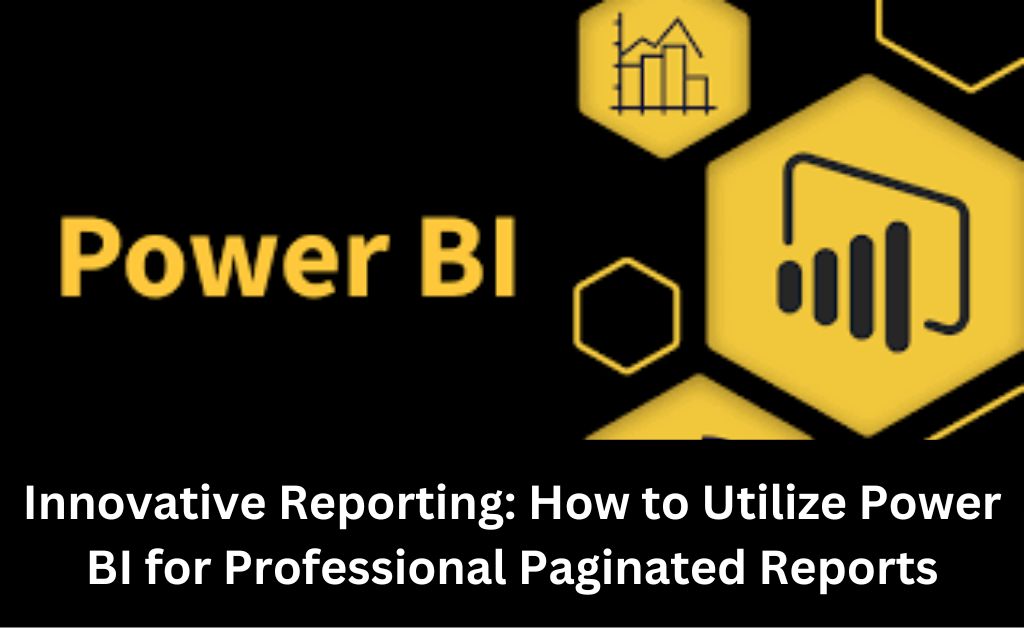 Microsoft describes paginated reports as follows: Paged reports are made to be printed or distributed. They are formatted to fit on a page neatly, hence the name paginated. They even use numerous pages to display all the data in a table. Because you have complete control over the structure of their report page, they are also pixel-perfect. The standalone tool for creating paginated reports for the Power BI service is called Power BI Report Builder. As a result, paginated reports often have many pages, each of which is laid out. Paginated reports are the ideal choice when a thoroughly prepared, pixel-perfect result is needed that is best for printing or PDF generation. Let's explore all the innovative ways to use Power BI for Professional Paginated Reports.
What's the significance of innovative reporting in modern business analytics?
Data analysts store, organize, and analyze raw data to find answers or make significant discoveries. Data analytics is essential to the company because it enables management to develop strategies supported by facts, better target marketing campaigns at the right customers, and boost overall productivity. Data analytics companies get a competitive edge because they can alter things more quickly, resulting in higher revenue, cheaper expenses, and more innovation. So, learning how to create paginated reports in Power BI will empower businesses to make quicker, more educated business decisions—and avoid spending money on unproductive company practices, unsuccessful marketing initiatives, or untested ideas for novel goods and services. Leaders may also enable their teams to be more proactive in spotting possibilities by using a data-driven decision-making approach since they can base their decisions on data validity rather than just gut instinct or previous experience in the field.
Create advanced visualizations, charts, and graphs in paginated reports
Including interactive components is a great way to enhance your paginated report in Power BI and provide the users who are seeing it more value. Users can navigate across pages and read comprehensive information about specific data points by including drill-through options. In addition, you can provide bookmarks so that readers can jump right to a particular part of the report. To allow users to filter and sort data rapidly, you may include any Power BI filter type in your report. Another interactive feature that can be added to your paginated report is the capability to export data. Using this tool, users can download the data in Excel, CSV, and PDF formats, among others. Also utilising Power bi for businesses will help optimizing decision-making processes. As businesses generate vast amounts of data daily, the need for tools that can sift through this data and extract meaningful insights becomes paramount. Incorporating interactive elements in paginated reports not only engages the users but also offers them the ability to dissect the data according to their specific needs.
Use Power Query and DAX for optimized data modeling
Power BI's DAX (Data Analysis Expressions) language is a potent tool for building intricate calculations and computations. You may incorporate sophisticated Power BI benefits like filtering, sorting, and grouping, as well as more complex computations, into your paginated reports by utilizing DAX expressions and functions. Anyone who wants to develop more sophisticated and useful reports in Power BI should consider using DAX. Paginated reports in Power BI are a useful tool for anyone wishing to produce extensive reports with a professional appearance that can be printed or shared with stakeholders.
Add Interactivity and User Engagement in Paginated Reports
Power BI offers a wide selection of sophisticated methods and capabilities for people who want to develop their paginated reports. These consist of utilizing DAX expressions and functions, dynamic formatting, and incorporating additional tools and services. You can design paginated, genuinely active, and interactive reports and offer insightful analyses of your data with a bit of imagination and skill.
Set up data refresh schedules and automation for updated reports
Paginated reports in Power BI occasionally experience problems, just like any other form of report. Errors in the data source, formatting problems, and difficulty with interactive elements are frequently encountered concerns. To assist you in resolving and overcoming these problems, Power BI offers setting up data refresh schedules and automation for updated reports.
Why should you explore innovative features and stay updated with Power BI advancements?
Updates are periodically provided for Power BI, which brings some added capabilities for reporting purposes. Additionally, total adherence to national and industry levels allows everyone to benefit from using Microsoft Power BI. Therefore, keep in touch and wait for new releases of Power Bİ.
About Author