Seize a Glimpse into Shopify, The Best Website Builder of 2019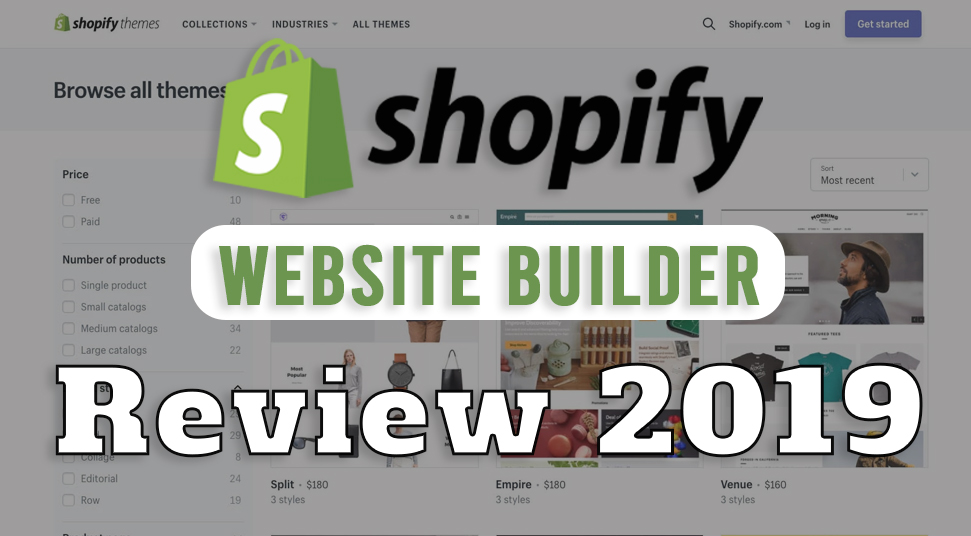 Shopify is the best e-commerce platform which allows the users to create their own online store. It comes along with a wide range of customized templates and important features which are essential to establish a business.
Basically, it is a hosted solution through which you can manage your business and make it grow faster.
It helps you to frame your website in many ways. You can sell many products in several places like web, mobile, social media, online marketplaces and many more.
Shopify is easy to manage your products, catalog, payments, and shipping. Apart from that, it is the best way to update and protect your software or web servers.
All you have to do is connect it via the internet so that you can easily drive your business from anywhere.
Shopify gives you an opportunity to try its trial version. Thus, if you find it helpful, then you are free to choose any suitable plan as per your requirement or business.
If you already have your own domain name, then you can connect it to Shopify through your store's admin.
In this article, you can find out a precise and explicit Shopify Website Builder Review which will help you in several ways.
Brief Review on Shopify: Whether It's Helpful for your Business or Not?
The best way to profit from Shopify is by treating it as an e-commerce website. This platform is different than other websites as it needs special requirements even though it is helpful for the physical and digital market.
The setup process of Shopify is also very simple and easy. All the aspects of your store can be edited by Shopify. It is made of top-quality sales and reporting features.
If you want to create an excellent online store, then nothing can be better than Shopify. While navigating Shopify, if you face any difficulties, you can get various support options which will help you out.
It provides you a 24*7 assistance via different modes of communication like call or live chat.
Despite it being costly, the wide range of qualities and features that you can achieve from it would be worth your money, when compared to other websites.
Easy Navigation Method
The plus point of Shopify is that it can help you in building your own online store as well as you can operate it easily.
It has easy access explanation and navigation method that is why you can set up Shopify within a minute.
Through Shopify, you can track your orders, deliver and supply your products effortlessly.
Excellent Reporting Tools
Shopify has excellent and lucrative tools which are best for analyzing and tracking all your orders after the sale.
From its reporting dashboards, you can get full details of the number of sales, traffic resources, and several marketing campaigns.
Overall, it is the best reporting tool to get a more detailed view.
An Amalgamation of Multi-Channel
This is the best platform to manage various sales channels. For its payment management method, you can track both the sales which are coming from the website as well as from other social media platforms like Instagram and online retailer.
Attain Great App Store
Apart from effective features, Shopify has a great app store which will add extra benefit to your website.
It consists of more than 1000 apps for functionality that involves reviewing a product and managing your sales or design elements.
Shopify uses a liquid code for interpreting language. You can easily use this method by little practicing.
Best for Designing
To make your website attractive and unique, Shopify is the right option. You can edit and change the layout of your website via Shopify.
Both free and paid options are available for the themes and color scheme. Overall you can frame the whole structure in your own way with the help of Shopify.
Be Self Developer with Shopify
To use Shopify, you do not have to be a designer or developer. You can change themes, color and the look of your store on your own. Shopify helps you to add features to your site which you can do by yourself.
Supports Many Languages
Another best part that you can find out here is that it supports a variety of languages. This includes English, Brazilian Portuguese, Danish, Dutch to Finnish, French, German, Hindi, Italian, Japanese, Korean, Malay, Norwegian and many more.
Used for Dropshipping
Shopify helps a business owner to start dropshipping. Dropshipping is something where an owner can list his product but does not involve ship inventory. Basically, it saves the inventory cost of the business owner. 
Accepts Various Currencies
With Shopify, you can sell and accept payments in many currencies. But you have to depend on what payment gateways you are using as different countries have different payment providers.
Final Words
If you are planning for a new online store, then you can try its trial version. Though you can not sell any product until you purchase any of its plans but it will help you to set up the basis of your site.
Thus, we hope that this Shopify Website Builder Review will be adequate enough to provide you a sound knowledge regarding Shopify. Please let us know your views in the comments.
About Author