What are the Web Design Principles That You Should Not Avoid?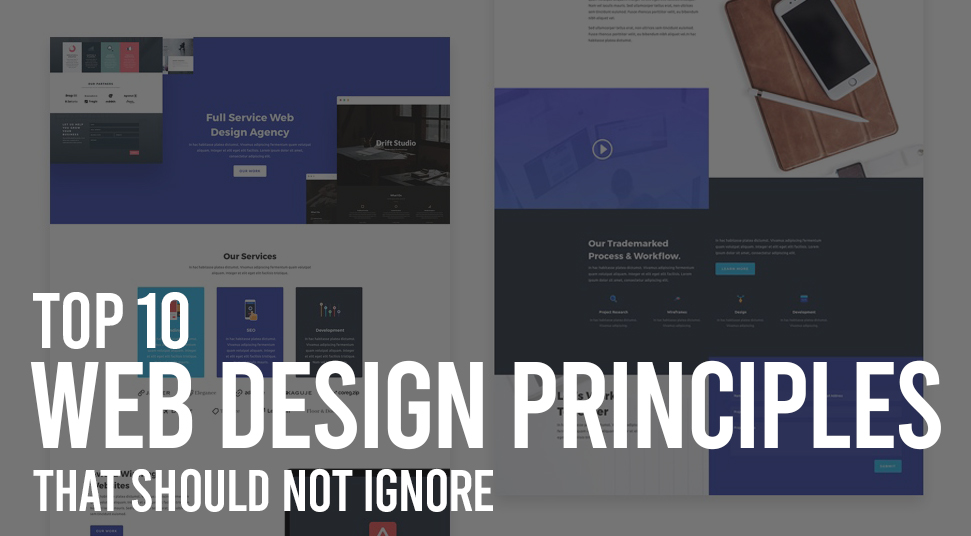 Web design is not rocket science, neither it is effortless. Anyone with basic development skills can build a Website and get it running, but just because your Website is live, it is not necessary that your design is perfectly optimized.
Did you know?
It only takes 0.5 seconds to form an opinion about your website and most of the user's opinion comes from the design-related issues.
Good web design is a result of putting together all the vital aspects. It takes a creative mind and days probably months of effort to establish a great Website. While designing the web your main focus should be user experience and usefulness. Your design must be User-centric and the overall visual should comfort the user's eyes.
What is Web Design and Why is it Important?
Web Design requires the accumulation of multiple skills, deep knowledge, and understanding.
It circles around different domains such as Interface Design, Web graphic design, Authoring, User Experience Design, and Search Engine Optimization.
Web Design or b2b web design is important because it impacts how your audience feels about your brand. The first impression is all a buyer need to decide whether to stay on the website or not
It can even impact your site's credibility, conversion rates and if this is affected there will be no sales.
A study says that 94 percent of negative feedback comes from design-related issues and 38 percent are not going to continue with an unattractive web layout. So, while designing you must focus on User experience and Usability.
There are many factors to keep in mind while designing a website from scratch. We have come up with 9 Web Design principles which you should not avoid in order to build a great website and get recognition among audiences.
Top 9 Web Design Principles 2019 (You Must Not Avoid)
This outstanding practices can definitely get your appreciation all across. Stick to the tips to know in detail and in a constructive way.
1. Limit Writing Part
While you are writing a blog or a content make sure you don't fill the space with unnecessary texts. Limit your writing, because users don't read the whole content all the time, they just scan through a few specific points and anchor texts.
Keep small sentences in landing pages if possible. And the homepage should not be stuffed with the same words again and again. This bores the audience and they eventually lose interest.
Try to teel about your brand and it's product or services in a short story and adds other elements such as a relevant and useful image or a micro-video or G.I.F. Visual attracts audiences if it is a good one.
2. Never Forget to Optimise Your Site For Mobile
According to a study, 58 percent of total Google searches are made via mobile devices. That's why optimizing your site for mobile is if great importance. And as per Alexa rankings,80 percent of the top websites are optimized for mobile.
A website that is optimized for mobile is not only crucial for creating better user experience but it also helps in Search Engine Optimization, as Google rolled out a Mobile-First indexing update which says that Google uses the mobile version of the content for ranking purposes.
3. Intelligent Navigation
Always keep in mind that if visitors find it difficult to locate what they are looking for and take time to reach their location, it will create annoyance in their mind and they will stop visiting your site. They are not here to wonder.
They are on your website for a reason, whatever the reason is. Just think yourself on their position, if you don't find what you are looking for within a certain time, are you going to stay? No, definitely not.
4. Properly Frame Call to Action
Call to Action is one of the important aspects of your website. It should be big and bold and must be outstanding in the crowd. Among all website only 47 percent consists of a CTA button that is visible within 3 seconds. Without an effective CTA is would be difficult for you to draw clients and make your conversions better.
Try putting CTA in all of the important pages that you think could draw the attention of visitors.
72 percent of the website doesn't have a CTA on their interior pages, and this is a design flaw you must avoid.
5. Keep your SEO Perfect
This is a huge subject to talk about but in short, SEO is something that ensures better ranking in SERPs and gets you traffic and conversions. It is the most important feature to keep in mind while designing the web.
A little stat would help you understand: 94 percent of all web traffic comes from a search engine and more than 72 percent of online marketers relies on SEO as one of the effective marketing tactics. SEO can be categorized into two, OnPage and OffPage and both are crucial to boost up a  website rank.
6. Check Your Page Loading Speed
40 percent of people have higher chances of laving a website if it takes more than three seconds to load. Most of the people expect a quicker loading time. If you are not competent enough, they will soon reach your competitor. And loosing 40 percent traffic could seriously hurt your business.
You first need to change your hosting service provider and then improve your TTFB(time to first byte). There are a lot of free tools in the market to accomplish a speed check. It will analyze and come up with the flaws and your job is to fix the flaws.
7. Use of Vivid Colors and Useful Visual
Good contrast of color and a useful Image can go a long way to enhance the user experience and make them feel good. Colors have the power to create harmony and emotion, and you have to make sure that your color contrast goes with the overall design and fonts. Use white space wisely to churn out a modern and progressive vibe.
On the other hand, the right image can contribute to the web design process. Visuals like Images, Micro-animations, infographics, and GIFs can truly attract people because going through long para of content can bore your audience. So, try putting interesting and engaging Visuals.
8
.

Value Content

You have heard of this before "Content is KING" and it is true in every case, Without a good, you won't be able to interact with the search engine. The useful information you provide in your content will be crawled by Google to understand what area you are focusing gon and what your website has to say.

High quality and useful content can soar up your website rank because Content is a direct ranking factor used by Google.
9. Analyze and Fix
As I said earlier, the Websites are not perfect, you have to keep making changes and fixing flaws and issues. Your job doesn't end once you have created a website,you have to continuously run checks and make sure everything is going well.
Free tools are loitering in the market, just grab one and run necessary tests to have an insight into your website or you can also take manual actions. Check every element that can be tested to create a flawless Website.
Wrapping Up
These are the principles you must not avoid for inclusive web design. We have discussed on Top 9 Web Design Principles that You Should Not Ignore in order to raise high.
Every website consist of flaws and these flaws and errors can easily be overcome. Your Web Design choices will ultimately say if your site is successful or not. So keep up with the trend and choose wisely.
About Author