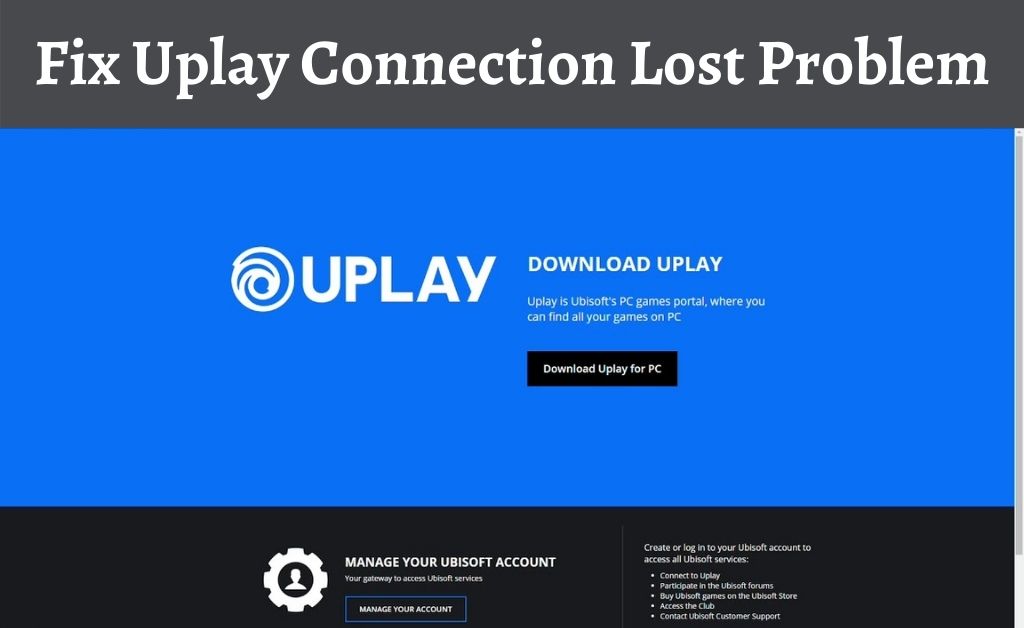 To play popular games from Ubisoft you might sometimes need to connect to Uplay. Otherwise, you won't be able to access the game community. As a result, you might miss out on some ongoing events. 
Now, there can be various causes behind this issue that you're facing. However, not to worry as there are just as many solutions for it, to fix it, as well. So, you might be able to find a solution at home. Keep reading to know what to do in this Uplay connection lost situation.
Try out these Troubleshooting Methods for Uplay Connection Lost Error
Many Windows 10 have reported facing the Uplay connection lost error. You might face it on your computer at any time for various reasons. In such situations, you can try the following methods to solve this:
Make sure there are no background programs


As you probably know, certain background programs can cause problems to the one running on your screen. You can see this happening while trying to run games on your computer. That's why it is advised to close all of them before you proceed. Now, the same is often observed while trying to run Uplay as well. So, in this case, too, you have to check whether any background programs are running.

To do that, you have to go to the Windows Run page. There, you have to go to the system configuration page, by typing 'msconfig'. Now, you have to go to the select Startup option in the General tab. Are both the options ticked? 

Remove the tick marks from both of them, and it's done. Now, you must restart your PC and try running Uplay again. If you don't see any result regarding Uplay connection lost, there are other methods for you.
Disable Firewall and antivirus


You are probably using one or the other program for protection from viruses. Now, you may or may not know this, but sometimes they can cause issues in connection to the application. They are known to do so as per the reports from various users. You can find them on the internet, as well. 

So, what you need to do now is disable the antivirus program. This has worked in securing the connection in many cases. However, you might wonder whether it'd be safe to disable such an important program. After all, it protects your computer from viruses and malware. If you want, you can choose to skip this one and try other methods.

But, want to go through with this method? You have to go to the Taskbar at the bottom right of the screen. You'll find the firewall option that you're looking for in there. That's the one you have to turn off for a while. Do the same thing for the antivirus. Now, you can open Uplay without having to face Uplay connection lost issue.
Disable the VPN and internet sharing


You might be using VPN to protect your privacy. However, this can cause the said error to show on your computer in case you didn't know. So, you have to disable it immediately, if you've been using it. 

Also, you might be sharing your internet connection with another connection over LAN. The internet connection sharing option in your PC allows you to do this. This too will surely cause problems in accessing the Uplay network. So, you must turn this off, too. The problem should get fixed once you disable both of them.
Try flushing the DNS files


Whenever you access a network, your computer saves its information as a file. These are called Domain Name System collectively. Now, it is quite common for these to get damaged or corrupted. In other cases, they can also get outdated. Whatever be the matter, it can cause problems for you in accessing Uplay network. To flush them, you have to go to the Start menu, and then the prompt for command. There, you have to type the "ipconfig /flushdns".
Reset to default network settings


When you're unable to connect to the Uplay network, it might be caused due to network problems. You must have customized the network settings according to your suitability. So, you can try restoring them to default and see if it solves the Uplay connection lost problem. In many cases, this does fix the issue effectively.

In case, you're wondering, you simply have to go to the device settings. There, you'll find the 'reset now' option by going to 'network reset'. After this, switch off your device for a while before turning it on again. Now, open Uplay and check if the error shows again.
Turn off proxy settings


There are different reasons for which you might be using proxy settings on your computer. Basically, it keeps you anonymous on the internet and protects your privacy. Now, the thing is that using this may sometimes cause issues in connecting to Uplay. So, you have to disable it at the "network and internet" options in the Control Panel.

Make sure that the network driver isn't damaged or outdated


The network adapter plays a key role in connecting your device to the internet. Now, when it becomes outdated, you will have trouble doing that. So, if you're unable to connect to the Uplay network, this could very well be the reason behind the Uplay connection lost problem. 

Go to the manufacturer's website to look for, or download an update. Moreover, keep checking whether an update has been rolled out. In case the driver is damaged or corrupted, you have to fix it. However, you can also simply reinstall them. That would be much simpler as compared to going for a repair. Not only that, but it'll also take less time to do.
Make sure Uplay isn't running on offline mode


If you're unable to connect to the network, there doesn't necessarily have to be a complicated problem. It could just be caused by a small one. You can look for it in the Uplay app itself. Three is an option to start it in offline mode. That means it'll be offline when you open it, as long as it's running on this setting. Maybe you hadn't activated it intentionally or forgot after doing so. In any case, you just have to disable it to be able to connect to the Uplay network again.
Call the support team
Ubisoft has a dedicated support team to look after issues such as the ones you're facing. In case you can't find a solution by yourself, it is time to give them a call. You can also choose to do that right away once the error starts showing. That would be the best option if you're in a hurry or want to save time.
Conclusion…
Many users have been unable to connect to the Uplay network due to various reasons. You can try using the methods listed here to fix this error. All of them are quite effective, depending on the cause of the problem. Hopefully, at least one of them can provide a perfect solution for Uplay connection lost.
Frequently Asked Questions: 
How do I fix Ubisoft connection lost?
1. Update
the 
driver 
for 
your 
network 
adapter.
2. TCP/IP
stack 
should 
be 
reset.
3. Disable
proxy 
settings 
on 
your 
computer.
4. Change
the 
DNS 
servers 
you're 
using.
5. Reset
your 
network's 
settings.
Why am I losing connection to Ubisoft servers?
T
he 
reasons 
why 
your 
Uplay 
connection 
may 
have 
been 
lost: 
Because 
the 
server's 
connection 
has been banned
. 
As 
we 
said 
in 
our 
tutorial, 
there 
are 
numerous 
solutions 
to 
this 
problem.
Is Ubisoft connect offline?
If 
you 
don't 
have 
an 
internet 
connection, 
the 
Ubisoft 
Connect 
Client 
will 
automatically 
launch in offline
mode. 
This 
will 
only 
happen 
if 
you 
have 
previously 
logged 
into 
the 
app. 
Some 
games and services
will 
not 
be 
available 
when 
using 
the 
Ubisoft 
Connect 
Client 
in 
offline 
mode.
About Author