Jira vs ServiceNow: Which Ticketing System is Better?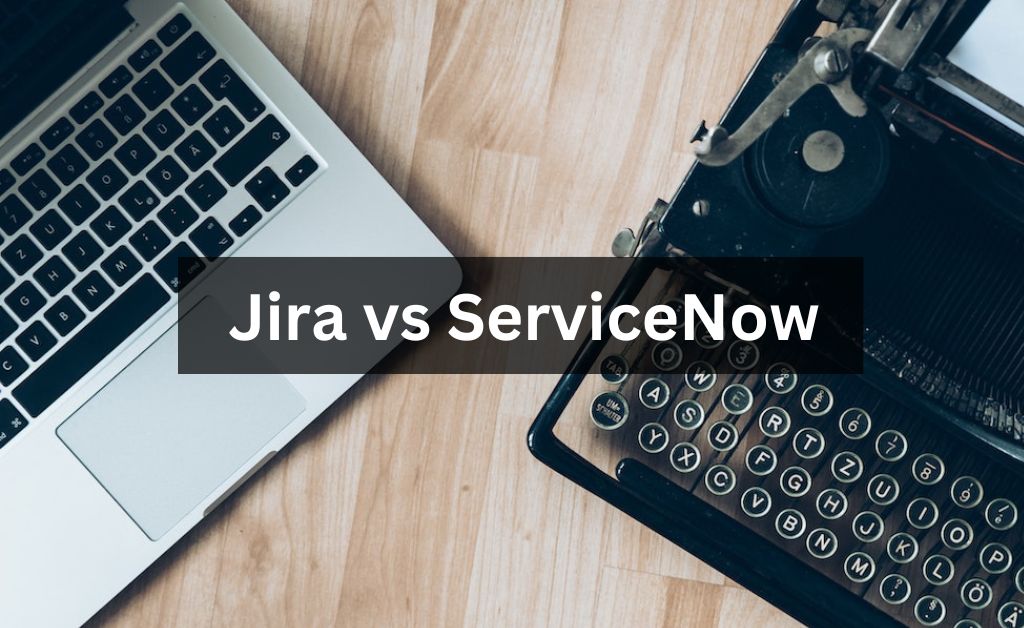 A powerful and responsive ticking system can help customer service employees respond faster and better to inquiries. Our ServiceNow vs Jira Service Management comparison will analyze these two service desk systems and highlight their differences. By reading our article, you'll be able to decide on the right one for your company.
ServiceNow vs Jira Service Management Overview
A sound ticketing system is a must to help companies run their business. It will help sort and track inquiries so they don't get lost amidst the enormous flow of sales, HR, and marketing emails.
ServiceNow and Jira Service Management are IT ticketing solutions that can help the IT and service departments do their job better. However, each one is has specific features.
ServiceNow is a leading ITSM and servicedesk solution, currently dominating the market with a 25% share which shows how it's reliable. Jira Service Management, made by Atlassian, is a developer-focused collaboration and service desk tool that can also track and manage internal rrequests and incidents.
ServiceNow
ServiceNow is a SaaS mainly focusing on ITIL-oriented IT service management. It has many applications you can integrate successfully.
In addition to its main benefits as an ITSM, ServiceNow can integrate with many apps for HR, legal, and other departments within the same organization. ServiceNow is a comprehensive service desk platform that offers a single view of all the company's systems.
Jira Service Management
Jira Service Management is primary users are IT departments for managing internal requests and managing company infrastructure It facilitates communication between developers and operators, and tickets are automatically tracked in real time.
ServiceNow vs Jira Service Management Comparison
ServiceNow and Jira Service Management will help track different IT issues to streamline the workflow. Yet, there are some areas where one would excel, making it more suitable for specific users.
Capabilities
While both service deskshelp the IT department, ServiceNow is considered more comprehensive as a full-featured infrastructure. It integrates with other business solutions but ServiceNow also can be used for track tickets and issues.
Jira Service Management, on the other hand, integrating easily with Atlassian ecosystem to create a streamlined workflows.
Interface
As expected, Jira Service Management is the winner with a clean, intuitive, and easy-to-use interface, especially if users aren't new to the Atlassian marketplace. In addition, it follows a similar layout, so previous Atlassian users would immediately use it without any training period. ServiceNow is more ITIL-focused, making it a better choice for enterprises.
Support
Both ServiceNow and Jira Service Management understand the importance of a responsive support community. Therefore, ServiceNow provides its users with a community portal where they chat with other users and a product Wikipedia, which allows them to search for any questions they might have about the platform.
Users can get web, email, or phone support 24/7, including national holidays when they operate in the US. However, support packages are different for international users.
Atlassian Jira Service Management offers various resources to facilitate the job of users and developers who use the platform. These include a developer-specific portal and a Q&A website.
Jira's support packages differ according to the pricing plan. So, a company can purchase standard or premium support, which includes weekday and weekend coverage. With more expensive plans, a team can have a dedicated support staff or shorter response windows.
Updates
To cope with the market changes, ServiceNow and Jira Service Management have been updated multiple times. ServiceNow has been updated monthly since its initial release, while Jira Service Management was updated less frequently.
Yet, both service desk platforms are constantly improving, which makes this a bit of a tie. They also share a detailed history of updates and previous releases that users can refer to while using the platform's latest version.
Pricing
Choosing any service desk tool for a company requires understanding the value of the money it provides. That's why understanding the pricing model and what you can get for what you pay is a must, regardless of the company's size.
ServiceNow pricing model is in line with the nature of the platform. It starts at $10,200 per year for the Express Version, mainly targeted at larger enterprises. There's a little chance a small company that works according to a limited budget would be willing to invest this amount of money in the tool.
Jira Service Management has a simpler and more scalable pricing model that can work for several companies, regardless of their size. It starts at a low rate of $10 per month for three agents and increases the plan to $20 per agent per month if the company has more than four agents. There are customized plans that can be adjusted to the budget and nature of the company.
APIs, Extensions, and Integrations
Both ITSM platforms have powerful REST APIs that allow developers to build add-ons for useful integrations and applications. However, Jira Service Management excels with more than 2,400 add-ons to extend the platform's abilities. ServiceNow offers multiple integrations, but Jira wins.
Customers
Jira Service Management and ServiceNow have a lot of famous customers like AstraZeneca, GE Capital, and Equinix rely on ServiceNow.AndTwitter, BlackRock, and Sotheby's use Jira.
Conclusion
ServiceNow and Jira Service Management are among the best in the IT market, Jira Service Management is a better option for SMBs. It can scale up to support enterprises too. ServiceNow, on the other hand, offers rich feature set for running business infrastructure with numerous integration options, but it's better suited for large companies and enterprises.
About Author