25 Worthiest Web Design Companies Around the World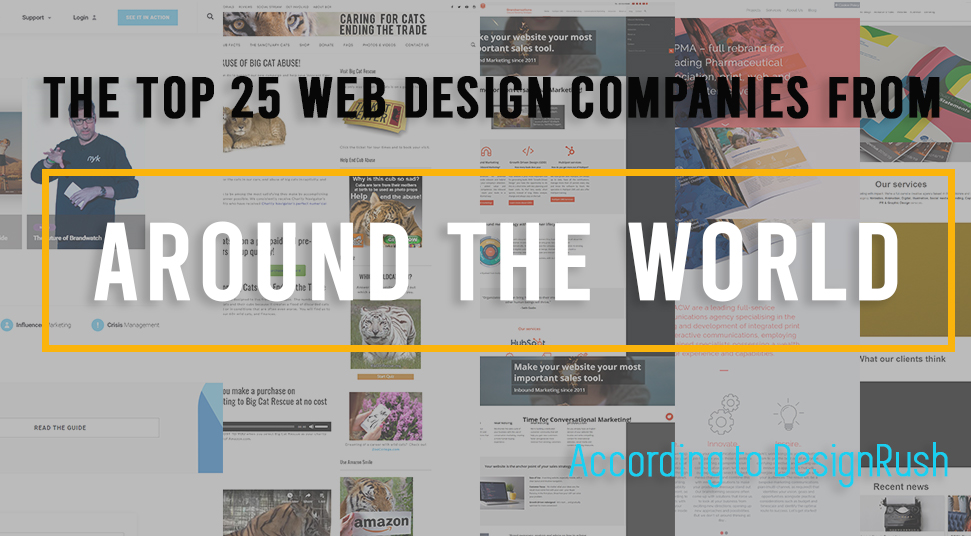 The brands should be honest and transparent and then only it can gain favoritism and trust of the customers. Only a top-rated branding agency can help to secure a reliable and healthy relationship with your customers.
DesignRush is a top digital marketing company which connects different brands with agencies and helps to choose the best branding firms. It can also build connective identities across many stages and fulfills valuable business growth.
You can get top local and global branding agencies by DesignRush Agency listing section which includes- graphic design companies, web development companies, media solutions website companies and many more.
In this article, you can gather information about the top branding companies from around the world. The names of the top 25 web design companies are mentioned below.
ACW (Artifex Creative Webnet)
ACW is one of the top agencies which plans and develops integrated print and interactive communications. 
This is a full-service communications agency where you can find out best-trained specialists that have enough experience and capabilities.
Big Cat
This group of agencies delivers the best experiences. Their offices are situated both in Birmingham and London. 
Big Cat focuses on growth via advertising, branding, and designing and overall creative lucidity. According to them, communications should be simple and effective.
BrandNew Creative
The company BrandNew is best known for its good design. They think that changing, refreshing and growing brands, products, and services are the key factors to connect sound business. BrandNew uses this strategy with elegance for visual execution. 
All the creators who work for the backend of BrandNew try their level best to create new brand strategies for clients of all sizes and sectors.
Brand Sensation
Brand Sensation helps in generating evidence online with related content and conversion based website for the growth of inbound marketing. 
These points are capable of using a lead and comforting workflows.
Posh Creative
This is a genuine and trustworthy agency which follows the creative process. Basically, Posh creative is based on excellence and enjoyment.
The clients have full confidence in Posh as it provides the best design and campaigns.
Brandwatch
Brandwatch serves for Mexico and American companies. For its best design and prepress services, it is considered as one of the best agencies which are famous globally.
Cerberus
Cerberus is a New Orleans based firm which is famous internationally. It takes ideas from landscape and design in a simple and skillful manner. Moreover, it helps in the growth of the brand. 
Thus, Cerberus create digital and media solutions and motivates brand.
Creative Company Inc
Despite this chaos, the agency has built a strong foundation as a verbal brand. This brand is wonderfully crafted and has robust positioning which adds life to websites as well as strategic planning to get the right audience.
Designee
The Designee is basically a studio with Korean industrial design and strategy. They work with innovation to run business, select the best opportunities and mold meaningful products to grow brands and pleasure customers.
Filadelfia
Filadelfia helps in solving problems. To make a successful brand and business, they focus on creativity, different strategies, and technology. 
They love to work with local talents and that is the main reason they have got many awards across the world and creative festivals such as The New York festivals, Cannes Lions and many more. By several services and campaigns, Filadelfia spread awareness and drive sales.
ForceMajeure Design
ForceMajeure is a creative agency which helps in creating Brand, designing product and focuses on innovation. 
They use unique strategies, visual and brand identity so that they can serve clients better. They inspire with the lifestyles of North America, Latin America, Europe, and Asia and shape markets in that way.
GCMD
GCMD set their goals in such a way so that they can serve the best product and experience to their clients. 
They focus on the right thing that suits their client and learn all business techniques so that they can maintain a long-lasting relationship with their client.
Gen Design Studio
The headquarters of this agency is located in Braga and Portugal. Basically, this is a small and medium enterprise supporting firm founded in 2005.
With 50 designers and web developers, they have created a team who take care of the brand, graphic design, web design, interior design, industrial design and many more.
Grain Studio Inc
Grain studio Inc is an agency which makes you feel like you are working at your home. You can find the best professionals who help you to get clients with the most affordable and creative solutions.
JAB Design
JAB is an award winner agency and also a member of the institution of the Design society  Singapore.
It has all the creative professionals who help to navigate the brands successfully. JAB promotes copywriting, graphics, publishing, campaign development, and management and more.
JC Creative
JC creative is a successful agency which helps in presenting your brand in a unique manner that manages the present and future clients. 
They make your brand fresh, consistent and up-to-date which is important to face the competition.
Joel Bell
Joel develops products with innovative ideas and clear graphics which are key factors for success. 
To create a budget-friendly product for the consumer market, Joel Bell works independently or with a client's team. 
Matter Creative Group
Matter creative group design its brand with creativity. This agency gives solution to design-centric problem and experience high-quality creative work.
Primer Grey
This agency has many services which consist of marketing strategy, development of brand identity, logo design, naming and many more.
They know how to maintain a healthy relationship between clients and customers by choosing print as well as digital producers on the projects and team of brand.
Print City Design Studio
Print City Design Studio makes unique designs for business. This family-owned graphic design firm has achieved many awards for giving the best quality products and services.
Proportion Design
This agency focus on unique brand solutions and strategy. They believe in creativity and commercial realization which helps them to execute and connect their brand to their customers.
RadonicRodgers Strategy
With its entrepreneurial spirit and expertise, RadonicRodgers Strategy can resonate with every brand, be it travel trade, tourists or media.
Social Media House
Social Media House is an agency which works for digital and consulting marketing. It helps in the overall marketing process.  
This agency improves marketing nullity, enhances ROI and give information about the whole insight of the marketing.
Studio Linear
Studio Linear focuses on understanding its clients deeply. Every client is equally important for them that is why they connect to their clients personally.
Vebu
Creativity is the base of Vebu. They try to provide their best work by designing and branding. The content that they produce for video and social media are the best quality content. Experienced and creative designers are the main support system of Vebu.
These are the top 25 website designing companies who are experienced in creating, designing and developing stunning and class-apart websites.
About Author