Wix Review: Know when (& when not) to Use for your Website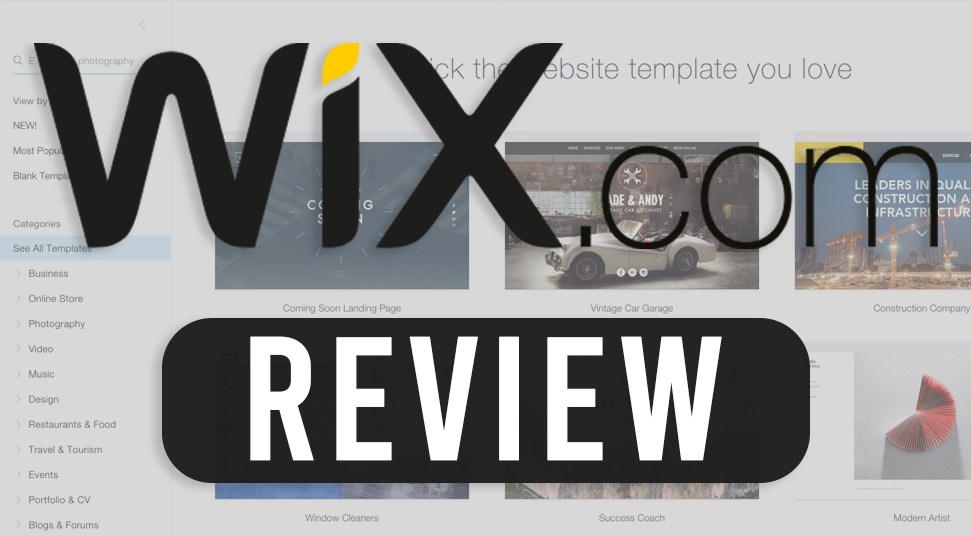 In the last couple of years, Wix has become quite popular. Now you can compare Wix with other stars like Heidi Klum, Jason Statham, and Gal Gadot.
Basically, you can define Wix as wonder woman. Wix can be acquainted as the greatest player in the field of Website building and hosts with a whopping 110 million websites.
What can you Anticipate from Wix?
Wix is a great choice for creating small websites as it offers an easy method of drag and drops site builder. Around 100s free templates are present in the market and you can get both free and paid web hosting and domain names in Wix.
With Wix App market, you can get added functionality which will make it easy for you. These may involve photo galleries and e-commerce.
Who must use Wix? Know the Wix Reviews
Wix's layouts are outstanding and basically designed for small businesses, restaurants, online stores. Musicians and photographers can also use Wix. Read all about Wix Reviews, then know when to use and when not to use.
They are specifically developed for mobile devices. The best part is that you can add varieties of Wix apps, available in the market with Wix.
You can not change Wix's basic structure which is already built-in Wix but can be compared with the prefabricated house. However, you can select a theme and assemble photo galleries and other apps, associated with Wix.
In fact, many companies are using Wix for creating a website for a quick result and it is reliable for security purpose as well.
Wix editor has handy tools like photo filters and animated texts which make you feel like having a fresh breeze. 
Different websites have different requirements and you must keep it in your mind before choosing Wix.
Cost of Wix
Wix offers both free and paid options. If you want to use Wix for free, then you can. However, to get professional features you have to purchase one of its plans like Combo, Business, and VIP.
Whether getting your own domain name or creating e-commerce business, Wix helps with its varieties of plans. You can get a domain name with the cheapest add-free plan of Wix. The plans that it offers are –
Free- With this plan, you can create a free website with Wix ads, but can not get your own domain name.
Connect Domain- This plan is a paid plan. Wix supports you to connect your personal domain with the Wix site. However, sometimes you might get Wix ads as well.
Combo– This combo plan is ideal for smaller websites and it will not show any add. Moreover, it gives you enough storage as well.
Unlimited– For getting a lot of webspace, this plan is right for you. This is because it provides up to 10 GB of storage.
Business and Ecommerce- This plan is available on VIP and it is unlimited. It is best for creating an online store and can also be used for premium apps like Wix Bookings and Wix hotels.
All these plans are obtainable by monthly prices with one year contract. Few packages include domain names as well. The combo can be the best choice if you want to run a regular website without e-commerce.
Pros & Cons of Wix
Wix is largely applied to create an easy drag and drop website builder to build a site. It usually runs in a web browser and helps in providing its own web hosting as well. However, there are many pros as well as cons to Wix. Here are some of them listed below:
Pros of Wix
Wix is best known for its excellent templates. These templates are designed superbly and its pre-built layouts can be used for many industries.

It is much more flexible than other website builders. With it's pixel-perfect you can finish off your work easily

Wix allows you to add text and other elements.

With Wix, you can add hundreds of apps to your site. It has a newsletter tool, live chat software, online booking widgets-a wide range of options.

Artificial Design Intelligence is available in Wix. Wix can also automatically connect your social media, generate contact form and select a suitable design for your audience. If you do not like anything you can change easily.

Wix can create automatic site backup for your website. You can restore this at any time and thus you can not lose any information.
Cons of Wix
Though Wix offers the cheapest plan via Combo plan, there is other cheapest plan available in the market than Wix.

After choosing your template, you can not switch to a new one though you can change the design of your template.
Rating of Wix
As mentioned above, Wix is the easiest and fullest featured website around. It can be used to create highly customized sites for free. Let's have a look into its rating for a more accurate insight: 
Usages
Wix editor is easy to learn. It has launched its new system called Wix ADI. By utilizing this system, you can switch your regular website builder any time.
Flexibility
Wix has a flexible design that allows pixel-perfect customizations. It has a mobile-friendly version that you can adopt by yourself easily. Wix allows you to upload your own fonts to the Wix editor.
AD Free
Only Wix's combo plan gives your ad-free option. You can get visible Wix ads with the free version and connect domain plan.
Languages
Wix has a support system 16 languages and you can build multilingual sites as well. Though this system is not best for larger sites and SEO.
Features
The best part of Wix is that you can get several plans that can be both free and paid. From ".com,.org,.net, .co.uk to .info", you can get all these domains with renewal prices. By using a higher plan, you can switch to your existing domain to Wix or point it from your registered domain name to Wix.
Navigation 
With Wix, there is up to two-level navigation is possible. The third level is not easy to control the larger sites with Wix (30+pages). If you navigate too many pages, then Wix editor will perform slower and take time to load.
Functionality
You can get varieties of Wix widgets and apps. Amongst all Wix music is most suitable for selling and it encourages music. Wix bookings help customer to book and pay for appointments and consultation along with its external applications are also helpful.
Monetization
You can combine Google AdSense within the app store. Banner ads and affiliate links can also be created by Wix.
E-commerce
Wix's eCommerce package includes an online store. Both physical and digital properties can be sold while tracking your stock.
SEO
Compared to previous SEO capabilities, Wix has improved a lot. Wix also allows you to edit the titles of your page, meta descriptions, and alt tags that you do individually. You can get many developed tools in Wix like 301 redirects. SEO wiz can be treated as a guided tutorial for beginners.
Blog
Wix blog is good for SEO. All the important features that you will need is present in Wix. This may include tags, categories, RSS and many more. There are several options for the users to share their feedback by Facebook or Disqus. You can use it for blog posts as well. Another add-on is that you can edit and publish your articles with Wix mobile app.
Statistics
To track overall statistics, Google Analytics is the best option. You can integrate Google Analytics into Wix.
Contact Form, Password Protection
In the Wix app market, you can find easy contact form builder and can create individual passwords for allocated pages which are personal.
Newsletter Tool
Wix has its own Newsletter service called ShoutOut which you can use easily.
HTML Code
With the help of Wix's HTML iFrame, you can embed several widgets and tools. Apart from that, you can also build databases.
Storage Capacity
From 500MB to 20GB, Wix's various plans offer different storage space with a monthly bandwidth limit. But you can use unlimited bandwidth with Wix's Unlimited and VIP plans.
Backups and Restore
Wix has a version control system, called Site History. With this system, you can restore any old version of your site.
Support 
Wix has even different support platforms-FAQ, Phone, Email. If you face any difficulties you can get solutions quite easily. This is because they reply almost instantly.
Final Words
In the Expert's Opinion on Wix Reviews, Wix is slowly coming to the top rank for its flexibility and optical delights. Moreover, for its never-ending development, it has become a smart website builder for photographers, bands, artists and any kind of portfolio site. Hope this article was helpful enough for you to implement a scanty outline of Wix. Want to know some more on Wix Reviews, then you can comment anytime in the comment section.