Jimdo Creator vs. Jimdo Dolphin: A Compact Review and Discussion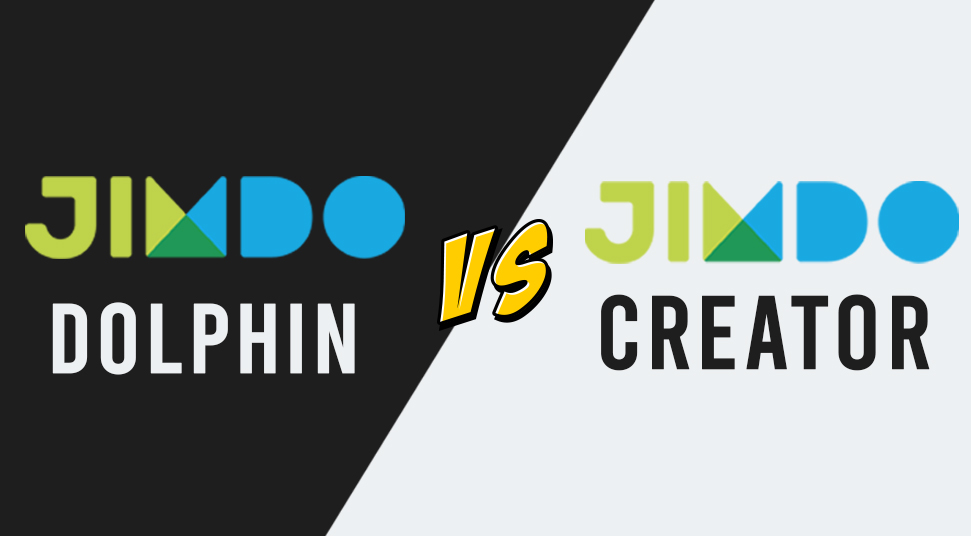 Jimdo is a website, programmed to create new personal and business websites for different users. It offers a vast range of templates, pages, and designs to the users so that they can build a website of their own. It has several customization options for each user.
Jimdo has launched two different types of website tools viz, Jimdo Creator and Jimdo Dolphin. Both of them are completely different from each other.
However, each one is designed differently to create websites like a professional one, blogs, business profiles, and many more.
In this article, we are going to differentiate between Jimdo Creator and Jimdo Dolphin to provide you with comprehensive information so that you can choose precisely between them.
Jimdo Creator VS Jimdo Dolphin: The Better Option
Jimdo website maker is suitable for everyone who is trying to create an attractive website. Today, we are going to review on Jimdo and compare both Jimdo Creator and Jimdo Dolphin thoroughly.
So, let's list down the basics attributes a website maker should offer to the user and see which one is better for you.
Creating a Website:
Creating a website with Jimdo (both the versions) is always an awesome experience. The user-friendly interface offers many things that any user can ask for. Let's take a look into it thoroughly.
With Creator:
In terms of creating a website, creator works a bit faster than the dolphin.
There are three main steps that need to complete:
You have to choose the type of website including professional or blog.

Pick up a template, you like among 15 different template collections. Though you can change it later if you don't like the outcome.

Following that, pick a plan. (free plans are also available).

Take a domain option. Here you can opt for a free domain, paid domain or just the subdomain of Jimdo.
With Dolphin:
Dolphin uses Artificial Intelligence to create a website for users. It asks several questions to the user and saves a chunk of your time.
It takes less than two minutes to answer the set of questions which basically includes,
Name of your website.

Primary goal (to promote business, to get bookings, personal blog, etc).

Customisation (minimal, modern, professional, etc).

Colour
You can always skip these steps and fill the fields later. But as it uses AI, it is recommended to follow the steps, created by the website for best results.
Template Options:
There is a line of the template collection that Jimdo offers for their users to help the user to make a stunning website. However, it involves:
With Creator:
Creator has a menu bar which contains three options such as template, style, and background.
The Template section allows the user to change templates according to their choices. But swapping between them can disrupt the layout.
Also, the style section has numerous options to change the writing font and styles, color options, etc. And from the background section, you can even choose different backgrounds for your layout.
With Dolphin:
Like the Creator, Dolphin has also three menu options in the template section.
In the design tab, you can customize the design of the website. The best part here is that you can also choose the design options as per your desire to make your website look more attractive. You can change the color, font, and animations of your website as well.
Other than altering the background, you also get an option to customize the whole layout. As there are several options for layout is available, so you save a bit of your time in creating the layout by yourself.
Page Customization:
There are a lot of options in the page customization section in Jimdo Website Creator. Let's take a look at what they are offering in both the versions.
With Creator:
Page Customization in Creator is easy and powerful. Without pre-styled templates, the user gets to choose from non-styled page elements.
There are few elements, included in the creator but are unavailable in the dolphin such as maps, social media elements, etc.
With Dolphin:
Dolphin offers a variety of elements to choose from. Thus, if you want to add a text, then there are several text elements that are being already included in the Dolphin engine.
For other basic elements like images and texts, more advanced  options are available which includes,
Slideshows.

Columns.

Music.

Contact registers.
Page Management:
In Jimdo, a user can build anything according to their need. Page Management like Blog pages or service pages is very reluctant with Jimdo. Let's take a precise dig into it.
With Creator:
Creating a blog website is much easier with Creator. There is an option of "Edit Navigation" which opens a panel of your pages where you can add or select a page as per your choice.
 The main menu also consists of an option to create a store website or a blog site.
With Dolphin:
Among the three fields of the menu section, there is an option called "pages". It displays all the created pages and you can create a new one from it as well.
There are several pages available in the Jimdo sites like,
A privacy policy page

A cookie policy page

A 404 page
There is also an option called  "store", which allows the user to create a business page where they can sell and add products.
Store Management:
While creating a website, a user should keep in mind the concept of store management. Jimdo offers automated store management for users so that you can create a website without any hassle. Let's see what it entails:
With Creator:
Store management in Creator is better compared to Dolphin as it has some extra sections like inventory management and functionality.
The user can build attractive product pages with Creator as store pages should look good as lots of customers are going to visit your website.
With Dolphin:
Dolphin has advanced store management. With Dolphin, you can get all the basics of store management. Other than that it also allows the user to include any payment links.
Each product gets its own page as the user continue to add more products to the inventory. In the recent updates, the Dolphin has also added an inventory management section where you can provide discount coupons to your customers.
Cost:
Both the Jimdo Creator and Jimdo Dolphin offers free plans. But Jimdo Dolphin is priced a bit higher than Jimdo Creator. To remove ads from the website, the user will have to upgrade to a paid version.
The overall expense depends on the size of the webpage, you are designing. For the paid version of the website, there are different plans available for both Creator and Dolphin.
Conclusion:
Jimdo has built a platform for its creative users to design and create different forms of websites and provides a wide range of customizations.
Though Creator and Dolphin differ from each other in several points, both the versions are capable of creating user desired websites.
Thus, from the above discussion, a user might get to know which version of Jimdo is appropriate for him/her.