7 Prominent and Advance Website Builders for Mac to Endeavour in 2019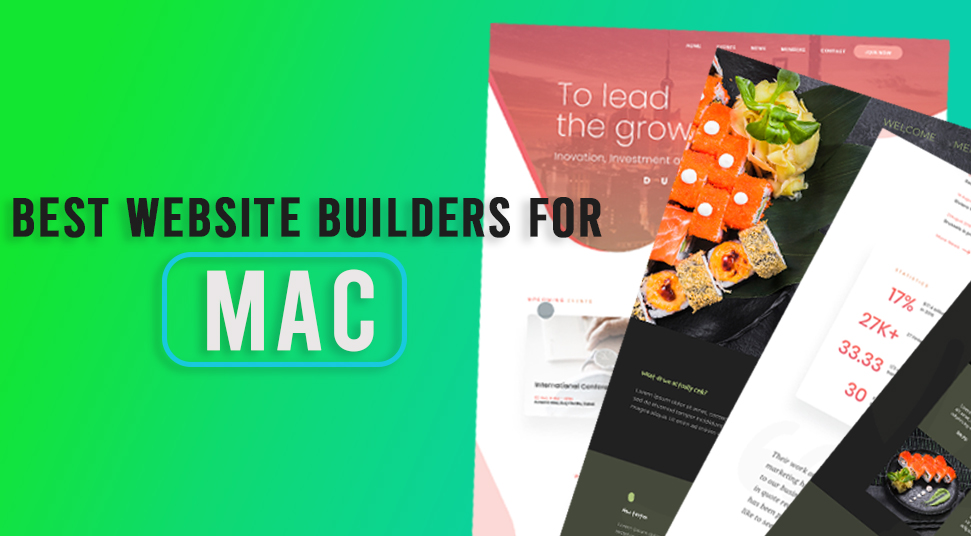 Do you own a MacBook? Are you thinking of building up your own website? Maybe it is your passion or it is for growing a new business you have just started. Are you not aware of the media to create a new website? Then, here awaits good news for you.
Making a website has never been easier. There are best website builders for Mac that will definitely be helpful to create professional-looking websites within just a few minutes.
This article tells you about the most demanded Mac website builders which you can apply to make the best website without any quandary.
1. Wix
Wix is the best among the many website builders in the market. It provides you an extensive application store and allows you to add functions to your website with just a single click.
The main feature of Wix is that it comes along with strong SEO tools to make sure that your website does not appear at the bottom of the list of the Google search results.
The plus points of using Wix are:
Comes with a good range of pricing plans,

Has an unmatched amount of quality features,

Most importantly, it is the leading Artificial Intelligence site development.
2. Weebly
Weebly is one of the greatest website developers. Thanks to its extensive customization choices, it allows you to interchange various styles according to your choice while preserving the data on the page.
A simple click helps you perform these changes. This is why it is much easier to use and helps you experiment with your website. To add numerous features to your site Weebly comes with a large app store.
The advantages of using the Weebly website builder are:
Comes in lots of built-in features

Weebly supports a lot of sale channels

It does not charge any transaction fees
3. WordPress
WordPress is another famous website builder powering over 500 million websites. If you want to write a blog post, WordPress is the perfect platform to do so. It provides numerous amount of features to make your content look perfect with grammar, readability and other various factors. It is the best website builders for Mac also.
The plus points of using WordPress website builder are as follows:
It is the best base for writing blogs.

WordPress comes with many templates.

The best part of using WordPress is that it is super easy to set up and use.
4. 1&1 Ionos Website Builder
1&1 Ionos is not as good as Weebly, Wix or even Squarespace. But it still has some features which make it worth viewing. The most important and advantageous feature of 1&1 Ionos website builder is that it is multilingual.
You can create your websites in sixty different languages. This point makes this site builder one of the best website builders in the business field.
Also, this website developer allows you to have complete access to the HTML and CSS coding of the templates.
In 1&1 Ionos, any experienced person will be able to make changes in coding to make your site appear to the visitors the way you desire.
Here are some of the advantages of using 1&1 Ionos website builder as listed below:
As discussed above, it is multilingual and does not keep your website limited to a particular community.

The codes are super easy to access.

Comes with an in-depth editor.
5. GoDaddy
You must have seen a tremendous amount of advertisements for GoDaddy. This reveals the fact of how famous this website builder is.
GoDaddy is one of the biggest names in the website developing field. Almost eighteen million people use this media to develop various websites. It lets users create websites very easily and provides them a 24 hours support services every day. 
Thus, providing you a solution for any kind of problems in the development of the website. The editor you get with it is very restrictive and causes problems in the creation of the exact website you have been dreaming about.
The pros of GoDaddy are listed below.
It is a very straightforward website maker and website editor.

The process of signing up is quite easy and fast.

Impressively simple ADI.
6. Site123 Website Developer
Site123 has already earned fame for being 'the easiest free website builder'. It is one of the strongest bases in the field of eCommerce. We should be thankful for its amazing online store template. All you have to do is to add the stock and Site123 will do the rest of the job.
The advantages of using Site123 website builder are as follows.
The process of making a website using Site123 is quite faster.

It is very easy to integrate applications and widgets in site123.

Site123 provides a very quick and convenient ADI system.
7. Website Developer
Squarespace comes up with a wide range of templates. It helps the beginners to create a website with a professional appearance. Along with the 91 templates, you will also get to use plenty of other options with lots of editing techniques to make your website look the best among millions.
We should not forget that Squarespace provides an astounding range of options for those who want to create a class apart site. Using this builder can be a little confusing initially but with regular use, you will be able to use this better than anybody else.
The pros Squarespace offers us are:
The templates are very gorgeous and interesting.

It is very easy to add custom codes in Squarespace.

Also due to well-built eCommerce mode, it is the best for using in eCommerce fields.  
Concluding Remarks
Website builders are found in various forms with different interesting interfaces. You will find this amazing variety in website developers if you are a Mac user.
Our recommendation is based on thorough research on different website builders that have been coming up in the realm of business.
The list of website developers for Mac described above are not only the best in the market but also encourages you to build your website with ultimate ease.
Also, the rate of increment in business nowadays is so high that people require to make their own websites to reach people on an international level. I hope this article provided you with relevant knowledge regarding website builders for mac.
About Author