Does Hiring a WordPress Developer Justify the Worth Of Money?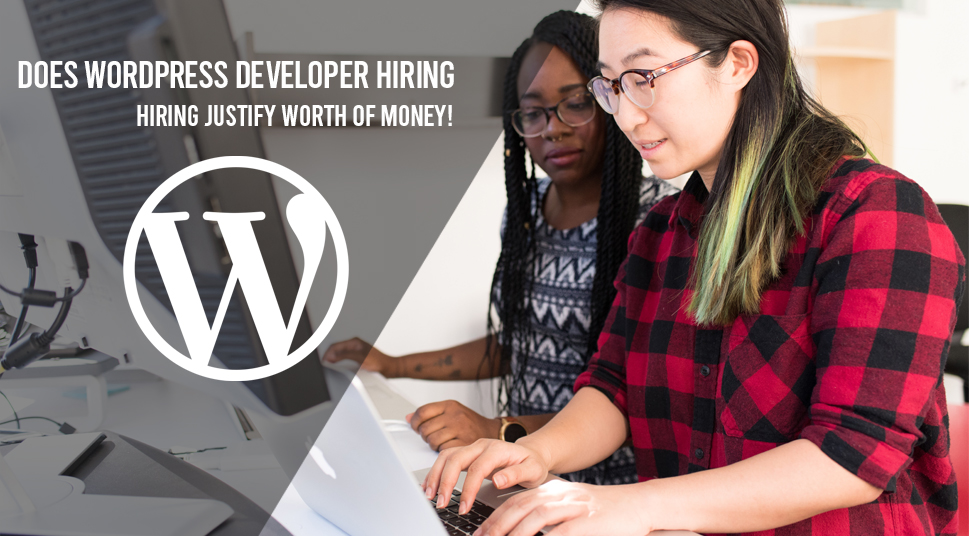 For a business owner, it is important to have a unique voice. An in today's world the best platform to make yourself heard is your website. Your website is the place where many of your first customers will get to know you.
So, first, you have to make a website that will grab people's attention. Because if people do not enter your website, they cannot become your customers. Hence, if you want to build a website that will get you huge revenues and traffic, you have to spend some money by hiring a web developer.
In today's market WordPress is the best website developing platform. It helps in building both non-blogging and blogging sites. Hence, you should also hire a WordPress web developer for building your website.
But, often the question arises "Is Hiring a WordPress Developer Worth the money?". 
The Advantages of a WordPress Developer
Let us see what are the benefits of hiring a WordPress developer for designing your website:
Technical Support
Every business owner doesn't require extensive technical knowledge. On the other hand, without such knowledge designing a website is quite impossible. It is here where a WordPress developer comes in. 
A WordPress developer possesses all the technical knowledge to design your website. You can also ask them to train you to make you eligible to manage your website in the future.
Solutions for any Problem Regarding WordPress
A good WordPress developer has knowledge of everything which is needed for the smooth running of your website. The web developer manages everything related to the website, starting from the development stage to the theme management and the customization of the code. They can build you a website that will attract the attention of your target audience which in return will give you a good ROI and traffic.  
Complete Customization
After you have hired a WordPress developer, you can make them build your website just the way you want it to be. Selecting plugins, which are beneficial for your website is one of the main parts of customizing your website. The designing and the coding part can also be customized as required. 
Understanding the User Properly
A WordPress developer who is experienced has a better understanding of what the users want from your website. In this case, their opinions can be very important for your website. Their implementation will be in favor of both the business owner and the users.  
Good Quality Work in Less Time
WordPress developers are very experienced and hene it is obvious that they will deliver quality work. They will make your website very effective and user-friendly. 
Being an experienced developer, they will also need less time to complete the job. But if you hire someone who is new and starting their career, they will take up more time. 
Hiring Flexibility
A WordPress developer can be hired on a fixed salary, or on an hourly, or monthly basis. With these options, you will not have to hire a full-time developer, which will cost you a lot more money than a WordPress developer. 
You can search online from the pool of WordPress developers available. Then you can then choose the one who fits your requirements. You will be able to keep track of their work and see how mode progress they have done.
They Know Various Languages
The WordPress developers are capable of building such good websites because they know multiple languages. Knowing so many languages helps them to add unique features to the websites. 
The overall functions and design of a website can be improved by using languages like CSS, PHP, HTML, MYSQL etc. Hence, their knowledge will eventually help your website to become better.
Social Media Friendly
As you know, social media plays a vital role in the online marketing world. It is the most convenient place to make your site familiar to everyone. Nowadays almost all the people in the world have a social media account and they are most likely to notice you on social media than anywhere else.  
WordPress is the best place for you if you want to make your website rich with social media. It has features that are compatible with every social media network, for example, twitter, LinkedIn, Facebook, etc. The developers at WordPress are working on developing plugins for social media to be as much user-friendly as possible. Then you will have many more options and you can use the one best suited to your needs.  
Search Engine Optimization and Unique Content
A good website is that which has good and unique content. The web developers know very well about the requirements of good content. Only by having a unique content your site will not become good. You also need to do search engine optimization to make your site fully functional.
The ranking of your website is done by SEO. If your site is ranked higher, it will be visible to more people when they will perform a search on the internet.
 Web Analytics
The analyzing of your data on your website is done by web analytics. The parts of your website which require more focus to improve the performance are managed by the developers. This will make your website to make more profit.
Data Security and Safety
The data are a very crucial part of your website and they must not fall into the wrong hands. Your data will be safe and confidential if you hire a web developer. They know the methods of keeping your data safe and secure. 
Moreover, your data will be safe and secure in the server of the company from which you will hire your WordPress developer.
Conclusion
As you have known from the article that a WordPress developer can be very useful when it comes to building a website. They will optimize your website according to the needs of both the owner and the users. WordPress developers will also help you to keep your data safe and secure. They will also do Search Engine Optimization on your website so that it will rank higher in the search result.
Now, to answer the question "Is Hiring a WordPress Developer Worth the money?", I will say that it is completely worth every penny. WordPress developers are the only developers who will be able to build your website to great perfection. 
About Author