Want to Know the Tips to Boost Windows 10 Performance?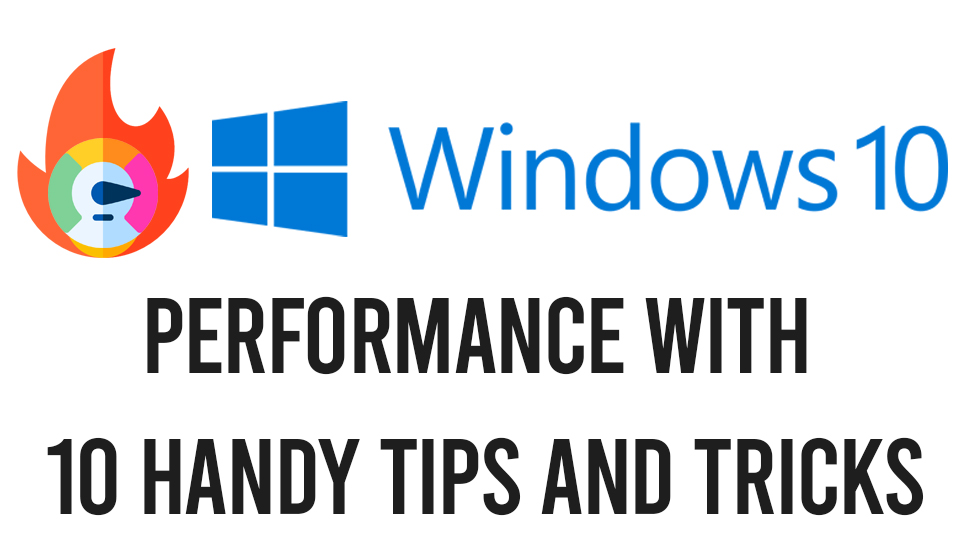 Windows Operating System has been showing immense improvements as it is getting more and more updated.
The amount of support to an extensive range of applications and software is an amazing thing about this operating system.
Windows 10 is the latest version of the Windows operating system series. Huge improvement arrived with this amazing version of Windows and the best feature is Cortana, the first-ever voice assistant of Windows.
Also, there are various applications that are present in the OS right from the beginning. This is why it has become much easier for the user to get to them without the manual installation of them from the Internet.
But, as a machine, it is very much obvious for your software to get slower if it gets a lot of pressure on it. In general, such a situation might occur when you have too many software applications installed on your device.
Sometimes people install plenty of applications just for temporary use and do not remove them later and that is the reason the machine hangs. And, sometimes, the installation of too many applications is done for a reason and in such cases, you cannot go for the removal of those applications.
If you are an experienced user, you know how bad the situation can get if your operating system gets slow from time to time.
I am mentioning this because there are users who came up and complained about the fact that Windows 10 is getting slower, actually much slower than expected, within a year or two.
This is why we are here to let you know some amazing but not so complicated techniques to boost Windows 10 performance.
Don't You Think Working with a Slower Windows 10 is a Hectic Job?
The consequences of slower performance of your computer can be awful and that is actually what we call irritating.
There are a few moments where you need to recover the whole Windows 10 files that are lost by accident.
This is the only reason for which it is absolutely normal for users to increase the speed of your device.
This article here is to provide you ten amazing tricks to make your Windows 10 run in an absolute smooth manner on your computer device.
10 Tricks to Boost the Performance of Windows 10
You might get worried to see your operating system hanging when it is most needed and you might get worried thinking about how to improve the performance.
Well, then I must mention that the tweaks that you are going to get into the following section is way easier than you actually expected them to be.
Don't worry, take a deep breath and let's go for the execution of the methods to raise the Windows 10 operating system speed on your computer.
One thing that I need to mention here again is that this article gives you the techniques that can only help out the Windows 10 operating system devices.
1. Shut down your computer for several hours
A computer can definitely run for days without turning off but this does not mean you can keep in turned on for days.
That will heat up the device and hat will make the device gradually slower and slower. If it is very much needful for you to work on your computer almost for the whole day, you should give the machine rest for at least an hour.
That will be a lot helpful to keep the machine work with the perfect flow every time you are sitting to work with it.
Here is one more thing you should know about your Windows 10 computer device and that is if you turn off your device and restart it, it helps the machine to clear the system memory that piles up during the time you are working on the device.
This also helps the device to put an end to the performance-slowing processes on the computer.
2. Disabling the startup programs of Windows 10 helps a lot
If a lot of programs are starting up with the starting up of the device, it will be taking more time for the device in the process of booting.
This is something you need to get rid of as soon as possible as this problem will make your Windows 10 device slower than what you can imagine.
Here is the process to get rid of the issue. Hit the right mouse button on the Start button. Carry the mouse pointer to the Task Manager.
Open the tab called startup and check the list of programs that get turned on along with the starting up of your machine. Inspect all the programs and look for the program that is not very essential.
Right-click on that particular program and then click on the Disable button.
Another thing that possible to do is arrange the programs according to the Startup Impact to get a better idea about which ones are using the most resources, and increasing the boot time.
3. Deactivate the visual effects
Windows 10 has come up with various visual effects that have made this operating system look very beautiful and much more attractive than the previous versions of the Windows operating system.
But, with that Windows 10 has also provided users the option to disable the visual effects. The steps to make this happen is quite simple.
What you need to do is go to System. Followed by this go to Advanced System Settings and open it.
The next step is to go to the "Advanced" tab and open the Settings window that you will get under 'Performance'.
To disable each and every visual effect that is working on your Windows 10 device,  simply click on the "Adjust for best performance" radio button.
The advantage of this process is actually incredible. The visuals will actually become very much downgraded but the good thing about it is it will eat up less memory of the device and thus your device will be running actually very smoothly without showing any sort of trouble.
If you want you can activate the 'Smooth edges of screen fonts' option for reading the texts much more easily.
4. Disable the applications that are running in the background
There are many applications that will keep on running in the background without your notice and your device will perform comparatively slower.
To get rid of this muddle, what you need to do is open the settings and click on the Privacy option. Followed by this you have to click on the Background apps.
Here, you have to turn off toggle switch for the applications that are running in the background.
This will prevent those applications to run in the background and that will consume less memory. As a result, the device will run more smoothly without getting slow or hanging.
5. Remove the apps you do not need
Sometimes you install way too many applications on your device and it consumes a lot of space on your device and therefore, the Windows 10 device will become gradually very slow.
If you do not need all of them, why keep them and waste the valuable space?
Here are the steps you need to follow to get rid of the unnecessary applications. The first thing you need to do is go to settings from the Start menu.
Then, click on the Apps option followed by which you need to click on the Apps & Features. Then, select the application you want to delete.
Finally, you have hit on the Uninstall button.
6. Turn off live tiles
Live tiles provide us with updates on the information from particular applications. But it affects the device's performance. Here are the steps to switch off live titles.
Click on the Start button and type Edit group policy. Press enter.

Go to User Configuration > Administrative Templates.

Double click for opening Start Menu and Taskbar > Notifications > Turn off tile notification.
7. Update your Windows 10
This is one of the major tricks to boost Windows 10 performance.
What actually updating your Windows 10 does is it strengthens the security system of your device and reduces the risks of virus attacks and other malware attacks to a huge level.
Do a regular scan on your device to look for any malware present on your device. Remove them immediately if any of them are detected.
8. Put your device on Hibernate
Your device will take less time if you keep it on Sleep as it will take less time to turn back on and the current state of the system will be saved to the hard drive and will easily load.
9. Fix Preferences
Open Performance Option window.
Go to the Advanced tab.
Set preference on which the programs to run along with the services.
Tick off maximum number of programs to run Windows 10 faster.
10. Turn off cloud sync
The cloud storage platform of Microsoft collaborated with Windows 10.
If you turn on the automatic sync in OneDrive, the performance of your computer will keep on degrading along with the Internet speed. Here are the steps to disable that.
Go to this PC and look for OneDrive. Right-click and go to Choose OneDrive folders for syncing. Untick Sync all files and folders in OneDrive. Then, click on the Ok button.
Final Note
These are one of the best tricks to boost Windows 10 performance. If you failed by trying all these tricks then you can go with factory reset windows 10. This also can help you to boost Windows 10. Hopefully, these were convenient enough for you.
Let us know in the comment section provided below if they helped you to keep your Windows 10 smooth. Also, your feedback will help us to assist you better in the future.
Do not forget to have a look at the other articles that our team has posted on this website. A share from your side will also be much appreciated.
About Author