Create a Web Designer Resume – Stand Out as the Best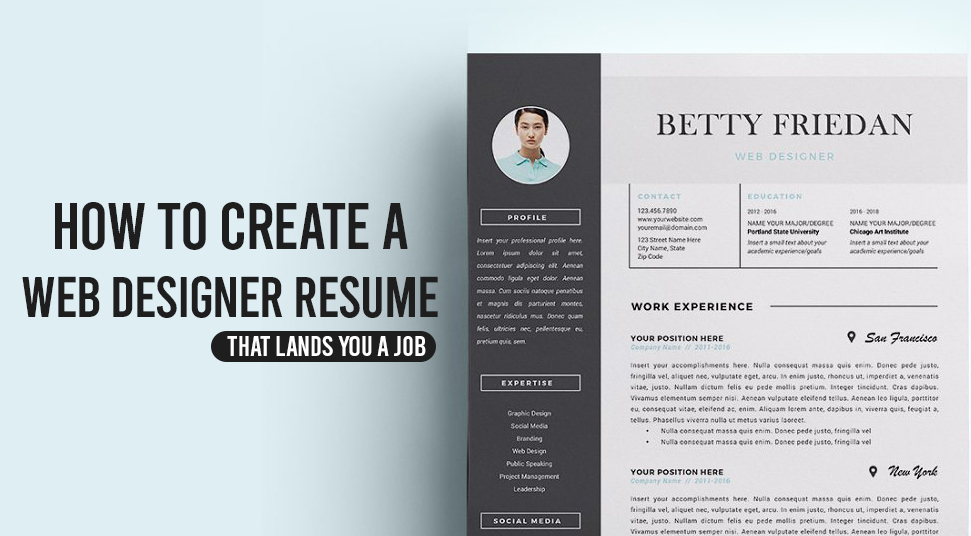 Web Designing is one of the most versatile and difficult jobs on this planet. A web design job will vary from company to company as no two companies will want their website to look the same.
In recent times, getting the job of a web designer is quite competitive. That is why you need to build a resume that will stand out in the crowd.
Today in this blog we are going to discuss what you need to write in your resume and what format you should use to get the best web designing job.
I can bet that this blog will really help those readers who are willing to get a job as a web designer in a reputed company. So allow me to guide you through the process of creating an amazing resume for your dream job.
I want to give a brief introduction of what web designing is and how it works in case you missed the subject.
What is Web Designing?
Web Designing deals with the task of creating, formatting and editing of different web pages. Web designers are completely different from web developers. 
As web developers deal with the coding part of creating a website, a web designer is responsible for the layout, color, fonts and visual themes of a website. 
Designing a web page is very complex work. That is why big organizations usually have a team of web developers who work very hard to create a standout website.
That is why if you are going for a job of a web designer then chances are you will get picked as a team member of a team working on a particular project.
How to Create the Best Resume?
Now that you know about web designing let's help you to create an amazing resume for your dream job. I will explain everything in different sections so that you understand well.
Format is the key
If you are applying for any designer position, then your format and design of your resume matters. It matters a lot. A resume is the first impression of yourself you are giving to the company. 
Therefore it is really important how you are designing your own profile, and a lot can be told from a resume. Here I am mentioning some points that you need to keep in mind before creating your resume.
Use the white space of your resume.

Keep everything to the point and loud and clear.

Use a decent font and add sections for different categories.

Never congest your resume with loads of information.

Avoid using a word processor to create your resume.

In whatever form you are writing, convert the file to a PDF file. 
Mention your Experience
I think by far this is the most important section of your resume. And this will be the first thing a company will notice about you. So you need to be very careful with this section.
Follow the bulletins to arrange your experience section in the best way.
Keep it brief and relevant as much as possible.

If you are including bullet points then don't add more than three to five. 

Mention your achievements and accomplishments.

Keep it clean and clear.

Don't just list the names of the company in which you have worked. 

Only include those working experiences which are relevant to the job you are applying to.
Education
After the experience section, next comes the education section. You can say that this section is not as important as working experience section but still, you have mentioned this as it will give the employer a chance to know about your background.
So lets see some important points that you need to keep in mind while writing the education section.
Always start from the latest degree you have received and then move accordingly. As for example, if you recently completed your bachelors in website designing then keep it on of the education list then mention your highest school degree.

Include course works and achievements in this section 

Anything you write should be relevant to the job post you are applying to.  

Mention your GPAs.

If you are using bullets then try to elaborate every point you mention. Like, try to describe what you have done and how you have done it.

Everything should be written in a compact way.
Brand your Skills
Now get this straight. The more skillful you are more are the chances of getting the job. But everyone will write their skills, right? But how to stand-alone among them.
Allow me to give some pro tips, so follow the bulletins. 
Your first job is to read the job description carefully and find out what the company really wants.

Cross-check their required skill set with your skills. 

As everyone will mention their skills set in their resume so your resume won't stand out if you just "mention" your skills.

You need to prove yourself by them giving examples. Like for example, if you know how to work with Adobe Photoshop then try to mention some previous work that you have done using Adobe Photoshop.

This is a good section to include your portfolio.

Include all the certifications you have achieved by using your skillset.

If you have a freelancing experience then include all the details here in this section as it will be counted as one of the skill set. It will also make the company believe in your skills.

You can also list some of your desired skills that you want to acquire in the future. It will act as a catalyst.
Write a Cover Letter
Well, some might say that the concept of sending cover letters are old and are really not that necessary. But trust me a cover letter can be a ticket to stand-out among the crowd. 
It is not possible that you write all of your information in a single page of your resume, so if you want to tell the company more about yourself then cover letter is the best solution for you. 
In a cover letter, you can elaborately explain your skills and abilities and how much you are going to value their company if they hire you. Apart from skill sets, you can talk about achievements and experiences.
So finally…
So what are you waiting for? Go get your dream job. But before creating your resume always remember the points that I have just mentioned in the above sections. 
Every point I have discussed is well researched and applicable to the real world. I hope that I have helped you to create the best resume for your web designing job.
About Author