What is the Confidential Key to Improve Landing Page Conversion Rate?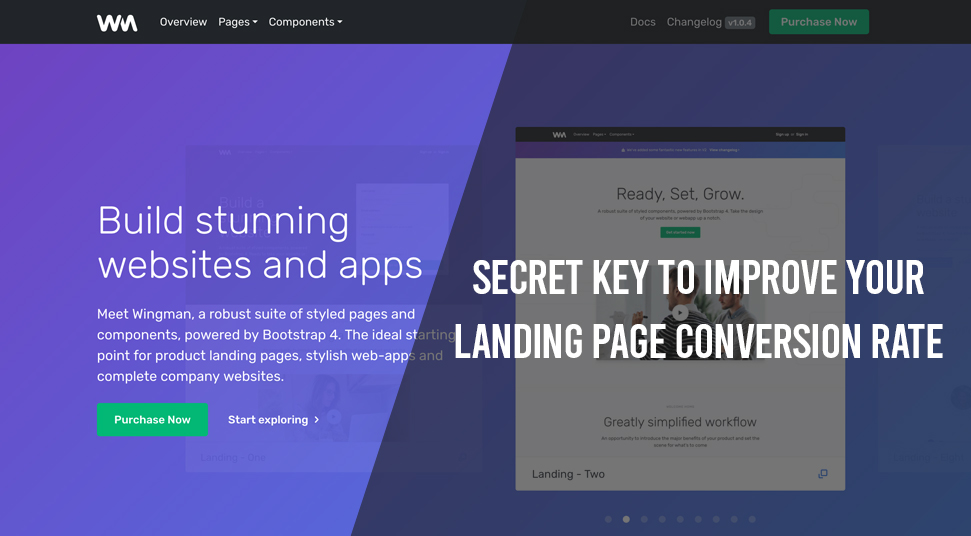 People are often stressed out with a low conversion rate. Well, to skyrocket your conversion rate you must have a well built and simple landing page for your visitors. Landing pages may look simple but it is tough to make it perfect. Having said this I want to put together all the research work and elements that I have gathered all together and I really hope this would help you to be more successful in your future.
Perfecting a landing page is hard, but it is not rocket science.
What is a Landing Page?
A landing page is the point of entry of your website. It is where you send visitors to your website in order to interact with them and convert them. It can also be said as the design to convert visitors into the lead. Landing pages usually differs from other webpages in your website. It comes with a mode that enables you to acquire a visitor's information in exchange for an offer.
A landing page could be your homepage or a standalone page designed to interact with people and run special campaigns to increase your future sales.
 Purpose it Serves:
The first purpose of a landing page is to gather leads that enable you to market to people in the future and grow your business.

And the second is to warm up or interact with your potential customers about your product before sending them into the sales domain.
Benefits of Dynamic Landing Page
Apart from increased conversion rates, there are other advantages that you could get if you create the right landing page and we are going to discuss the benefits your business could make from a landing page
SEO Rank
Landing pages are basically designed to aim at a specific set of search terms. These search terms are also promoted by Google Adwords and other paid methods. It can soar up the rank of the landing page high and showcase your product, offers, and sale in front of customers looking for similar stuff.
Promotion or Sales
A landing page's main focus stays on one promotion or product. It helps move one particular marketing goal to the forefront for better conversion. A landing page also allows you to track the success of a particular product or set of keywords.
Advanced Buying/Subscription process
A landing page with high conversion just works as a medium to draw visitors into the sales funnel more productivity. If people have difficulty finding CTA on your website, they will find it on your landing page and will be able to interact, subscribe, sign up and buy.
Now, let's roll on to The secret key to improve your landing page Conversion Rate without wasting time. You must read the article thoroughly, it may take time, but it would give you an absolute result.
You definitely have heard of the Phrase" Good Things Take Time"
How to Skyrocket your Conversion Rates by perfecting your Landing Page?
Sometimes you just need is one high converting landing page to escalate your conversion rate gradually. Before you start perfecting your landing page you need to know what are you going to need. Once you have it in your mind, your journey starts. Go through keywords research to understand what kind of words or terms people use to find products like yours. Gather crucial elements that you want to put on the page like a sales micro-video, or an attractive CTA or a form maybe.
Let's begin 
The focus is you need to render your landing page content to the character you want to build and offer them the best experience ever possible.
First design a clean layout. Always use white or negative space wisely. This can drive millions of eyes and make your content look exceptional.

Always use colors that go with the framework and your site's texture. Understanding the Psychology of Color is very important to influence a visitor. Balanced color and contrast can attract millions of potential visitors and even convert them.

Maintain complete transparency with your visitors. You should not hide anything from your visitors and make sure they know everything about your website and products.

Your site's navigation should be simple and precise. Create clear directions for your users, so that they go to the desired location with less number of clicks.

Create short Forms for your users, it will take less time and they will be engaged in other activities.

Add unique visuals to direct your users to your form. An attractive visual cue can simply point them to the form.

Never ask for too much information from your users, it takes time and they shouldn't think that something is wrong. No one would share their personal phone numbers for little stuff. Asking information at the wrong time would harm your site.

 You don't have to fill the entire page with unnecessary or excess images. Too many images can outweigh the value of the real content. Put relevant images and especially where it is necessary.
This is not the end to boost up your conversation by your landing page. The next step is even more important. After sorting out your landing page properly you have to monitor and take action on that.
Analyze and Take Action On your Data
Every user doesn't look at things the same way you want them to. Your page could attract many and bounce many users if you need to understand the user's psychology, you have to analyze your metrics and data.
Working on your landing page for days won't get you good results, you have to check if it is being liked by the users or not. You must know what is the submission rate and what is bounce rate. This data will say how good your page is and how many are sticking to your site.
There are a lot of elements that a landing page needs to make a high conversion. Starting from the primary planning phase to the post-launch metrics and data, every step needs precisions.
In order to create a high-performing landing page, it is very important to have a solid strategy to reach your target audience, bring them to your page and create high conversions. Knowing visitor's buying behavior or buying preference would help you to understand what are they trying to find.
But it is difficult to know that your promotions and offers are working until you get the right metrics and data of your visitor. This is the reason for tracking and analyzing your metrics is mandatory.
Monitoring your visitor's activities would help you to get an insight. Once you know what is the problem, you can start by improving all the flaws that are still there and come up with its solution.
Wrapping Up
A high converting landing page is the result of your hard work and dedication. This is the place where your visitors click and buy or take services from you and in return you earn revenues.
Following the above discussed key points would definitely help you if you go step by step, and as I told you every step should be precise and perfect.
About Author