No-code Chatbots For Businesses
No-code is becoming a new trend for those who are interested in developing web and mobile applications, chatbots. No-code people are also recruited more by businesses because of the shortage of IT human resources due to the rapid growth of development but reduced costs. In this article, Jdocs will introduce a no-code chatbot for businesses and its popularity.
What is a chatbot?
A chatbot is a combination of 'chat', which means a short real-time conversation, and 'bot', which means a robot, and refers to a program that automatically answers a person's question in a chat messenger.
Since it is a chat-style question and answering system, it will be operated on the screen of a PC or mobile phone. You often see it on the inquiry page of websites and web services.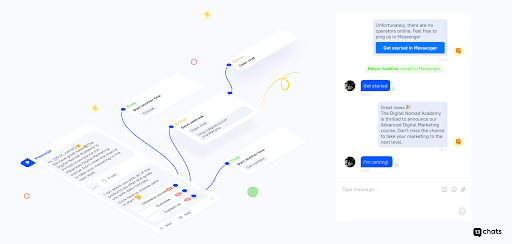 What is no-code?
No-code are software development tools that allow non-coders to still build their own chatbots without coding. These tools often have simple user interfaces, easy operation for users to develop as they like.
Benefits of using No-code
If you want to build a chatbot for your business with no-code, you don't need to have in-depth knowledge of any programming languages. This is a big plus when it saves most of the cost and time for building an efficient chatbot. In fact, building a chatbot from scratch can cost several thousand dollars and a lot of time looking for chatbot developers, while with no-code chatbot it is only a few tens of dollars per month.
Even if you haven't figured out how to automate your business yet, the no-code tool is ideal. This tool helps to automate customer support extremely fast, cheap, and helps you determine the product/market fit with the lowest cost.
No-code development means building chatbots and other automated tools using 'drag and drop' platforms. With these platforms, you don't need to know much about programming to still make a chatbot from simple to complex.
Why No-Code Platforms?
You may wonder why there are platforms like this? These no-code platforms, like 13chats are built by senior programmers in the engineering class; while the users of the no-code platform are at the layer close to the end-user.
The second reason is that the cost of hiring programmers and freelancers to build and complete a chatbot for business is also quite high. The no-code platform market is also very potential. Because of that, there are more and more tools to build apps than before.
Startup business owners don't care what you use to make the app, they only care about the value the app brings to them and how the system works.
Why and when to use no-code chatbot for business?
Here are a few reasons why you should use a no-code platform:
You want to build a professional chatbot for your business.

You are a solo founder, or your co-founder is not IT. Finding a technical expert is not an easy task. No-code platform will help you build your own chatbot without having to spend a long time learning to code. With automation marketing tools, no-code programming courses, you can complete building a chatbot for business in only 1 day.

You need to develop the cheapest and compact chatbot to reduce hire cost and increase conversion rate on the website.
The value of chatbots for business
Evidently, having a chatbot on your business website will eventually build trust in returning and potential customers. 24/7 customer support for clients will make your business look reliable and trustworthy. Chatbot will work for you even if you are offline. During out of working hours, your website is still online and customers may have questions that require an immediate response. 
No-code chatbot for business does not require human intervention and operates 24 hours a day, 365 days a year. In fact, it does this at a near-momentary level, increasing lead conversion rates to 700%. Faster responsiveness naturally improves customer satisfaction and minimizes the negative experience associated with long-term customer waits. As a result, it can have a positive impact on brand awareness and reputation.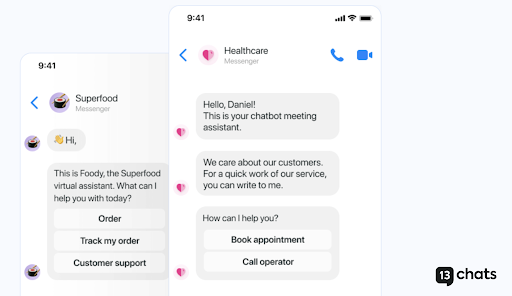 Final thoughts
No-code platforms have been providing strong support for those who don't know how to code and still can create chatbot, live chat and even smart widgets. Although it is still limited in terms of expanding the function, this is still an appropriate choice for those who are not specialized in information technology.
If you are a business owner looking for a way to automate your customer support, please consider installing no-code chatbot right away.
About Author