Weebly Vs Squarespace: A Clash Between Beauty and Brains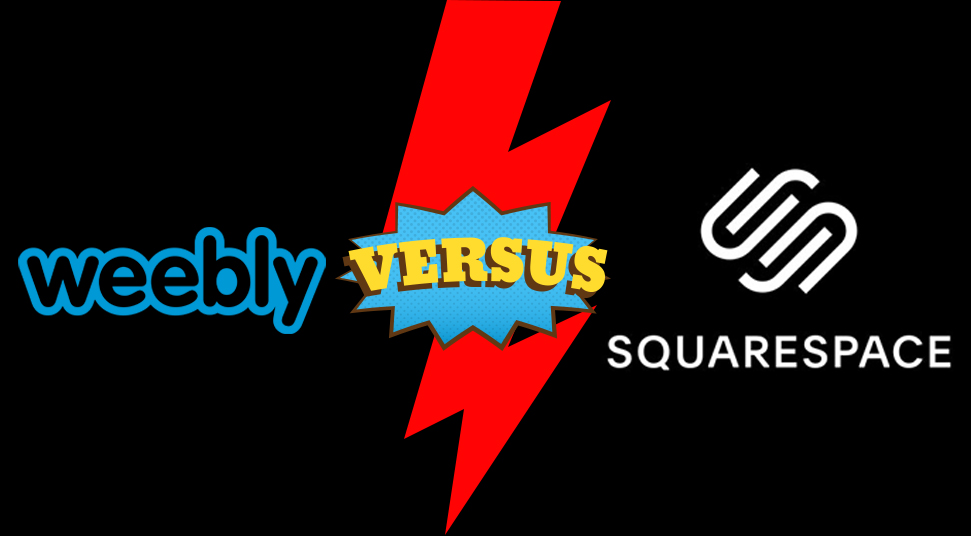 If you are from the website developing field, Weebly vs Squarefield must be a very familiar battle to you. You might have used one of them or both. In the race of website building, both of them have earned great fame.
For those who don't know what we are discussing, we are talking about website builders. They are online platforms that allow you to create and develop your own website without having any coding knowledge.
However, choosing a website builder can be quite confusing before creating a website. Thus, we are here to help you out in such a case. As we have done deep research to let you know which one is the best for what. This article will surely help you know which one is the best, Weebly or Squarespace.
What is all the Fuss About?
Weebly is responsible for creating more than 40 million websites. These websites are popular for its extensive beneficial features and that too at low-cost prices. Squarespace on the other hand powers over a million sites itself.
This doesn't mean it cannot match itself with Weebly. Squarespace has its strength in its designs, the templates, and the features it provides to the users along with its brilliant functionality.
Weebly Vs Squarespace: The Better Alternative
Weebly and Squarespace have earned great places in website builders' hearts. While Weebly is remarkably simple to use and highlights many pre-built themes.
Squarespace, on the other hand, offers better support and features around 90 designer templates. Here are some of the advantages listed below, respectively:
Advantages of Weebly
A wide range of features along with an extensive app store

Amazing SEO

Lets you build a free site of high quality

Simple to Upgrade
Advantages of Squarespace
Templates are well designed

Availability of quality features

Provides Mobile-Friendly Websites

Easy to Manage
Weebly Vs Squarespace: Which one is Easier for Use?
Ease of building up a professional website is a big factor. A website builder should always be efficient enough to attract as many people as possible including the beginners' community. However, Weebly and Squarespace have become famous for being very uncomplicated.
On reviewing people who have created websites using both Weebly and Squarespace, we got various discrete outputs.
According to them, Weebly is very straightforward to add things on their websites. All you have to do is to type the name in the search option and drag them to your site location. Moreover, editing text is quite easier with it as well.
About Squarespace, people say that they got an experience of a proper designer even if they did not have any professional experience.
Finally, the research proved that Weebly is a little easier to use than Squarespace. The main reason behind this is its vast app store and easy editing facilities.
1. Flexibility in Designing
Looks definitely mater in case of websites. This is because engaging websites draw a considerable amount of traffic. The user can immediately skip to some other website if they find it unattractive.
You can choose your website design in Weebly from different options. Each option has different categories like business, portfolios and online stores. Before editing the webpages, you can see a preview of it by just one click.
2. Weebly Needs Improvement in Certain Points
Weebly does not include any search option. Thus, if you are looking for a particular firm, you need to scroll through the business theme list to search for this particular theme.
As we all know, use of the Internet is not only limited to computers or laptops but it's also very common in mobile phones and tabs.
Despite Weebly's themes being mobile responsive, it does not provide any preview of the website on mobile or tabs.
On the other side, Squarespace is the father of designing websites. All the themes provided by it are way too luxurious and set your website a class apart from million other websites.
Unlike Weebly, Squarespace has screen previews for different screen sizes being highly mobile responsive.
They both have the drag-and-drop facility where you can choose a feature from the app store, drag it with your mouse pointer and place it on any spot on your webpage.
Apart from that, you can even adjust their sizes as well.
3. Tools and Features
A website is full of different options or features along with a number of tools to use. With an increase in the number of tools and features, the website becomes easier to use. Weebly has numerously inbuilt features that can provide you different techniques to design your website.
In contrast, Squarespace does not avail as many features as Weebly. It offers you authentic quality though. Following that, Squarespace does not have its own app shop. Fundamentally, what you see is what you get.
Let's have a look at a few of the features these two website builders provide.
Blogging
You can create and publish blog posts through both platforms. Thus, it includes some of the specific features listed below:

Archiving

Social Bookmarking

Allowing Comments

RSS Feed

Category Display

Search Feature
Analytics
Surprisingly, Weebly and Squarespace both offer you the same Analytics options. They both have their own onsite analytical tracking and let you observe factors like views, sales and bounce rates.
Social Media Integration
Weebly and Squarespace allow you to embed social buttons on your website. This can take the shape of likes, follows or shares.
Both platforms allow you to put live social media feeds straight on your webpages. This helps the visitors to see the latest tweet, statuses or photos on your website.
Email Marketing
Both the website builders allow you to create customized email address as contacts on the basis of your domain through G Suite. 
Once you create a legit email address, you can create and send out campaigns to your site's visitors.
'Weebly Promote' is the service provided by Weebly to build email marketing campaigns starting $10 per month. You can have a free trial at the beginner.
SEO
Search Engine Optimization (SEO) is a very important factor in creating your website. The better the SEO, the higher the page will appear in the Google search result list. You can edit your websites in both Weebly and Squarespace to improve the SEO of your site.
4. Help and Support
Website builders offer helps to their users but different website builders have different methods to offer help and support. Weebly vs Squarespace becomes an important battle when it comes to help and support.
Weebly gives us emails, phone, and live chat facilities (from 6 am to 6 pm from Monday to Friday and 8 am to 5 pm on the weekends).
On the other hand, Squarespace has its 24/7 email service provisions. Live chat facility can be used from Monday to Friday from 4 am to 8 pm. Squarespace has no phone service for now.
5. Money Value
Money is an important factor. People choose website building platforms on the basis of the money they charge from the users.
Nobody prefers to pay hundreds of dollars every month for creating and maintaining their own website. Weebly came up in the market with the cheapest prices among the hundreds of existing website builders.
Thus, the premium scheme of Weebly starts from $8 to $38 per month and the Pro scheme starts from $12 a month.
Furthermore, it also has a free plan which lets you build a website with all the same features and tools you get on the other plans.
On the contrary, Squarespace does not have a free plan but involves a 14 days trial pack. Following that, it does not contain unnecessary advertisements as well. Therefore, Weebly is the best choice when it comes to money.
Final Thoughts: Which One Should You Prefer?
By concluding the article, you should definitely go for Weebly because of the amazing ease it provides to their users. Weebly is the most suitable for building up small business sites and the number of transcendent features.
Squarespace is for the creative and artistic people like painters, photographers, and musicians for creating sites with unmatching themes and professional looks.
I hope this review was of great help to you. Let us know which one would you prefer and why. Drop your views in the comment box below.
About Author