3 Easy Steps to Tape Down All Your Office Cables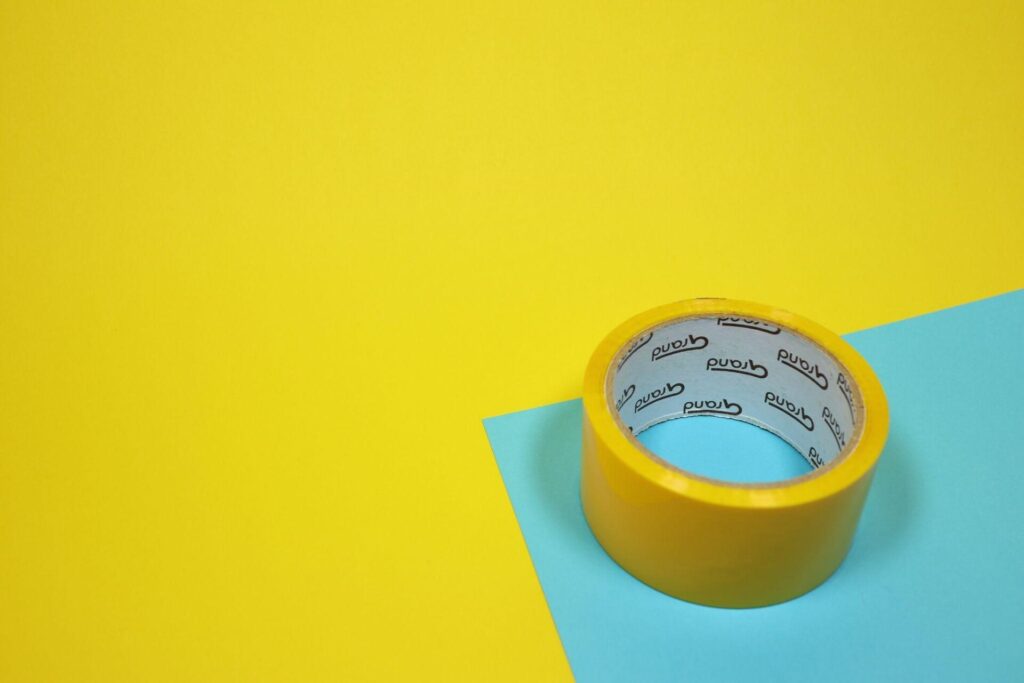 Cable clutter can be extremely annoying, and bad cable management only makes matters worse. Cable management is even more important in offices. You can pick wireless devices to clear some clutters. But you still have to deal with desktops, printers, copiers, USB hubs, routers, and other electrical devices.
There are plenty of DIY cable management tricks you can use in the office to keep the place organized and free from cable clutter. One of the most effective ways is to tape down all your audio, video, and power cables using Gaffer Tapes.
What Is Gaffer Tape?
Gaffer tape or Gaff tape is a heavy-duty pressure-sensitive cloth tape with high adhesive qualities. It has a matte finish and does not reflect light. One amazing benefit of gaff tape is that when it is removed from any surface, it does not peel off the paint, damage the surface or leave any glue residue behind.
Gaff tape is very popular in the music, theater, film, photography, and staging industries. Its main objectives are to tape down and protect the cable, remove cable clutter, and prevent any tripping hazards.
Gaffer Tape Vs. Duct Tape Vs. Electrical Tape
Duct tape is another strong, versatile cloth tape. Both duct tape and gaffer tape look similar but have a fair share of differences. Duct tape is mostly used for waterproofing and light repairs.
Duct tapes have a more sticky adhesive and can often damage the surface when it is peeled off. It should only be used for permanent fixes. If you use it to tape down cables and later peel them off, your cables and the surface may get damaged.
Gaffer tape, on the other hand, can easily be peeled off. It also has higher heat resistance, and can easily withstand up to 90 degrees Celsius.
Some people use Electrical tapes to secure their cables, but that is not practical. Electrical tapes are usually thin and do not have strong adhesive qualities. They are mostly made of vinyl, and a little weight or pressure can stretch out the tape and even peel it off. Electrical tapes are used to insulate and cover small wires.
Considering all these choices, gaffer tape is still the best one for cable management because of its strength and durability. Therefore, it is more expensive than both duct tape and electrical tape.
How to Use Gaff Tape
Gaffer or Gaff tapes are the best taps to stick your cables down to the ground. For office cable management, use two types of gaff tapes. One is the most common 2-inch gaff tape and the other one is the 4-inch gaff tape. You will need the thicker tape to firmly tape down multiple cables to the ground.
Now, let's look at how you can properly tape away all your cable management problems.
1. Lay Your Cables Down on The Ground
First, clear space and lay all your cables flat. Make sure the place has the least amount of obstacles and foot traffic. Also, clear all debris from the work surface. Make sure you have enough space to work with because, the longer your cables, the more space you will need.
Keep the cables as straight as possible. Otherwise, it is going to pop out and make taping extremely difficult.
2. Tape Down One End
Once you have cleared the space and laid down your cables, take a small strip of the 2-inch gaff tape and tape down one end of the cable. Place the tape vertically and firmly stick one end to the ground.
To make sure, your cables stay straight, put one foot on one end of the cable and pull the roll of cables towards you. Use strips of the 2-inch gaff tape the same way every 2 to 3 feet to keep the cables nice and straight. Once you are done, your line of cables should look like a train track with a bunch of vertical extensions.
3. Use the Tape Horizontally Lengthwise
Here, you will have to use the 4-inch tape to cover the cable properly. The 2-inch tape can not hold a slack of cables firmly in place.
Take a long strip of the 4-inch tape and run it lengthwise along the cable. Start from the end of the cable where you first applied the 2-inch strip vertically. Use your fingers to gently push down the tape along the surface.
You can again apply a few strips of the 2-inch tape vertically on top of the 4-inch tape to secure it.
Gaff tape is easy to peel off. So, if you feel you have done a sloppy job, simply peel it off and start again.
How to Choose the Right Gaffer Tape
There are quite a few kinds of gaffer tapes, such as colored, clear, waterproof, and heavy-duty tapes. And choosing the right one depends on your intended use.
Since you are going to use it around the office, here are a few factors you should look for when choosing your tape.
Color
Most gaffer tapes are black and have a matte finish. There are a few color options, but it is best to stick to the black ones because they blend nicely with any surface.
Length
Depending on the number of cables you will have to tape down, you can choose between 25,50,90, or 100-foot rolls.
Material
Standard gaff tapes made of fabric and cloth should suffice your regular needs. These tapes can stick to all types of surfaces, but for special cases, you can use foil gaff tapes. These are heavy-duty tapes and can withstand extreme temperatures.
Final Thoughts
The process of taping down cables is pretty simple and straightforward. However, most people underestimate the width of the cable. If you have a slack with 2 or 3 cables, you will need a tape that is 4-inch wide. If you do not cover the entire width, the tape will come off. Also, make sure to reinforce both ends of your cable with a few extra strips to keep your cables secured in place.
About Author