8 Best Homework Apps for College in 2022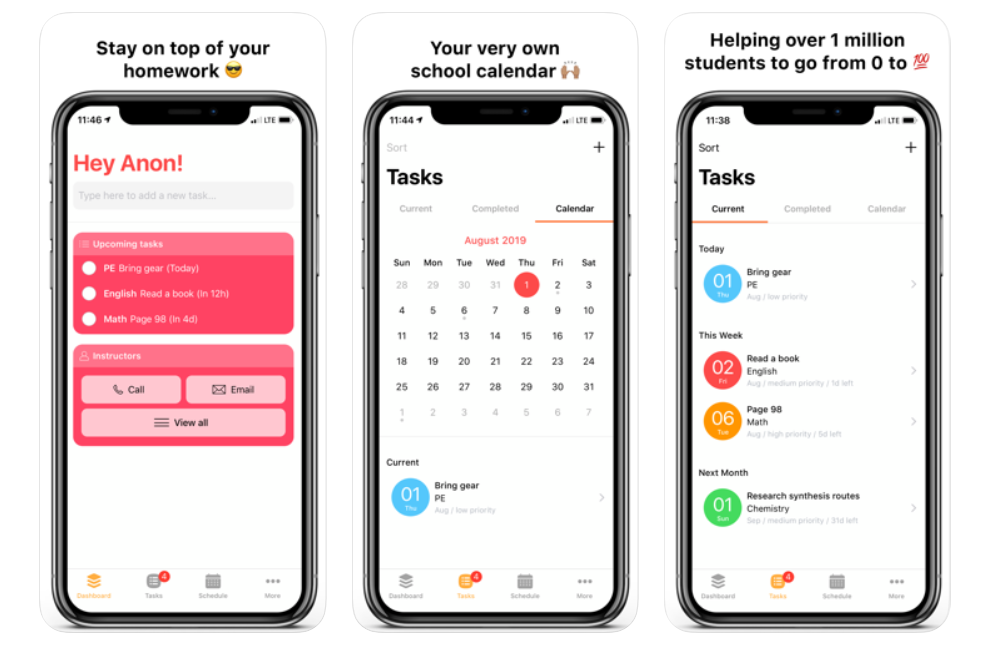 Let's all face it. We've all got tired of keeping up with homework, especially college homework. But looking back on those days, we've most likely agreed that homework wasn't the problem. As of today's time we have several Homework Apps.
The main problem was that we had little or no plans for homework.
Doing college homework is one of the ways to get better grades in college, and with a professional paper writing service to order an essay online, you can maintain a solid academic performance. 
We've curated the best homework apps to help college students stay organized and less stressed throughout the school year. Let's explore each of them.
My Study Life
My Study Life takes the number one spot as the best app to help students deal with homework. This intuitive study planner allows students to store dates of classes, exams, and homework deadlines on the cloud.
My Study Life has a calendar tool that displays your classes and assignments at once. It also supports weekly and daily rotation schedules and will help students monitor how much of their homework is completed. 
This study planner is compatible with Android, iPhone, and iPad devices. If you use My Study Life consistently, you can develop good time-management skills.
myHomework Student Planner
myHomework Student Planner has one of the most straightforward app interfaces, which makes it ideal for project planning and homework scheduling.
Thanks to the cloud feature, it offers reminders on time, so you don't miss any submission deadline. This app can also monitor your classes, homework, quizzes, and assignments.
Parents and teachers can rely on myHomework Student Planner to customize their children's homework schedule for easy tracking. They can set up classes, organize assignments, and plan study periods for kids.
Class Manager
Class Manager is an intelligent tool for managing classes, exams, and other college events. If you need professional help with writing assignments, you can set up reminders on Class Manager to check EssayService reviews and book service so you can finish it before time.
You can set up a student profile on Class Manager to help you keep track of everything happening in college. Additionally, you can also set essential alarms, notifications, and popup messages on Class Manager.
Evernote
Evernote is an intuitive homework app that allows college students to organize to-do lists for proper planning. Its scan feature lets students capture essential aspects of their study lessons and offers a perfect way to go paperless.
With Evernote, you can store searchable notes, interesting articles, web clippings, photos, and audio information. This study app lets students create different notebooks for saving memos, receipts, and invoices.
iStudiez Pro
iStudiez Pro is a cross-platform homework planner that helps students control homework schedules, set reminders for submission, and plan special events. Teachers can also stay updated with their student's schedules when they share them through this app. 
What's more? You can use the GPA calculator to monitor your grades per semester and determine how much effort you need to make.
The iStudiez Pro is a paid version of the iStudiez Lite free homework planner and allows you to plan without ads, push notifications, and backup features. Students can use this tool on Android and iOS devices.
Scanner Pro
Essays, research papers, and term papers are a significant part of college homework, so you need a reliable tool to help you work through writing assignments.
With Scanner Pro, you can scan documents and convert them to PDF files. You can also sync document changes with Dropbox and Google Drive. This tool offers a feature to help you detect scanned files and quickly convert them to PDFs.
The free version is sufficient for basic file needs. But with a premium version, you get PDF file accuracy. The downside is Scanner Pro is available for iOS devices only, but it's an impressive tool to help you get better grades in college by excellent performance in writing assignments.
Class Timetable (Homework Apps)
As the name suggests, Class Timetable is proficient for sorting classes, exams, and school events into your weekly schedules. It's easy to use as you can add or remove tasks, manage homework, and view upcoming events in your schedule.
Class Timetable has a vibrant interface that offers home screen widget support to users. There are optional timetable options and an Import/Export feature for task sheets, homework, and project documents.
With Class Timetable, you can swipe left or right to see what's on your schedule for the day. When you upgrade to a Pro version for both Android and iOS devices, you can set up class notifications and task reminders with ease.
The Homework Apps
The Homework App is another standard homework planner for storing repetitive tasks, weekly schedules, and simple events. It's free to use and allows students to break down large chunks of assignments into subtasks for easy completion.
Using its in-app calendar, you can view and complete all your homework with the aid of notifications and reminders. For a project spanning weeks, the Homework Apps offers you graded milestones so you can appreciate how far you've come and work harder.
The Homework Apps allows you to color code your homework, add photos, and attach details about your college tutors. Users can customize its attractive interface for more flexibility. 
Conclusion
This list of homework planner apps will help you stay ahead of assignments in college without breaking a sweat. Once you find the app that provides an alternative solution for tracking your homework and class schedules, you stick with it.
About Author