[FIXED] Video Scheduler Internal Error in Windows 10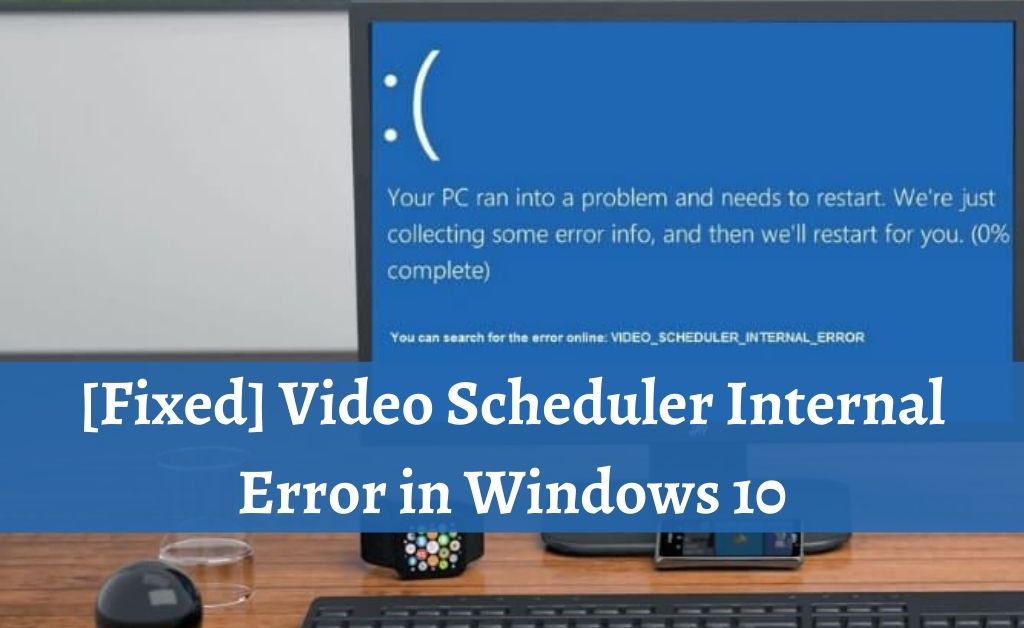 If you're facing it for the first time, a blue screen isn't an issue that you must ignore. Not only that, but you must try to fix it as soon as possible. Otherwise, it might end up causing considerable damage to your computer in many cases. You need to read the information on the screen first. Does it mention a "video scheduler internal error"? This is a more common and frequently faced issue than you might have thought. Moreover, it is understandably quite confusing, as well as concerning to you.
Luckily, you don't need any special knowledge to solve this issue. With some basic knowledge, any user can successfully fix it. So, keep reading if you need some help on how to do that.
Where to Find the Cause of Video Scheduler Internal Error and How to Solve it?
The cause of the problem you're facing lies in a smaller issue. So, if you find that out, you have found the solution. However, there are more components than one that could be at fault. So, you need to check all of them to find the issue. Only then can you proceed with solving all the problems.
Have you faced this error while trying to run a game? In many cases, this is caused by an issue with the Graphics Processing Unit. As it is an important component of your device, you might want to check it first. Now, there could be various aspects that cause this part to face problems while running.
Overheating
For proper functioning, your GPU needs an optimal level of cooling. The fans featured in the unit work to ensure that. However, they might fail to do so in some cases. This could be due to various reasons.
When was the last time you had cleaned the graphics card? If it has been quite long, it is time for another cleaning. As it often happens, the fans might be facing a problem in functioning due to the accumulation of dust. Proper cleaning can provide an effective long-term solution.
If you want, you can just pull it out and wipe it with a soft piece of cloth. Otherwise, you can just use a blower or compressed air through the vents to drive out the dust. 
Improper Positioning
As you probably know, the graphics should be positioned perfectly in this slot. Even the slightest mistake in doing that can cause various kinds of errors. Your device will keep facing problems in functioning until you fix that.
You might have removed the graphics card lately for some reason. In that case, you must make sure it is positioned properly. If it isn't, you just have to set it right to solve the problem.
Damages or Bad Connection
Apart from the above-mentioned issues, the graphics card may also sometimes turn out to be damaged. In such cases, you need to repair or replace it. Moreover, you might also want to check if it's the slot that is damaged as it's often the case.
To function properly, the unit needs a proper connection to the device. Otherwise, you may face issues like the video scheduler internal error. So, you need to make sure all the cables and wires are properly connected to the GPU.
You often have to make changes to your device to enable it to maintain optimal performance. This involves making significant changes to its hardware or software aspects. However, you cannot expect it to always have good results after all. In some cases, it contributes to serious problems in your device. You only have the option to remove them in such cases.
Viruses
You might have unknowingly downloaded a malicious program on your device. Take note of all third-party software you have installed lately, one of them might indeed be infected with viruses. In that case, you need to act quickly and take the necessary steps.
Conduct a scan using a good antivirus program and find out where exactly the problem lies. Do you find one or more files to be corrupted? You'll have nothing to worry about if you get rid of them immediately.
Software Conflict
In many cases, the problem you're facing could also be due to a conflict between two software. In case you're wondering what it means, it's quite simple — You have installed at last two such pieces of software that somehow can't function in each other's presence. This has something to do with their programming.
The antivirus causes this problem in many cases by blacklisting a certain file. You need to make sure that's not the case. Check the blacklist for any important system files and move it away from there, if you find one. This might not always be enough to fix the issue, then you might want to disable the program for a while.
Blue screens might also indicate an issue with the device storage. In that case, it's a serious issue that you must not ignore. Otherwise, it will end up damaging a significant part of the hard drive. To stop that, you need to act fast. So you might want to check on this component first if you face the video scheduler internal error.
It's quite simple to find any errors or damages in your hard disk. You simply have to use the CHKDSK tool for this task. Navigate to the location of the drivers on your PC. You can start with any one of them. In this case, you might want to check the system drive first. After all, it contains all the files crucial for running your device.
Access Properties option, after right-clicking the driver that you want to scan. This should open up several tabs to choose from. You can initiate the scan for the error from the Tools tab. This will take some time but will be quite effective. If this tool can't repair the problem, it'll tell you what you need to do. So, you will most likely have a solution at the end of this process.
The driver is a very important software for the system for using the hardware to its best potential. Any issue with this component can cause blue screens as well. Moreover, it is one of the most common causes behind such issues. So, you must turn your attention towards the graphic drivers, if you can't find any other explanation.
Outdated
It is not without a reason that regular updates are stressed upon. After all, it has a significant effect on the device performance. Even if an old driver provides optimal performance, it won't do so for long. You must always update it to a newer version as soon as you can. After all, that would also bring along a better performance and graphics.
Right-click on the driver to bring up the Update option in the Device Manager. Now, a lot of users can't do this regularly for various reasons. In such cases, you can use software to perform this task automatically.
The video scheduler internal error can also have something to do with the system software. Are you using an older system version? If yes, then you will naturally start facing various types of issues, including some serious ones. 
Moreover, it would also provide less protection to your data. To fix that you have to get the latest released version. Moreover, this can provide a solution to the issue.
What to do if Nothing Else Works?
Sometimes, you might not get any results from the above-mentioned methods. In such a situation, there are very few easy options. Resetting the system would be the most viable among them. Restore it to the conditions to the time period when you hadn't started facing the error. Looking for an even more effective solution? Restore the default settings.
Conclusion…
The video scheduler internal error is quite complicated to fix. However, the above-mentioned methods can provide a comparably quicker solution in many cases. So, you must give all of them a try and see which one works for you.
About Author