How to Solve Bad Pool Caller Windows 10 Error?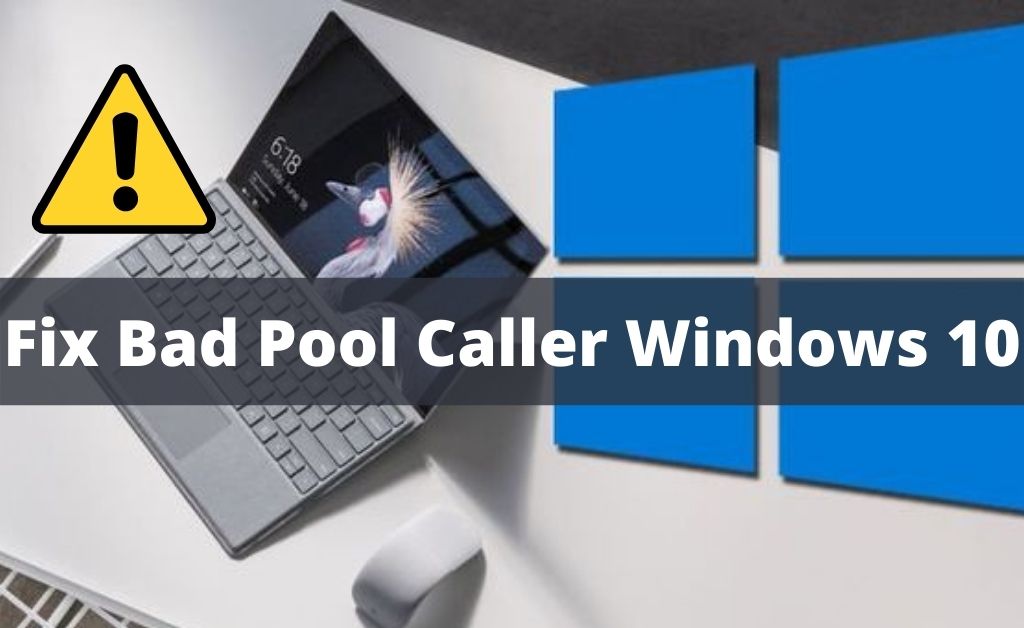 Bad Pool Caller Windows 10 is a Blue Screen of Death error, and the blue screen errors are undoubtedly the most complicated and annoying problems in computers. They can show up simply anytime and for any simple reason. In such cases, it's quite difficult to know the cause and how to fix it. In each type of blue screen error, you can see a certain message given at the bottom. They can help you know what the issue is all about.
Does the system message say "Bad Pool Caller" at the end? Then it seems, this is quite a common issue in Windows 10. Luckily, there are some ways to deal with this effectively all by yourself. Keep reading if you're unaware of the methods to solve the Bad Pool Caller Windows 10 problem.
What Causes Bad Pool Caller Windows 10 and How Do You Solve it?
In case you're wondering about the cause behind this error, there could be many of them. That might make it quite complicated for you to solve the problem. But, once you clearly understand the details of the cause, you should be able to proceed with the solution quite easily. There are some simple fixes for each of the common causes behind this error.
Even though it may seem ineffective, you might want to try restarting your device as a solution. After all, you can solve various problems with this one simple step. It often helps you to remove the errors that cause a certain issue. You can proceed with the other fixes once you have tried this one method.
Hardware Problems
The error that you're facing could have something to do with your computer's hardware. Now, this doesn't include a single cause, but several of them. Like other components, the hardware can also face various problems.
Configuration Changes
Have you recently made some changes to your hardware configurations? Maybe you have done so unknowingly. In such a case, your device will likely face various kinds of errors.
To fix that, you need to restart the system and switch it off at the starting screen. This will bring up the Recovery Environment that's used when the device faces trouble booting up. Go to the Advanced Options page through the Troubleshoot option. There, you need to select the Startup Settings to reboot the device. When asked, you need to choose the option to boot the last good configuration. This will take you to the state where your device wasn't facing the error.
In many cases, you may find that the hardware has been damaged for some reason or simply failed. Maybe you have been using it for quite a long time and it has become outdated. 
Regardless, you can find the issue by running the Troubleshooter for this component from the Settings. If the tool can't fix it, it'll tell you what you need to do next. Once you're done with this step, you need to reboot your device. Hopefully, you won't face the Bad Pool Caller Windows 10 error further.
As opposed to the hardware troubleshooting given above, this step refers to the troubleshooter for blue screen errors. It works the same way as it does for other components. Navigate to your device's Troubleshooter and choose to run it for a blue screen manually. It will run a scan to specifically find the cause behind this error and work on fixing it.
In case you're wondering, this step brings positive results in many cases. So, it's quite a simple and time-saving way to solve the error, provided that it works in your case.
Third-party software and apps are possible culprits for a blue screen error, regardless of the type. So, if you're facing such an issue, you need to give attention to some of the programs you installed. From what it seems as per user reports, many unwanted programs could be troublesome makers for your device's system. In other words, they could be incompatible with it or even malicious.
If that's the case, you need to find out such programs and remove them. However, there's no tool to help you do that. You have to monitor closely how they perform on your device. If any of them face any issues while running, you must consider removing them. In case of malware, you need to perform an antivirus scan. This step can solve the Bad Pool Caller Windows 10 BSOD error or at least get you close to solving it.
In this age of the cyber world, there are people who have their eyes on your data. They can use it for various malicious purposes. To reach it, they use all kinds of viruses and malware. If you see a blue screen, it could mean your device is a victim to a virus attack. In that case, you need to find and remove the corrupted files or malicious software and apps.
So, apart from other solutions, you must try scanning your device for viruses. Also, consider investing in a reliable and competent antivirus program. It may not be free, but it'll surely prove its worth in a situation like this.
It doesn't always take a virus to affect your system files. Sometimes, an error in the system can damage its files, too. In such cases, you need another tool to scan instead of the antivirus — the System File Checker. Now, you can't use this on a computer that you don't own as it needs admin rights.
Switch to the admin account and open the Command Prompt. Then, simply initiate the scan by entering the command "sfc /scannow". This might indeed take a while to complete, but it may solve the error by the end.
When you see the Bad Pool Caller Windows 10 error, it could indicate a drive failure. If that's the case, you must not make any delay in solving the issue. After all, ignoring it can cause permanent damage to the affected drive. That would mean a part of the storage would simply become useless.
How do you detect issues in your drives? It's quite simple, navigate to the one that you want to check and right-click it. Among the options that come up, choose Properties and open up the Tools tab. There, you'll find the option to run a scan for any errors. You need to give some time to complete the process as it might take a while. This tool effectively finds out the smallest issue in your drive. So, if it says there isn't any problem, you can be sure about it.
In many cases, blue screen errors are also caused by issues with your device's memory. If you ignore it, you'll only worsen the performance of your device. To be specific, it will face troubles in booting up. To prevent further complications, you need to check the device memory for any faults. The Memory Diagnostic Tool pre-installed in the system makes that task quite easy for you.
Open this tool on your device and proceed with the checking process with a click. It will restart the system before carrying out the scan. Once it's done, it will show you the result and let you know if there are any issues. However, this tool doesn't fix any problems, as its name suggests. If there is a problem, you might have to replace a RAM module. For that, you need to approach a professional.  
Conclusion…
The above-mentioned problems in your device are some common causes for the Bad Pool Caller Windows 10 BSOD. The solutions mentioned for each of them are considerably simple yet effective. They should help you solve the error by yourself. Otherwise, you must look for professional help, if you can't find a solution.
About Author