5 Ways to Roll Back: Windows Media Player Server Execution Failed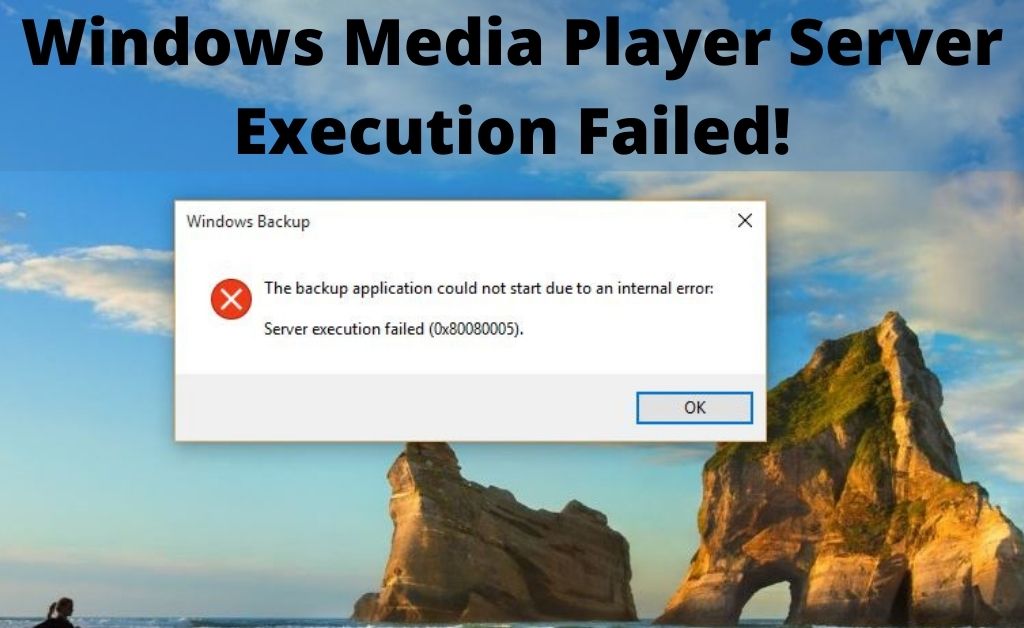 Without the requirement of any third-party media playing application, the Windows Media Player helps you to listen and watch audio-visual media files. It is a dedicated built-in application that comes along with every version of the Windows operating system. But, what if you face the message "server execution failed"?
The error message appears when you have already double-clicked the file and you are waiting for it to open. The sudden appearance of the error message is indeed frustrating. So, aren't you eager to know what's the reason behind the issue? Before that, you have to get to the details. 
Windows Media Player "Server Execution Failed", meaning?
You already know that this error takes place while playing a media file. In addition to that, when you omit the error message, you might take another attempt to open the same or another file. Somehow, it doesn't happen because the Windows Media Player is already running in the background. The possible causes are—- Issues in the administrator account, corrupted or outdated drivers, malware and other viruses, cache files, corrupted media files and many more. 
"Server Execution Failed" — Resolving Processes
Before the initiation of any resolving steps or procedures, make sure that you restart your computer. The temporary unexecuted tasks in the volatile memory will be removed, thus providing you with an effective procedure. 
Force Stop the Media Player


The Task Manager in the OS tray has all the information about the ongoing front-end and back-end system processes. In the "Processes" tab, you will see the Windows Media Player running. Choose and hit on "End Task". The Task Manager might stop working for a few seconds. Don't press any key or mouse buttons and the Task Manager window will recover automatically. 

Modify the Registration of Dynamic Link Library Files


The dynamic files are linked to the system library. Those files that belong to this extension help certain applications to run smoothly on your computer. Leave aside the others, you have to deal with Visual Basic and Javascript DLL files. 

Now, let's move step by step. With the help of CMD, you have to provide the "regsvr32.exejscript.dll" to complete the Javascript registration. When done, once again, provide "regsvr32.exevbscript.dll" to complete the Visual Basic registration. Thus, the error message "server execution failed" will never occur again. 

Windows Network Sharing Service Utilization


When you get an in-built application, it is not possible for you to uninstall them. Utilizing the Microsoft Network Sharing Centre, you can easily stop the Windows Media Player Services. After stopping the service, you don't have to do anything but wait. Now, follow the exact same process to start the service once again. Play a media file with the help of the Windows Media Player and the issue will eventually disappear. 

The System Dedicated Repair Process


The audio-visual troubleshooter is the built-in or System Dedicated Facility, that detects video and sound errors. The detection process of the error might take some time. Then, you will get the details of the errors and the reason behind the occurrence, thus you can pick up necessary actions against them to resolve the issue. Navigate through the Settings and then click the Update and Security option. 

Resolve Video or Audio File Extension Incompatibility


Not all the audio-visual files are compatible with the Windows Media Player. Let's pick up the WMP file extension videos for example. If you try to play those kinds of video files with this extension, the error message "server execution failed" will appear. Furthermore, the computer display turns black, which means all the functions have stopped. 

Leaving aside the above-mentioned error message, "cannot play the file" can also appear on the computer screen. Whenever you cannot play any file via Windows Media Player, never try repeatedly, because it might corrupt the OS. 
Use only Compatible Media Players 
There are several media players that have the ability to play all kinds of audio-visual files. When you face "server execution failed", download any third-party player, instead of using Windows Media Player. But, before downloading ensure that your system is compatible.
Is the Video File Corrupted? How to detect?
The emergence of a "server execution failed" error can also take place when the media file is corrupted. To rectify this error, you can just delete the corrupted file and download a new copy.
And, if a new copy is now available then restart/reboot the dedicated multimedia supporting tools of the OS from the Control Panel or Settings. This might help to recover the media file. On the other hand, you can search for a multimedia file repair application. Hopefully, it will work. 
About Author